From the Büsum Lighthouse Hotel & Spa the views stretch out across the North Sea. Or across the tidal mudflats. Depending on the time of day. But to be honest, whether it's seawater or mudflats, the view is not the only thing that will make you happy.
Moin Moin!
It's a typical North German greeting that sometimes slips out even when I'm in Cologne. Actually, it seems that more and more people are using it these days. But "Moin" – just to make it clear – isn't a greeting reserved for the morning alone. It fits to any time of day. "Moin Moin" is simply another way to say "Hello", or "Nice to see you" or "Welcome".
Check-in at the Design Temple
This trilogy of meanings also resonates in the greeting at the reception. Apple punch is served while a short introduction to the different sections of the hotel give us our bearings. Behind us, the lobby's fireplace crackles. A couple is playing chess at a high table, and it feels like checking into a lodge for a ski break. But the mountains could hardly be more distant. Yet the first impression is deceptive. Nothing at the Lighthouse Hotel is really alpine. On the contrary, it is a temple of design; stylish through and through. Here wood segways into glass, industrial chic merges into country style. "Simply cosy" is the mantra of this hotel on the German North Sea coast.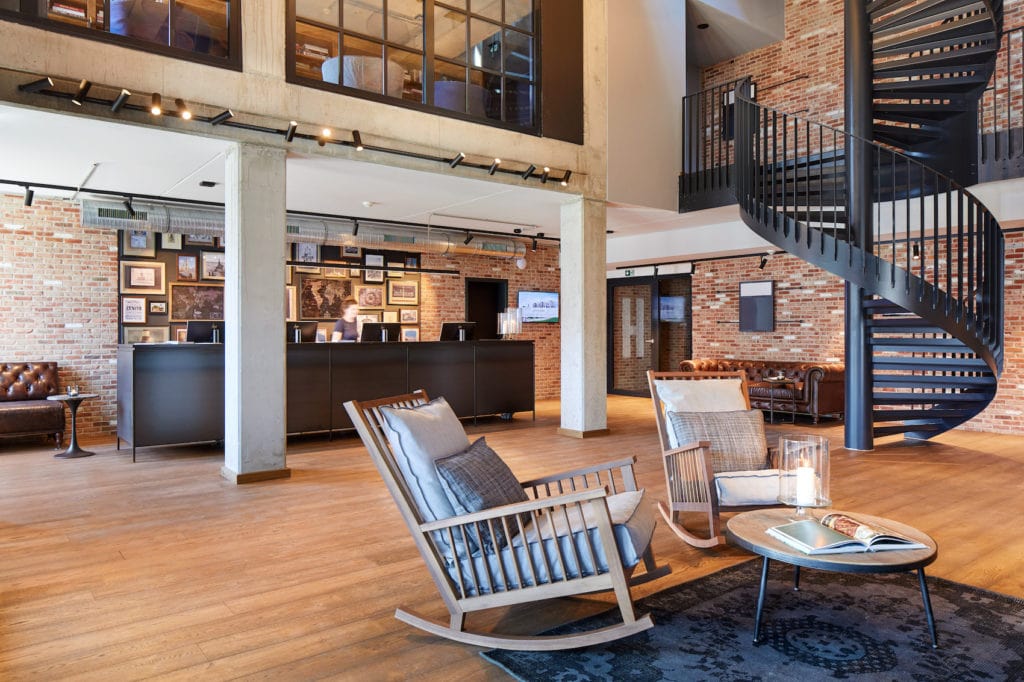 The hotel's ensemble of buildings is located where the Vitamaris health center once stood. In short, the local indoor swimming pool with a view of the sea. As such, the Lighthouse Hotel is located next to Büsum actual lighthouse. The lighthouse itself is almost completely obscured by the hotel complex. Since the area became hip, it's lanky construction seemed a bit lost in the Museumshafen harbour. But the location – no question about it – is fabulous. No other hotel in Büsum occupies a better position than this one. On one side is the North Sea promenade, on the other side the harbour and the beginning of the pedestrian shopping area.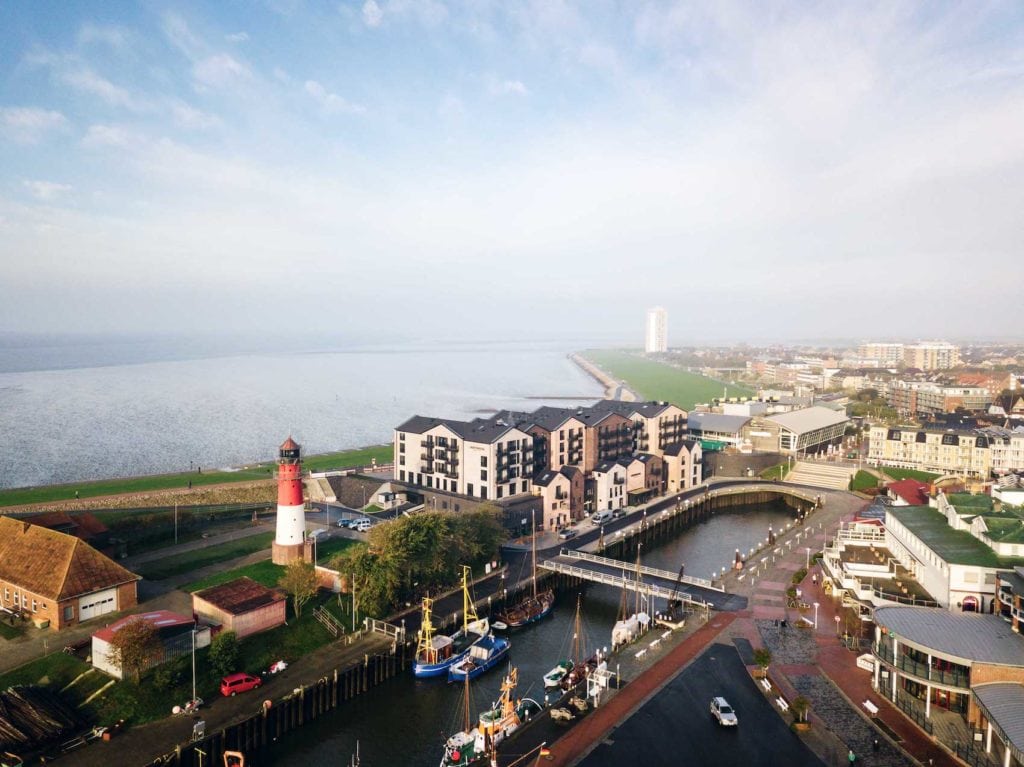 Popular Place
Visitors looking for solitude are in the wrong place. Those who like hustle and bustle will be happier here. But I'm not talking about the celebratory excesses of the party people. I'm talking about life. About freshly-made fish sandwiches across the street, ice cream parlours and small fashion stores selling rain jackets in all possible colours. Let's put it this way, Büsum is not a picturesque beauty. And the Lighthouse Hotel is a fairly bulky construction. It would be hard to say that it makes the town more beautiful, from an architectural point of view.
But it also enjoys great popularity. And not without reason. The outdoor terrace is a heavenly place in summer and winter (thanks to outdoor heaters and blankets). The view keeps your eyes glued to the horizon, while the cool crowd sip their Aperol Spritzes and the really cool crowd gulp their beers, before returning to their lives at sea. It doesn't take much to be happy. But wait, my list is just beginning…
The Ocean Spa is an oasis of well-being
The spa deserves the highest of praise. Finally, an oasis of well-being that actually radiates this attribute. And puts it into practice – with the wonderful massages, for example, that relax even the most screwed-up back. The atmosphere here benefits from the spacious architecture and the bright yet very warm interior. Guests in their bathrobes can feel comfortable with a cup of green tea and the latest gossip from Hello! or Vanity Fair. The spa generates a relaxed feeling of well-being.
And that continues, for example in the quaint little library, where there are numerous illustrated books that not only invite you to browse, but also to pull out your vacation-spot wish list. Where on earth shall we visit next? When things get back to normal, of course…
And of course the rooms are also a place of bliss. Guests are treated to quarters that are not only modern, but garnished with all kinds of frills. The hotel's guests are also plain spoiled. The bed is a dream, the extra-long blanket is a wonderful in winter and the bathroom is spacious, equipped with great sustainable amenities. And the shower? Yes, I would like to pack it and take it with me. Or at least recreate it at home.
Surfer-Boho-Chic with Country House Style
A cool, well thought-out interior is one of the trademarks of the Heimathafen-Hotels group. The legendary Beach Motel in St. Peter Ording or the Bretterbude in Heiligenhafen, for example, are also part of this brand. Anyone who has been to these places also knows that suites are sometimes furnished by "partners" such as Jever or Mini. The mix is surfer boho chic meets country house style. It's a combination that looks so good, that every second woman seems to want to furnish her living room in exactly the same way.
Kingdom of Cabbage
And yes, if you return home to your hotel after a long walk, often along the windy North Sea coast, you should certainly stop at the "Landgang" restaurant. Because it's very good. This is where they serve what the north has to offer. And it has a lot to offer. Even a simple stew or soup for lunch is a delight. But beware – it's not a bad thing if you like cabbage, because after all, Büsum is in the Dithmarschen region. And Dithmarschen is the "Kingdom of Cabbage", so to speak.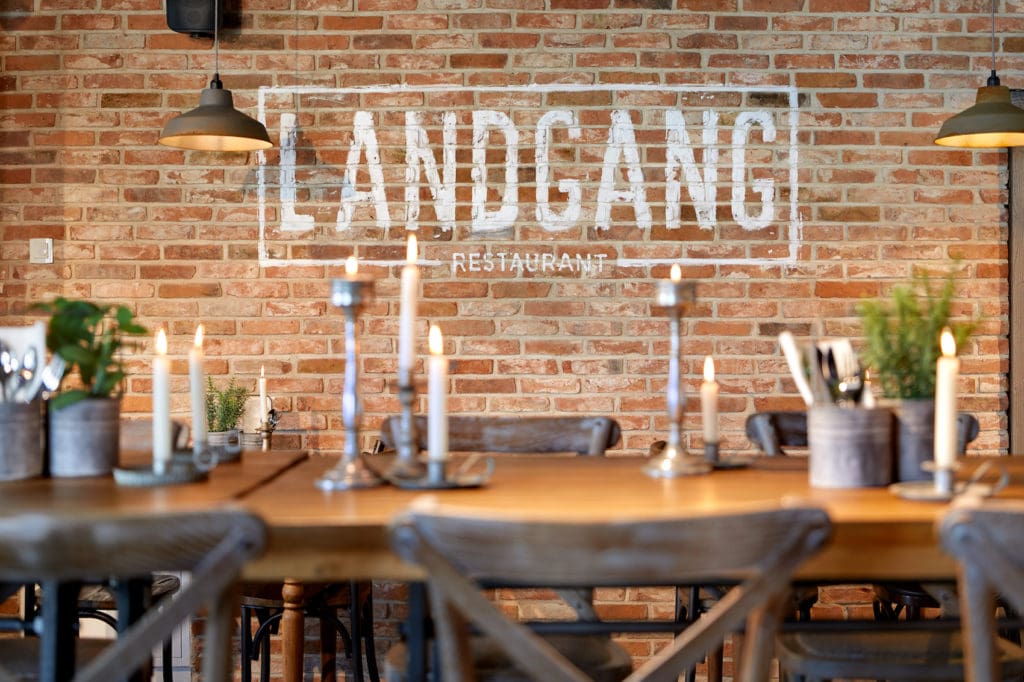 Even if Büsum is not the most beautiful place in Schleswig-Holstein, you'll still want to come back here. It's easy to fall in love with this modern shed of chic. A hotel that fulfills its guests wishes in no time and with seeming ease and delight. Yes, coming back will be easy, because everyone is welcome here. Even four-legged guests. And that's why we say "Auf Wiedersehen" when we say goodbye; "until we see each other again". And not just plain old "Tschüss", as is customary in the north.
Lighthouse Hotel & Spa
Am Museumshafen 11
25761 Büsum
Tel. 04834 9842-0
www.hotel-lighthouse.de