The 90's may have been the decade of "My house, my car, my yacht!", but in 2020, bigger is no longer always better. Downsizing is the new mantra. It's time to cast off our unnecessary baggage; not just in everyday life, but also on holiday. Deceleration, sustainability and environmental awareness are the topics of our time. Welcome to the Green Tiny Houses!
They can come on wheels, or in the form of mini fairy-tale castles. They can be created on 3D-printers within 24 hours or as ecologically-sustainable masterpieces of modern architecture. Tiny houses are on trend. Originally born out of necessity in the USA, tiny houses were a solution for people looking to adapt to new financial circumstances or just old age, by swapping their large, expensive properties for smaller alternatives. The wave of tiny housing has now swept as far as Germany. These mini dwellings first became popular as garden sheds or summer houses, but now, thanks to Green Tiny Houses, they can also be rented for vacations in three sites in the north of Germany.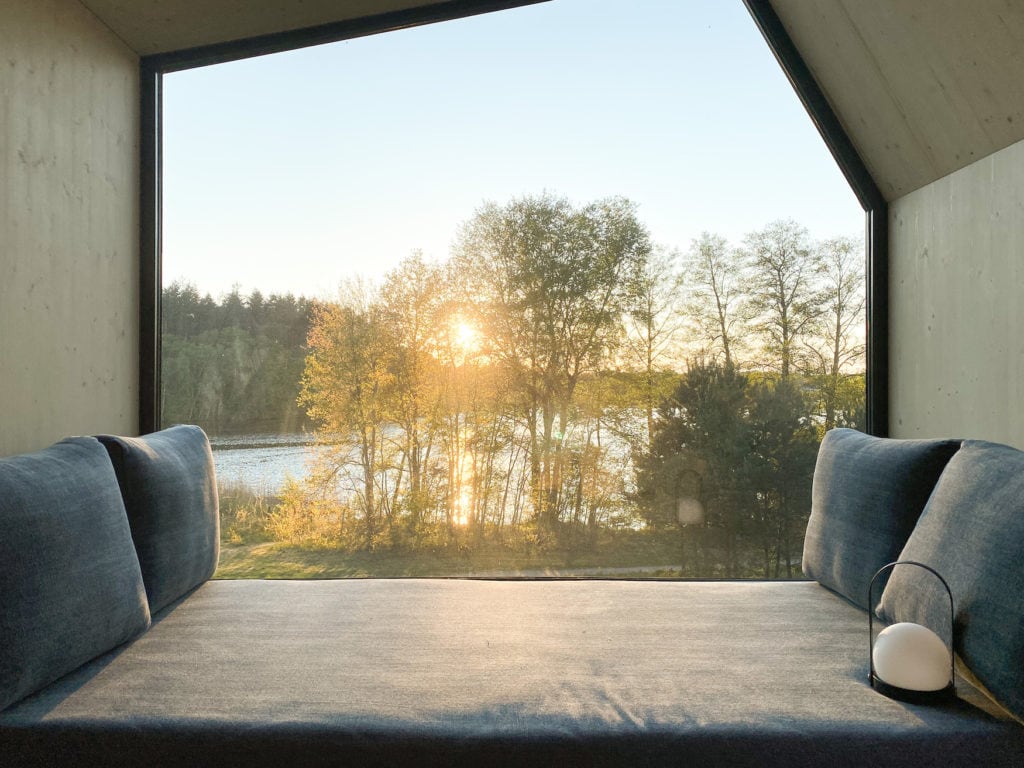 Stay tiny in the north
In the North Sea resort of Büsum, the Tiny Green House occupies a fantastic location. Jjust behind the family-friendly beachclub, Perlebucht. Which is a stone's throw from a wealth of fine, sandy natural beaches and the UNESCO World Heritage Site of the Wadden Sea. Known in German as the "Wattenmeer".

A second Tiny Green House is situated on the lake "Salemer See" in Schleswig-Holstein's most thickly forested area. A perfect place to regenerate. And the newest house is on the Harlesieler Deich dam. It offers guests a taste of Fresian freedom, with views across the nearby salt marshes and mud flats.
Let's take a look inside
A quick look inside the three tiny houses, all built to the same design, shows that they have everything you could need. The two-level floor plan is intelligent and loft-like. On the ground floor, a functional kitchen invites guests to cook up a storm. The living area, with fireplace, flexible lounge and grand panorama windows, is a space that you won't want to leave.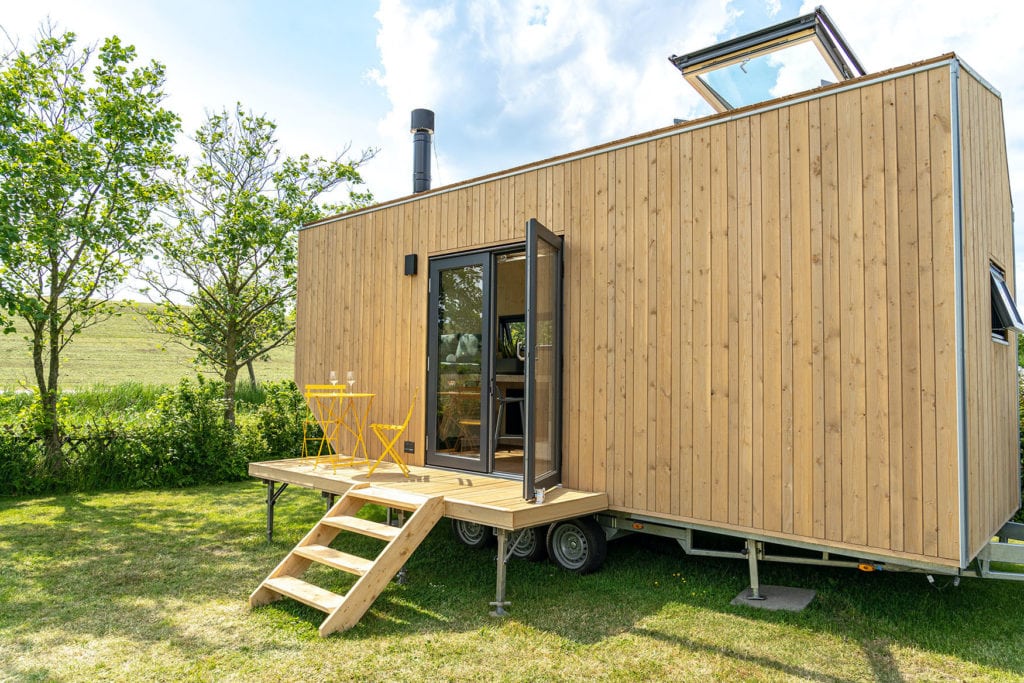 Chilling, working and sleeping can all happen here. The bathroom and toilet has everything a guest could want. On the top floor, a 1.8 metre-long bed ensures sweet dreams, or a night of stargazing from under the duvet. After a refreshing sleep, your freshly-brewed coffee is bound to taste wonderful, enjoying the first rays of the sun on the compact terrace.
These mini residences not only make exceptional use of very little space, but they're also ecologically-friendly. Green living in green spaces is an idea that could take off… The facades are constructed from "Superwood" panels, with absolutely no toxic, chemical varnishes or glues, but efficiently insulated with untreated eelgrass from the Baltic Sea. The water in the "astronaut shower" is cleaned as you wash. Saving water and energy, while the water flowing from the taps is purified by a process of reverse osmosis, ensuring drinking water-quality H²O. E-bikes are provided for guests to explore the area.
Best Thing: five percent of the rental price is donated to local nature conservation projects. A perfect recipe for contemporary vacations with a clear conscience.
Green Tiny Houses can be booked from 129 Euros a night, accomodating up to two adults and two children. More information at www.greentinyhouses.com.