I don't remember much of the cartoon – it's been a long time since Captain Future was the only hope in the universe for me and many others. About 35 years after I saw the last episode on TV, I have now found his home. It's located in Cologne, in the Gerlings Quarter and is a hotel called 25hours The Circle.
I've been on a mission and therefore I am going to use all of my science fiction vocabulary. I apologize in advance, in case it's a bit too much. But hey, it is actually quite inspiring to suddenly find yourself in the future and in the past at the same time.
Welcome to the space station
My expedition almost leads me into a space station. I wouldn't be surprised if it was called Deep Space Fine. It feels like either Data will exit the door of the Enterprise bridge or well-trained astronauts in silver space suits with Nasa emblems on their chests. But before I let my imagination get carried away, I'll send you my coordinates: I'm standing in the Gerlings quarter of Cologne in front of the 25hours Hotel The Circle.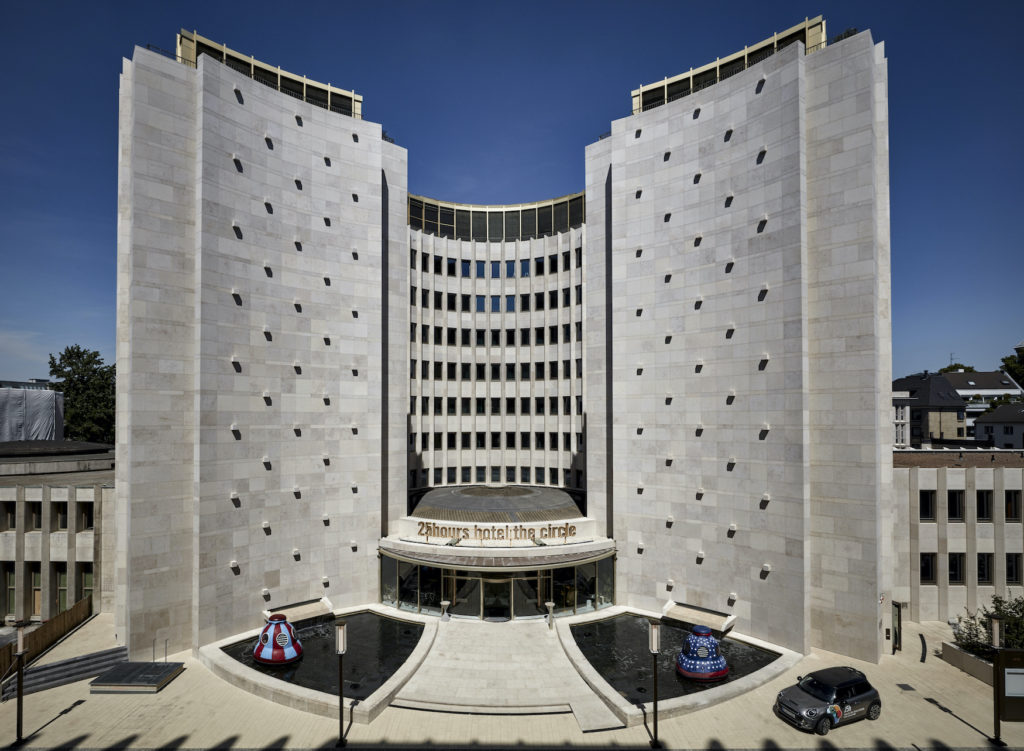 I enter the lobby with my little trolley and stand still in amazement. Is that a huge turbine on the ceiling, I ask myself as I look up. A robot shamelessly approaches me from the side. I briefly startle as I have never had any contact with the R2D2 brothers outside the screen. I almost escape from the white thing on wheels to the reception where a very friendly hipster clone is waiting for me. I'm sorry if this sound disrespectful now – but I do feel that a full beard, a hat or tatoos are a prerequisite for working at this hotel chain. Best of all still all components with each other united.
Retrofuturism in the 25hours The Circle
When Captain Future ruled the world, things were a bit different, I thought to myself as I walked past an astronaut (this time it's just a prop) to the elevator.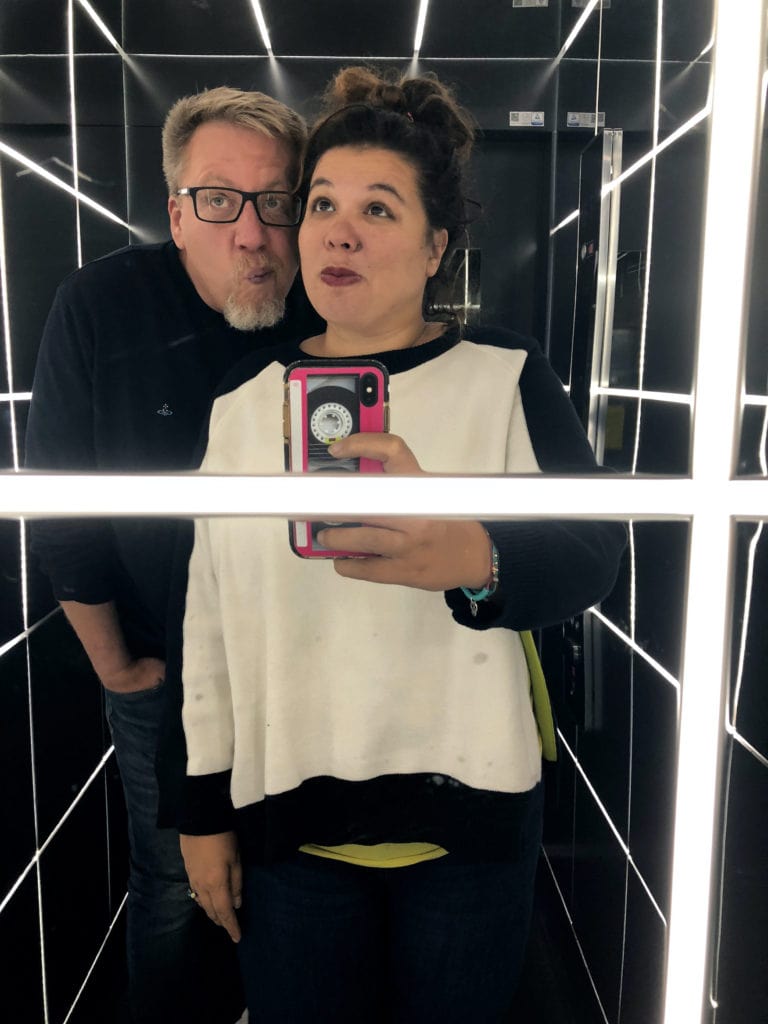 This elevator is pure joy for any cyber heart. A selfie in the elevator of The Circle is a must-do for a stay, like tucking yourself in at night. And this place knows how to pull the social media strings – everything is photogenic, and that's the best marketing.
The same goes for my room, which feels more like a journey to the past yet keeping that spacey attitude. Think hanging plants, a carpet full of stars, a sound box, a vintage telephone, a little stuffed robot on the bed and small dark green-grey tiles in the bathroom. My parents' old sofa – which was kind of oldschool and futuristic at the same time – would have been an amazing match for this room. The 25hours hotel calls this retrofuturism. That pretty much nails it.
The Place to be
Now I'd like to go see some other humanoids. To Neni Restaurant, which offers an even better view of the Cologne Cathedral than my room. By now, Neni belongs to 25hours like a spaceship into space. The restaurant serves Israeli fusion cuisine which is so delicious that you are tempted to order the entire menu. And it is definitely worth trying a little bit of everything.
But mind you, the Neni is something like the warp field coil on a spaceship. It is the hotel's business drive for the outside world. The local in-crowd loves to have dinner here, which means it can sometimes get a bit crowded and noisy, and you might have to wait a bit longer for your food to be served. It takes a little more patience or a delicious gin and tonic to bridge the wait.
Speaking of gin – the Monkey Bar next door is anything but a black hole. This is where cocktails are mixed and drinks are served. The atmosphere is laid-back and relaxed, with hotel guests and locals mixed together like a colourful cocktail. In the café area, the best coffee in town is served by Café Hommage, including pastries and cake, which is anything but astronaut food. This is very important because the lobby is also a co-working space. It is the place for those who don't want to sit alone in their cabin and prefer to work in the company of other people.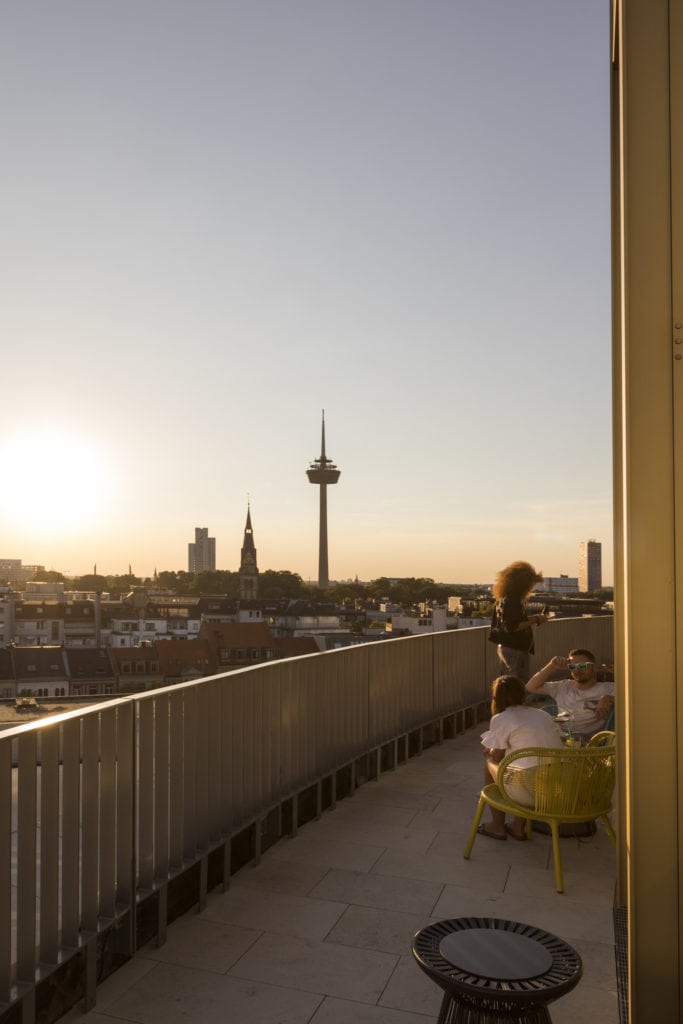 Intergalactically good hotel in Cologne
Captain Future would love it here. It's a lot like my idea of his Spaceship Comet. It certainly is a great hotel, or should I say intergalactic?
Hotel
25hours Hotel The Circle
Im Klapperhof 22-24, 50670 Cologne
https://www.25hours-hotels.com/hotels/koeln/the-circle
From €135 for a double room excl. breakfast
Location
The hotel is located within walking distance of the shops in the city centre and the Belgian Quarter, which is home to individual shops, restaurants and bars.