When most visitors think of German beer gardens, they think of Munich. And rightly so. It's the German city where the tradition of the beer garden started, and also the city with the most beer gardens in it. But it's not the only place in Bavaria that celebrates all that's "gemütlich" about open-air drinking. While Munich is the capital of Bavaria, just a short 30-minute train ride away to the west lies Augsburg, the capital city of Swabia. And here you'll find fantastic beer gardens, but fewer tourists.
funkyGermany offers five beer gardens in Augsburg where you're sure to meet the locals.
Riegele Biergarten
If you've just stepped down from the train at Augsburg central station, this is the nearest beer garden to try out first. Leave the station, turn left and keep walking. In about two minutes (or 90 seconds if you're really thirsty), you'll be sat in the shade of the horse chestnut trees, feeling like you've entered a Bavarian fairy tale.
Although right in the centre of the city, the Riegele Biergarten is an oasis of relaxation and easy conversation. And the brewery is right next door, so the beer couldn't be any fresher. Burgers, Bavarian food, salads and vegetarian dishes are served, but you can also bring your own picnic to accompany your beer.
Address: Fröhlichstrasse 26, 86150 Augsburg
Opening hours: MO-SAT 3pm to 11pm, Sunday and Bank Holidays 11 am to 11pm (subject to dry weather)
On tap? Riegele
https://www.riegele-wirtshaus.de/biergarten/
Lug ins Land
This beer garden might be a little more difficult to find, but it's a gem worth seeking out. Nestled right in the medieval city walls, and perched high enough to offer a panoramic view, Lug ins Land offers a rustic, historical atmosphere with buckets of charm.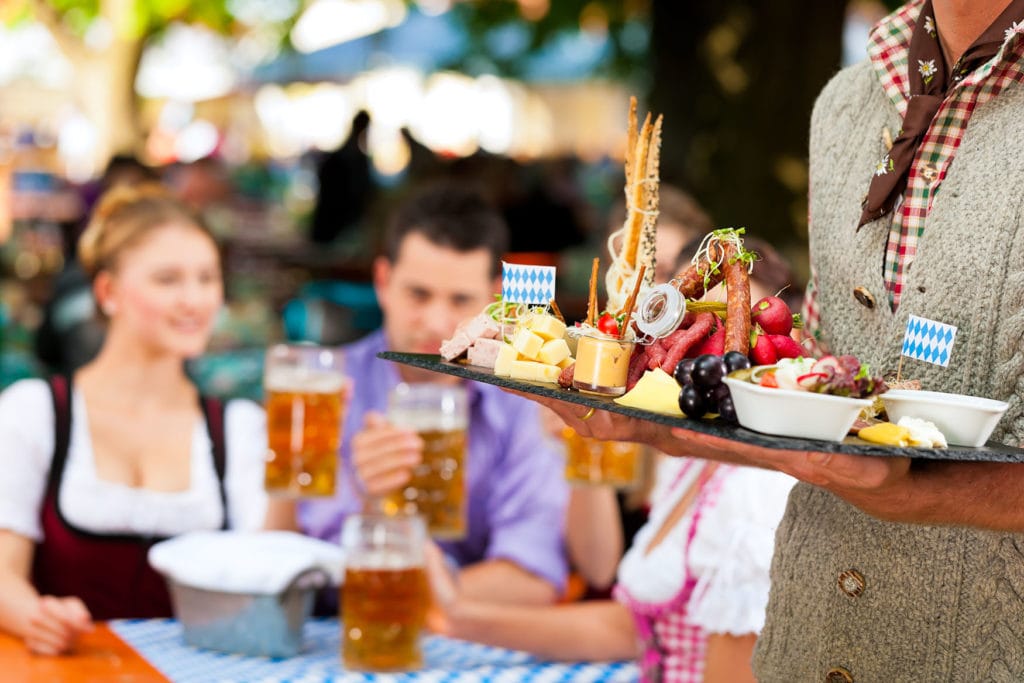 It's also known as a great place for a classic Brotzeit; the typical Bavarian meal of cheeses, cold cuts, pickles and breads. Don't come expecting poke bowls or mocktails; this is a place to enjoy cold beer, good company and local comfort food.
Address: Am Lueginsland 5, 86152 Augsburg
Opening hours: daily from 11am to 10.45pm, April to October, in dry weather
On tap? Thorbräu
http://www.oblingers-luginsland.de
Waldgaststätte Parkhäusl
In the oaks and streams of the Siebentischwald woods, yet only a 30-minute walk from the city centre, there is a handsome old house in a clearing, next to a meadow. Parkhäusl has been around since 1914, but the location is as lovely as ever.
With a mainly organic menu and plenty of excellent vegan and vegetarian choices, Parkhäusl is also a good place to eat. Even hardcore carnivores will love the vegan currywurst! A programme of live music on most weekends in summer provides entertainment and an atmosphere of celebration. Unlike most beer gardens, Parkhäusl also opens in winter, when cool beer and a shady seat are swopped for mulled wine, snug blankets and a warming fire.
Address: Prof. Steinbacher-Strasse 10a, 86161 Augsburg
Opening hours: every day 11am to midnight, all year, subject to weather
On tap? Scheyern
http://parkhaeusl.de/
Drei Königinnen
Hidden away in Augsburg's old town quarter, the Drei Königinnen beer garden is concealed behind thick stone walls and a heavy wooden door. But once inside, you'll want to stay. An idyllic, quiet courtyard with green horse chestnut trees providing shade, this beer garden is a secluded, chilled-out summer paradise.
While beer garden staples like schnitzel or salads are always on offer, a regularly changing menu provides seasonal tastes and more exotic flavours, such as lamb and coconut curry or potato and wild garlic soup. Check out their Facebook page to see what's cooking this week.
Address: Meister-Veits-Gässchen 32, 86152 Augsburg
Opening hours: Every day, 6pm to 1am. Also open on Saturdays und Sundays from 11.30am to 3 pm.
On tap? Augusta
https://www.facebook.com/Drei-K%C3%B6niginnen-129379083771397/
Freibank Biergarten
Under the shade of Augsburg's oldest oak tree, the Freibank beer garden is an institution in the city. In the bucolic parklands of Bourges Platz, right next door to the Thorbräu brewery and the imposing city gate known as the Wertachbrucker Tor, this is a perfect spot to spend a couple of hours with friends. In summer, barbecues and events are also held here.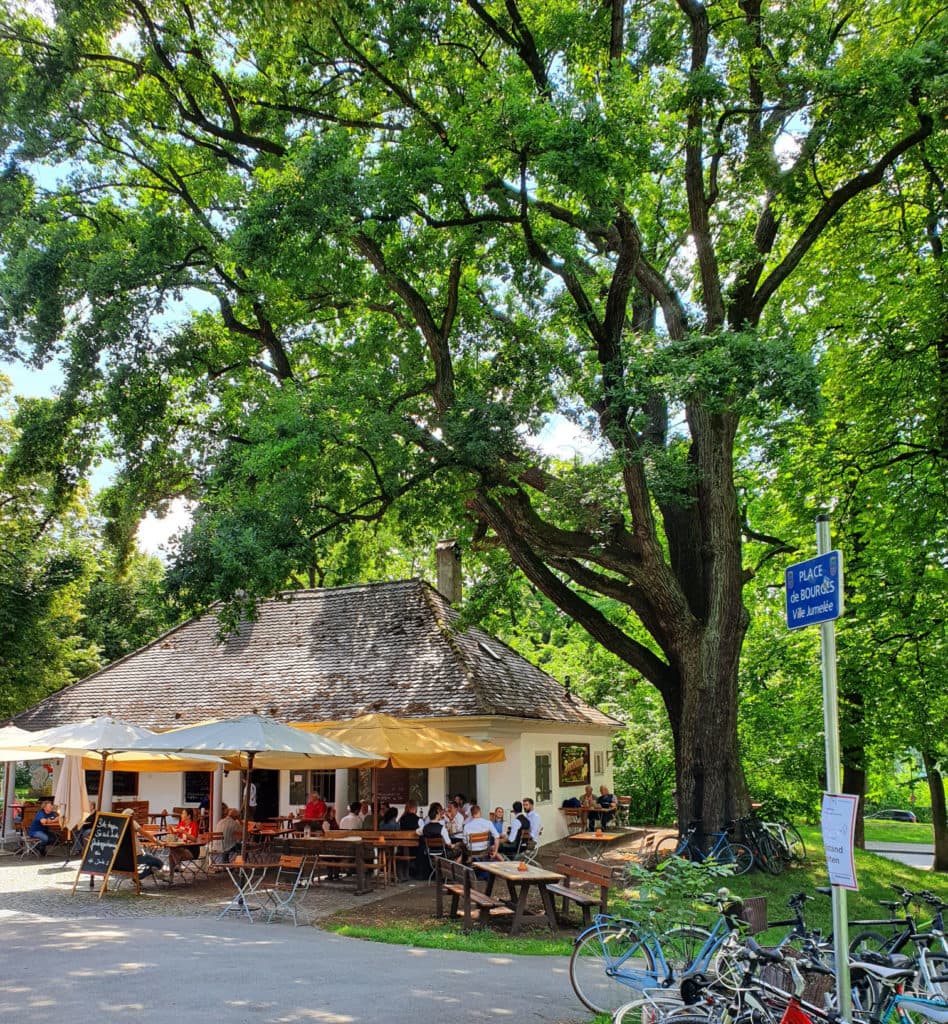 The beer garden is closed during bad weather, but the Bräustüberl gastropub belonging to the brewery is open come rain or shine. For fans of Bavarian beer culture, a visit is a must. The historical Thorbräu brewery has been making beer since 1582.
Address: Bourges-Platz am Wertachbrucker Tor, 86152 Augsburg
Opening hours: Every day, 11am to midnight, subject to weather
On tap? Thorbräu
http://www.thorbraeu-stueberl.de/