The name says it all: The Wine Country Franconia is renowned for its top-notch winemakers! What many don't know is that the region also boasts Michelin-star-level culinary experiences. Three restaurants along the Main River take their guests on a delectable journey through haute cuisine: Kuno 1408 in Würzburg, Philipp in Sommerhausen, and Restaurant Weinstock in Volkach. Here's the delicious trio of Michelin-star cuisine in Franconian Wine Country!
Restaurant Kuno 1408 | Würzburg
Once upon a time, there was a knight named Kuno of the Vine. He and his family held great influence in the region around Würzburg, ruling over vineyards and estates. This included the "Hof zum Rebstock," where Kuno's ownership was recorded as early as 1408. Over time, the property expanded and transformed into a grand palace. In World War II, a grim fate befell the estate: it burned down to its foundations and wouldn't shine again until 20 years later. And even though Sir Kuno has long since passed, his legacy lives on – at Kuno 1408.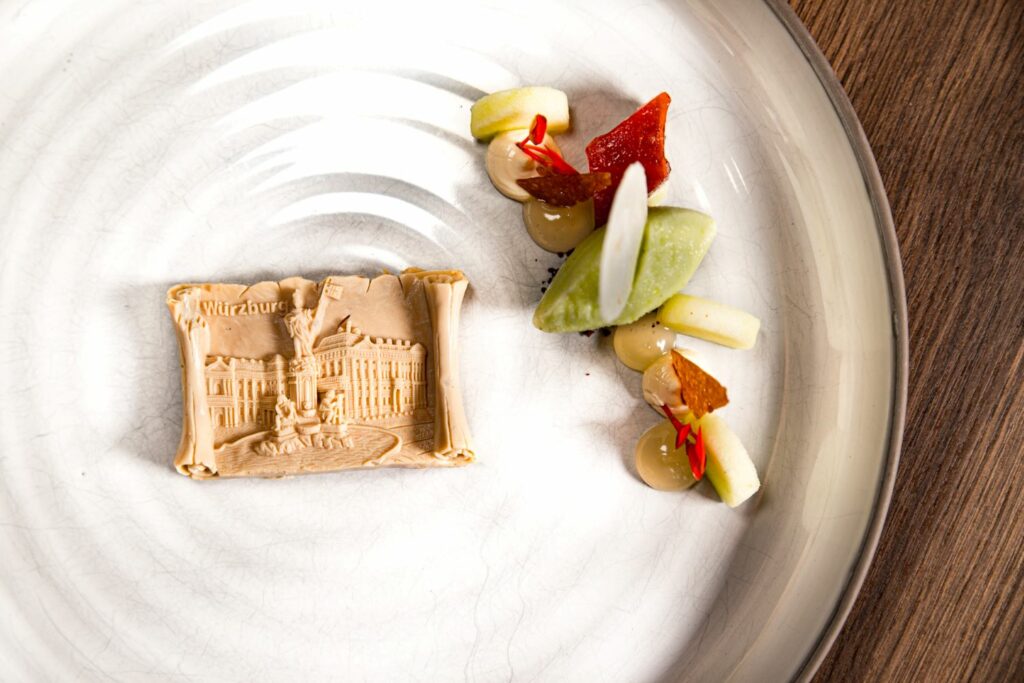 Within the four walls of this historic building, star chef Daniel Schröder welcomes guests from all over Germany. His menus embody hearty Franconian cuisine refined by French finesse. Whether it's lobster, pigeon, or lamb, the evening menus spare no expense on fish and meat! A modern ambiance bathed in warm, dim light completes the experience, as does the warm hospitality of the service team. Kuno would be proud!
By the way: Those who wish can stay within this historic building, as the Hotel Rebstock accommodates guests on the second floor!
Restaurant Philipp | Sommerhausen
Behind the picturesque half-timbered façade of the 400-year-old Renaissance palace lies one of Germany's top 100 restaurants. Philipp in Sommerhausen, named after owners Michael and Heike Phillip, transports guests into a world of tradition and modernity simultaneously.
While the Baroque and Renaissance suites of the house, with their intricate stucco decorations and gold-adorned furniture, let you dream of times long past, the dining room is at the heart of the present. Classic French cuisine takes on a modern twist and fuses with local elements. But that's not where Philipp's creativity stops. The tasting menu might feature a Japanese touch with yuzu or homemade pasta in Italian tradition. Exclusive and fresh ingredients, whether regional or international, are highly valued.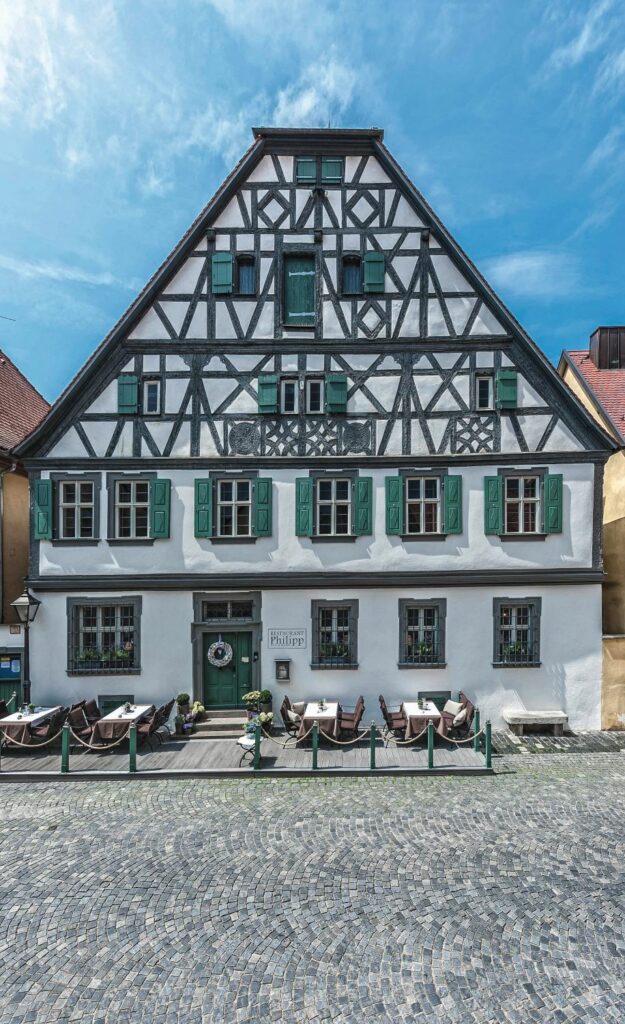 But what truly sets the restaurant apart are its owners! Chef Michael Philipp trained with Fritz Schilling at the "Schweizer Stuben" in Wertheim. He was awarded a Michelin star as early as 2003 and is a household name in the European culinary scene. His wife, Heike, takes care of the thirsty guests. The diploma sommelier delights visitors' palates with fine drops from the region and around the world. It's no surprise that the house's wine list offers an excellent selection of premium wines that complement the menu perfectly.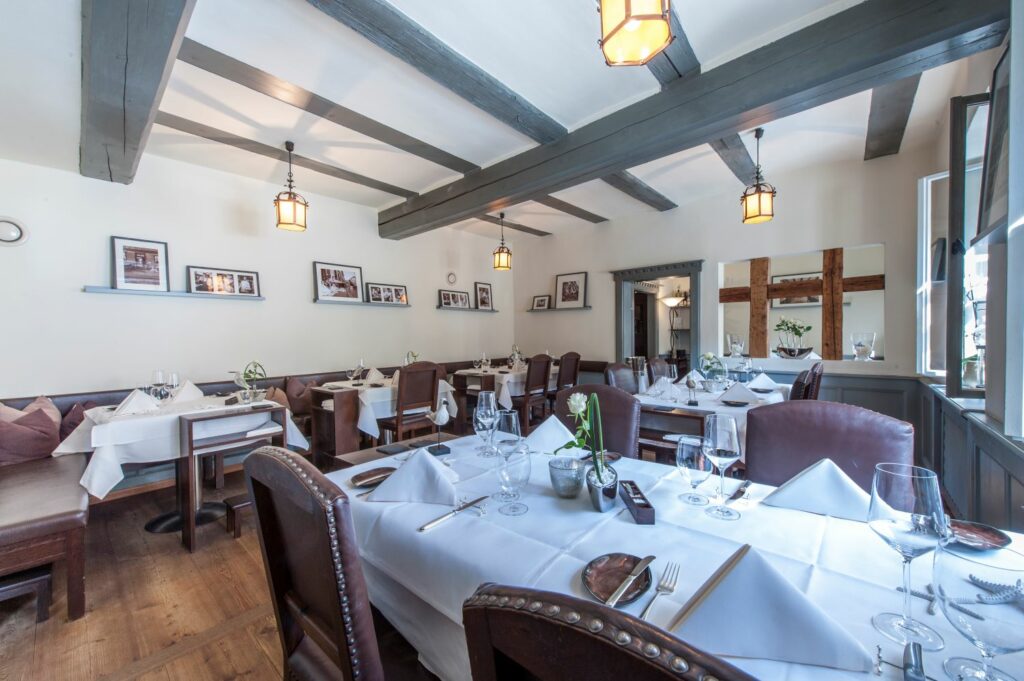 Optional activity of a special kind: At events like the "Masterclass," gourmet enthusiasts can watch the chef in action and unveil a secret or two!
Restaurant Weinstock | Volkach
History continues! In the idyllic town of Volkach, Romantik Hotel zur Schwane stands with its exclusive Restaurant Weinstock. Hospitality has been paramount in this ancient building for over 600 years! Guests can stay in one of the many rooms, each unique in its own right. Ultra-modern design suites meet cozy nostalgia rooms with wood-paneled ceilings. Indulgence happens at Schwane 1404, the Ratsherrenstube, or in the in-house Michelin-star restaurant.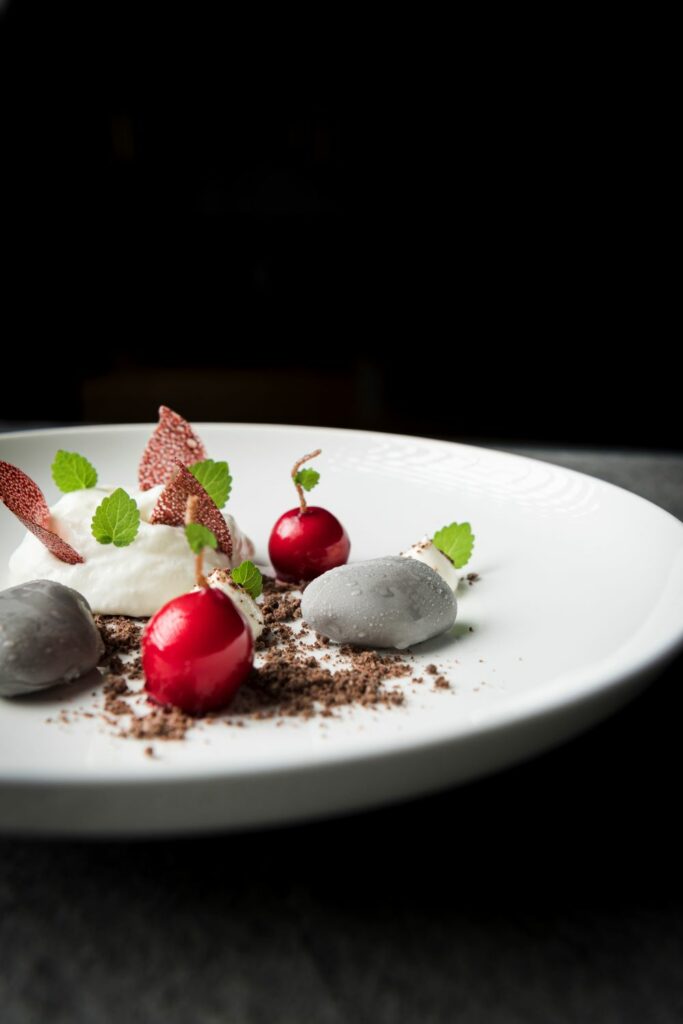 In 2020, it finally happened: Weinstock received a Michelin star. And where there's the Michelin Guide, Gault Millau isn't far behind! It awarded the restaurant with two toques. As if that weren't enough, this darling of the culinary scene also snagged the German Wine List Award for an outstanding wine list.
Most of what ends up on the plate and in the glass comes from their own cultivation! Chef Cornelia Fischer follows the philosophy of authenticity paired with a touch of elegance. She prefers to use local products, many of which are grown in their own garden, highlighting sustainability.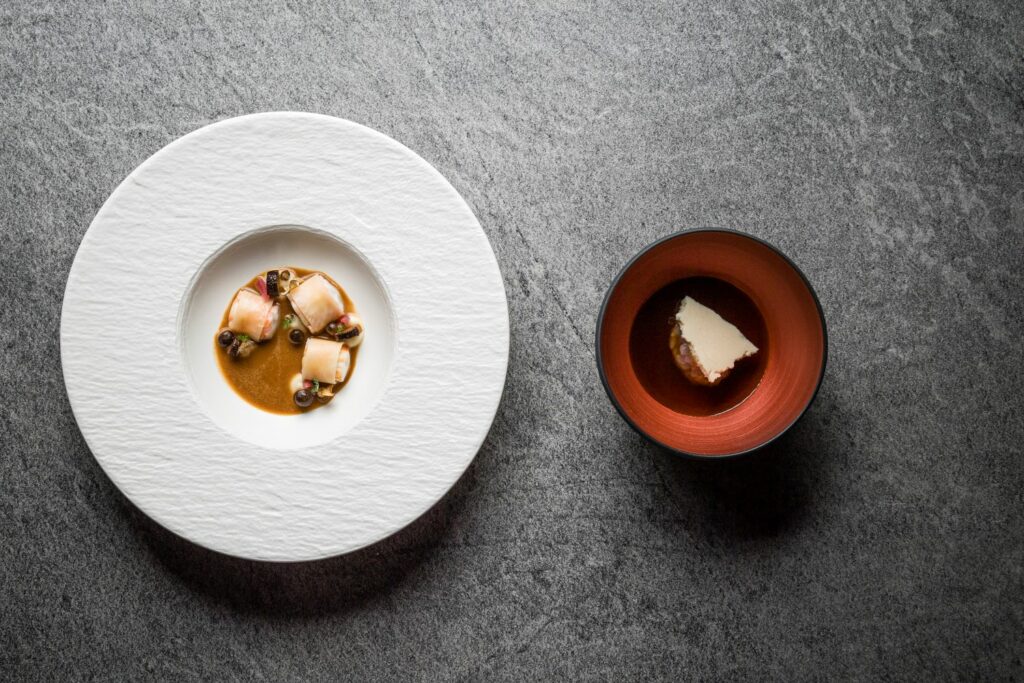 A multitude of exclusive wines also mature in the in-house winery. At a wine tasting or a visit to the old wine vault, those interested can learn more about the region's history and local cultivation. We're particularly taken by the 14th-century wooden barrel cellar!