Welcome to the hustle and bustle: The Merowingerstraße in Cologne's Southern District is never quiet. At lunch time, all outdoor seats of the cute cafés are already taken; there is a chatty noise in the air all-day long. Small shops have their doors wide open, inviting you in. Later, the locals will stroll around here with a Kölsch for their summer's after-work hours drink. A visit to the people of Merowingerstraße in Cologne.
If you turn off from the noisy Chlodwigplatz into the diagonally branching Merowingerstraße, you will find a small, 500 meters long replica of what life in Cologne is all about: a pure lust for life, washed up and chic at the same time, actively shaped by the people. Immediately on the left, the "cheese and egg king" Özcan Sisman beckons you from his small store window; today, a French soft cheese is on sale. You can also get a great wine with your selection of great cheese.
Merowingerstraße in Cologne: Fair Fashion, coffee and interior dreams
Let the shopping begin! But sustainable please: Lanius, the sustainable clothing label from the quarter, and Green Gorillas have great basics and statement pieces for your everyday life. On the other side of the street lies the traditional Pitter pub, where Peter Mathisen jr. serves the first Kölsch beers of the day. Freight bicycles and Vespas make their way through the queue at the small ice cream store Schmelzpunkt. It's a sunny day in early September.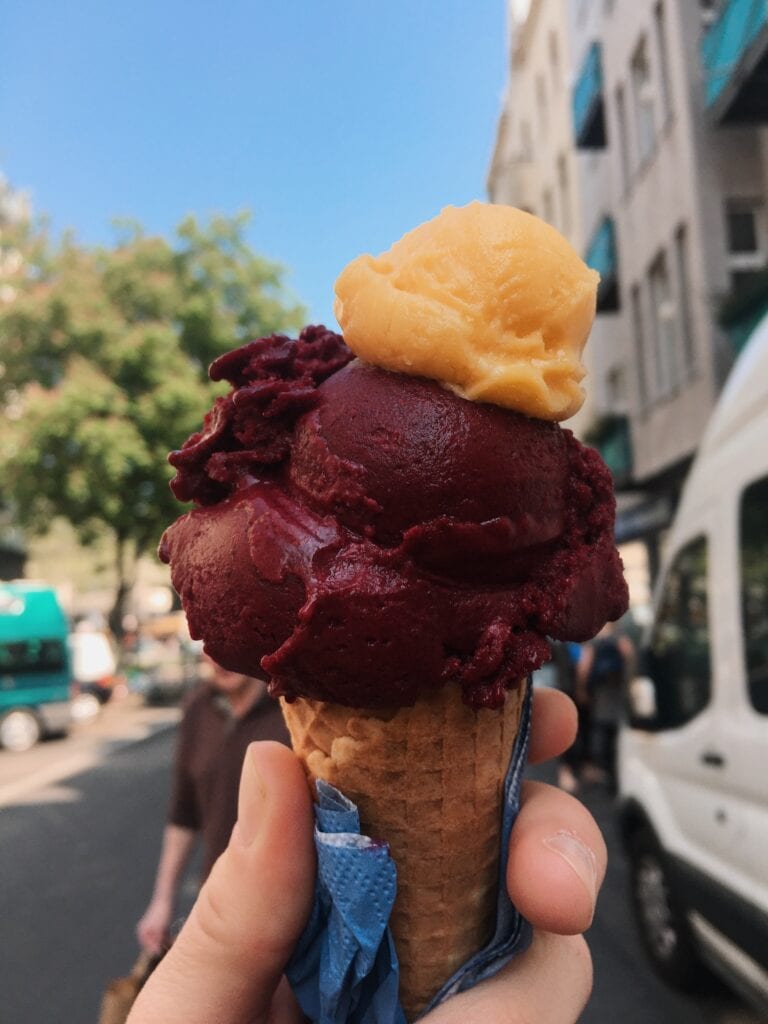 A bit of window shopping at Goldkant, whose Scandinavian design novelties always tempt you to redesign the entire apartment, and you are already at the heart of the street. The lilac-glowing blossoms of blue rain adorn the old building facade around the beautiful Café Hubert, which opened at Merowingerstraße 20 in 2020. Founder Kyria Möbius has created a place where great coffee (Frechen coffee manufacturer Tim and Sebastian), delicious homemade cakes (today: freshly baked carrot cake), art (current window display: Biatsch One – a graffiti artist from Cologne) and accessory (right now: hand-sewn funky denim jackets or funky backpacks) complement each other perfectly – best to be enjoyed on their sunny terrace. If you don't get a spot – there is Café Rotkehlchen just a couple of houses down the street.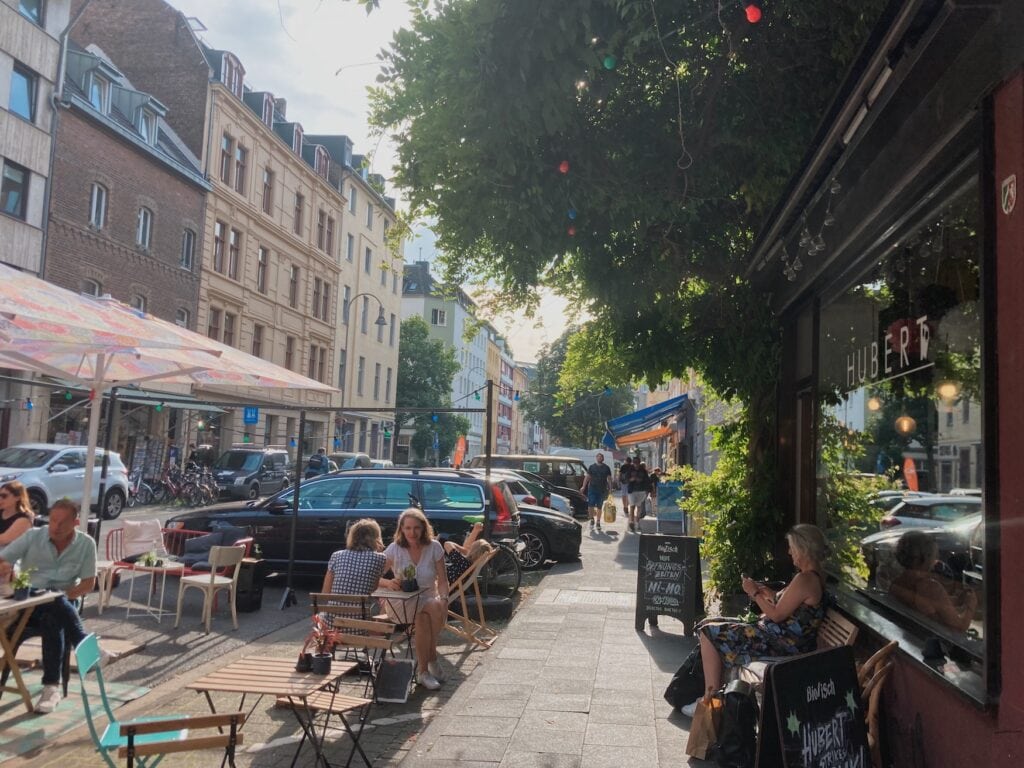 Chatting with neighbors
People know and greet each other at Merowingerstraße. The lady from the Italian delicatessen shop, right next to Traumfarben, Cologne's most beautiful handicraft store, is just clearing out the small bar tables and having a chat with her neighbor. Now crossing Vondelstraße, there is the carnival shed par excellence serving delicious tapas (Filos) the rest of the year, Il Mondo vis-à-vis giving you the real Italian vacation feeling instead, red-and-white-checked tablecloths included.
And of course, a bookstore is a must – a very special one, of course, because Schatzkiste offers used art and culture books at bargain prices at Merowingerstraße 42. The best second-hand store for fashion in the area remains Zeit der Rosen just a few houses down. Every item, perfectly selected, is waiting to put a smile on the buyer's face.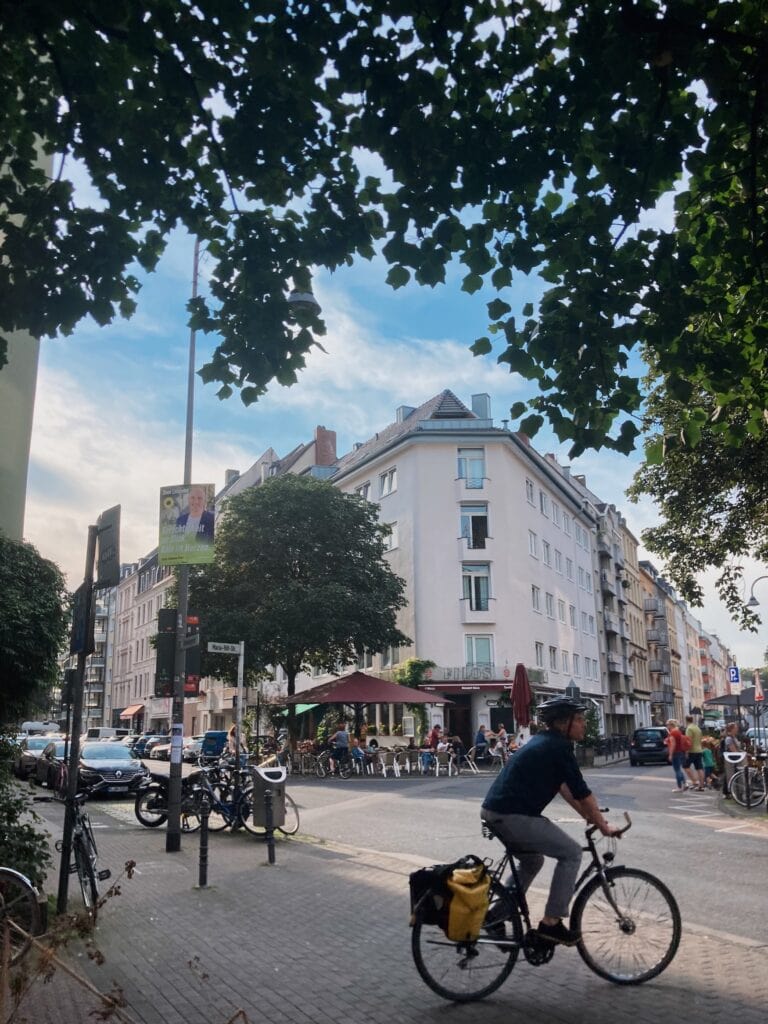 Veedel-Shopping: A local alternative to Amazon
At Blickwerke, directly opposite the brothel Cesar's Palast, which opened its doors as a corona test center during the Corona period, you can meet owner Werner Mason engrossed behind his large Mac – or alternatively on the small bench in front of the store, always up for a chat. The trained IT specialist sells any form of furnishing and interior design that he personally likes. Between products from small local and European manufacturers you can find antique gems from the flea market, next to hand-woven baskets from a fair-trade women's project in Senegal. From local to global, old to new, small to large, slightly kitsch to design – there something for everyone here.
Believe me – you can spent a whole day at Merowingerstraße in Cologne's South! Just see for yourself.