Picturesque, fairytale-like and a bit mysterious – this is how the enchanting Black Forest presents itself to its visitors. In winter, this ensemble expands to include snow-covered treetops and picturesque white forest paths that invite you to go hiking. But the Baden recreation area can do even more: we know the coolest (!) winter activities in the Black Forest.
Winter hiking
Like grandfather on foot – this is still the best way to explore nature. And especially without stress and at a comfortable pace. The Black Forest is also and especially suitable for hiking in winter. Numerous marked trails lead the nature lover over hill and dale and past all kinds of postcard views. Don't forget your camera!
Baiersbronn is an ideal starting point for one or more extended tours. The small town is located in the middle of the Black Forest National Park and quickly makes you forget the stress of everyday life. After a vitalizing hike, there is one thing that should not be missing: a stop for refreshments. And this is also taken care of here by means of huts that are open all year round, where hikers can fortify themselves with regional specialties.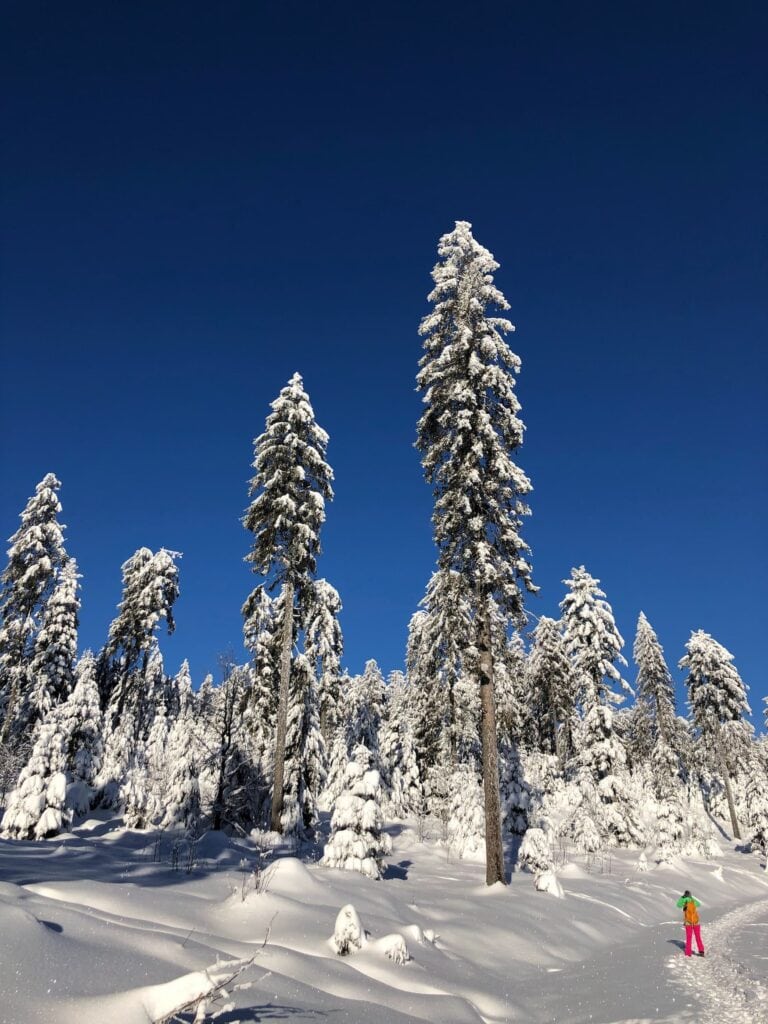 Snowshoeing
Hiking, the second! If strolling on your own soles is too boring or ordinary for you, you can simply strap two snowshoes to your feet instead and go on a foray through the national park with a real ranger. Equipped with a spotting scope – a special ground telescope – the group quiet as mice at the heels of badgers or dormice. More nature than during such a two and a half hour snowshoe hike is hardly possible.
Cross-country skiing
Probably the most elegant way to explore the snowy Black Forest is cross-country skiing. Equipped with skis and poles, you glide gently and silently like an owl through nature on one of the many cross-country trails. There are plenty of them around Baiersbronn, in Obertal-Buhlbach even one equipped with floodlights. The health of the prospective cross-country skier will thank you in any case, because such an official cross-country run comes pretty close to a full-body workout. Only not in a stuffy gym, but out in the open, in the middle of the snow. Nice!
Skiing
If you like it a bit faster, you can also take to the slopes in the classic way. There are several of them around Baiersbronn, so that skiers and snowboarders of different levels of experience will get their money's worth. With the Schwarzwald Plus guest card, visitors even get a free day ski pass for all the slopes, and children from 3 to 15 can take part in free ski lessons throughout the season. The guest card also allows the free rental of appropriate winter sports equipment in participating winter sports stores. No wishes are left unfulfilled.
Tobogganing
Another way to let the wind blow in your face on the slopes is to go downhill in the classic way on a toboggan. A hearty toboggan ride is fun for the whole family. In Baiersbronn, three different toboggan runs await the world's toboggan enthusiasts in winter, where speed records await their conquerors. The corresponding equipment does not have to be laboriously carted from the Plattdeutsch heath, but can be conveniently borrowed from the local sports stores – again free of charge with the Black Forest Plus guest card. What more could you want?