On a hidden plateau near Garmisch-Partenkirchen lies a cosy, charming wellness hotel in Bavaria with a compelling credo: Health through pleasure. Sounds too good to be true? It's simply genius!
Mountains
Wow, what a view. That's my first thought. I'd love to have that projected onto the wall of my living room. Closely followed by: Why do I always think of the beach in summer instead of the mountains? This amazing view gently removes me from everyday life and places me into a state of relaxation. Just the presence of the snow-covered peaks, the clear sun above the mountain meadows and the fresh mountain air all start to work their magic.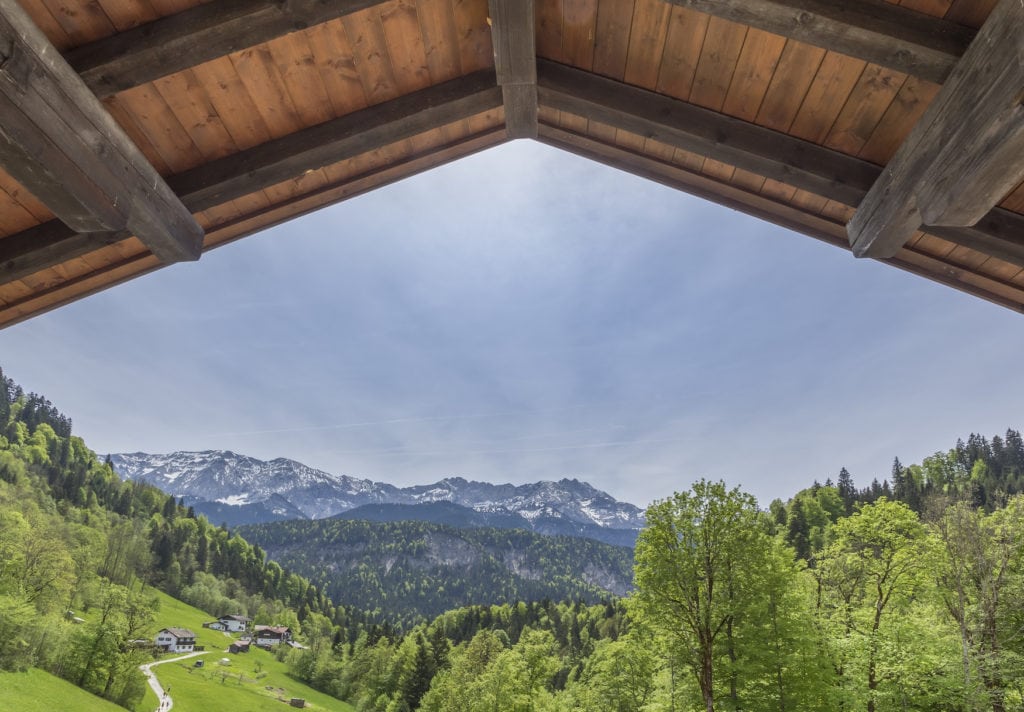 While I enjoy the panorama on the restaurant terrace, the aromas of the restaurant kitchen fill the air. Is it ok to order Kässpatzen in the summer – a hefty but moreish blend of cheese and homemade Bavarian pasta? Or is that a comfort food reserved for cold winter days? Can the buttery, sugary but utterly luscious pancake dough of a Kaiserschmarrn ever be healthy?
Health
Hikers used to put their feet up here, in what was an old forester's lodge. Vincens and Sylvia Weingart bought the lodge, expanded it and opened Graseck in 2015. The two doctors from Munich have worked in Garmisch-Partenkirchen for over 15 years and by opening this hideaway decided to start a new chapter in their lives.
In the Gap Prevent, the hotel's own centre for preventative medicine, guests can have a full health check-up, as well as a full range of therapies and treatments, such as performance diagnostics, cancer screening, colonoscopy and dental cleaning. But why should you go to the mountains specifically for that? Sitting in the dentist's chair, with your feet up and the magnificent panoramic view of the mountains to distract and calm you, the answer becomes clear.
Take a deep breath in, and a deep breath out. Put your hands on your belly and find your inner centre. Close your eyes.
That is easier said than done here, given the distracting scenery on the sun deck. I close my eyes and try to concentrate on my Pilates teacher, Ina. It's really not easy to carry out these intricate movements with your eyes closed. I probably look like a wobbly question mark. But who cares? The other participants are also in a trance and the rest of the hotel guests only have eyes for the enchanting scenery.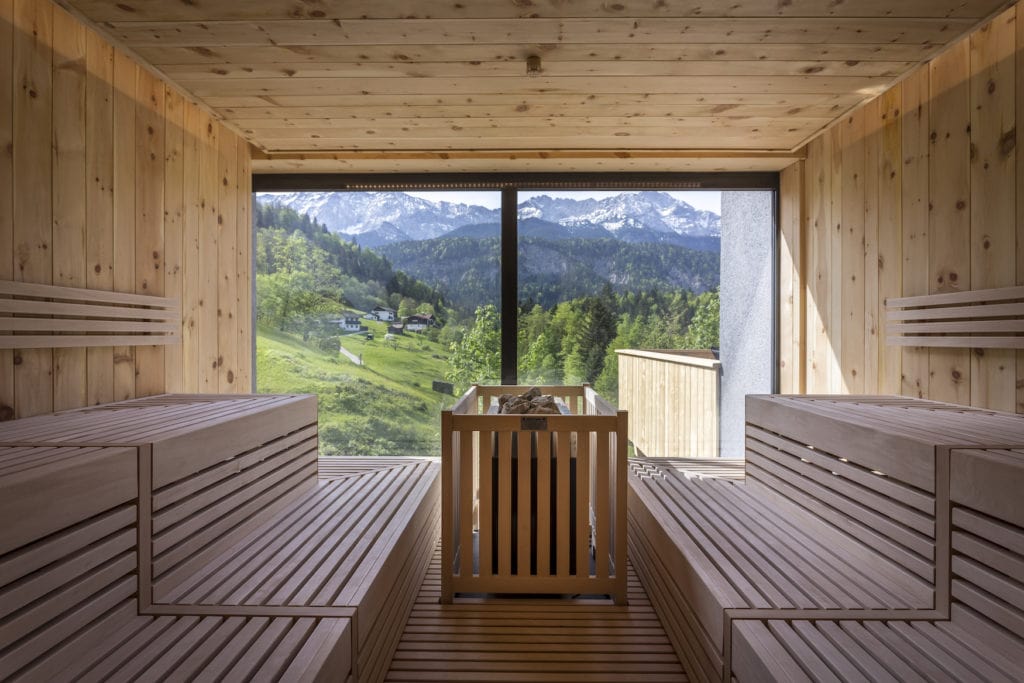 Happiness
Even when sweating in the panorama sauna, all eyes are on the mountains. The entire 500m² wellness area is oriented towards the Wetterstein Mountains. Whether on the comfortable swinging loungers in the relaxation room, during the sauna ritual or in the 32°c-warm water of the outdoor pool, the calming presence of the Bavarian Alps is always there and leaves no room for hectic. During the treatments, everyday stress is literally massaged away. Every minute is pure pleasure. I could probably stay here forever.
Pleasure
My gaze wanders to the next table. Sometimes I get food envy, or I get overly excited – depending on what I ordered myself. By afternoon, I had already indulged in Kässpatzen and Kaiserschmarrn – high-calorie comfort food at its best.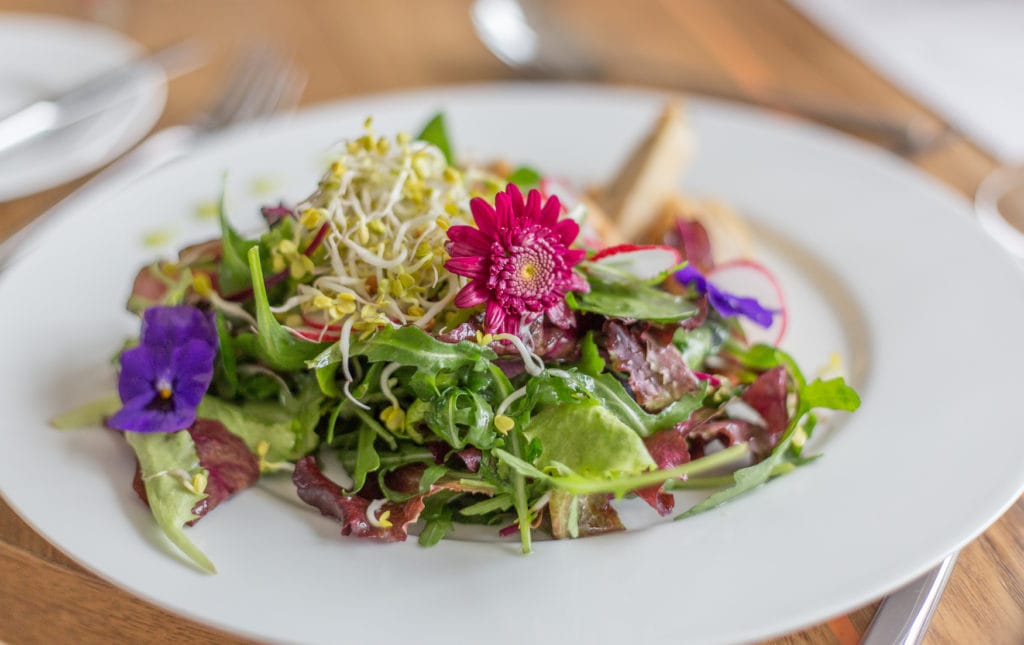 Sautéed char is served with braised cucumbers, wild rice and white wine sauce with lemon – this sounds like food heaven to me. "I'm cooking the way I always wanted to cook", says the 32-year-old chef, René Laumann, as he conjures up delicacies with passion and dedication
This house is my life.
This deep connection, this passion, you can taste it with every bite that melts in your mouth. Did I mention the lemongrass panna cotta with pineapple salad? I wanted two …
Goodbye best Wellness Hotel in Bavaria
It's time to go home, but nothing in me wants to leave my snug room, the wellness area, the view! It seems I've found everything my heart desires here in Graseck. And a lot of other things that come in handy. If I stayed here, I wouldn't have to drive all across town to go to the dentist, healthy, ambrosial food would only be a few steps away and no wallpaper in the world could even come close to this amazing scenery.
Hotel
Das Graseck
Graseck 4, 82467 Garmisch-Partenkirchen
+40 (0)8821 943240, www.das-graseck.de, welcome@das-graseck.de
Room from €125 per person per night
What to do
Hiking, skiing, mountain biking – the outdoor activities in the Bavarian Alps are numerous. An excursion to the Zugspitze is particularly worthwhile. At 2,962 metres, it is the highest mountain in Germany and is only a 25-minute drive from Graseck.