A short break with a big effect. How and where does that work? In the middle of the Eifel National Park and Star Park, just a good hour's drive from Cologne or Aachen. There, design lovers as well as those seeking tranquility will find the Neugrad cabins, which impress everyone with their aesthetic design in a minimalist style. A Finnish sauna, fireplace and an unobstructed view of the surrounding natural landscape, absolutely stylish. A perfect combination.
Everything is possible, nothing is necessary!
Even if Neugrad invites you to do nothing but linger at first glance, visitors have numerous options with the 110 square kilometer national park right in front of the cabin door. That's why the motto is "Everything can happen but nothing has to happen". And if you want to, you can expect a great mix of hiking trails, cycling routes and paddling tours. All totally original. Because: In North Rhine-Westphalia's first and only national park, nature is completely left to its own devices in some parts. And the green heart of the West is slowly changing again with the untamed wilderness returning. Wild cats, black storks and beavers find a home, again. The so-called jungle of tomorrow is emerging. In the early autumn months, visitors can also look forward to a very special spectacle: red deer, the largest forest dwellers in the Eifel, go hunting for a mate and their roaring – the stag rut – often echoes for miles across meadows, valleys and forests.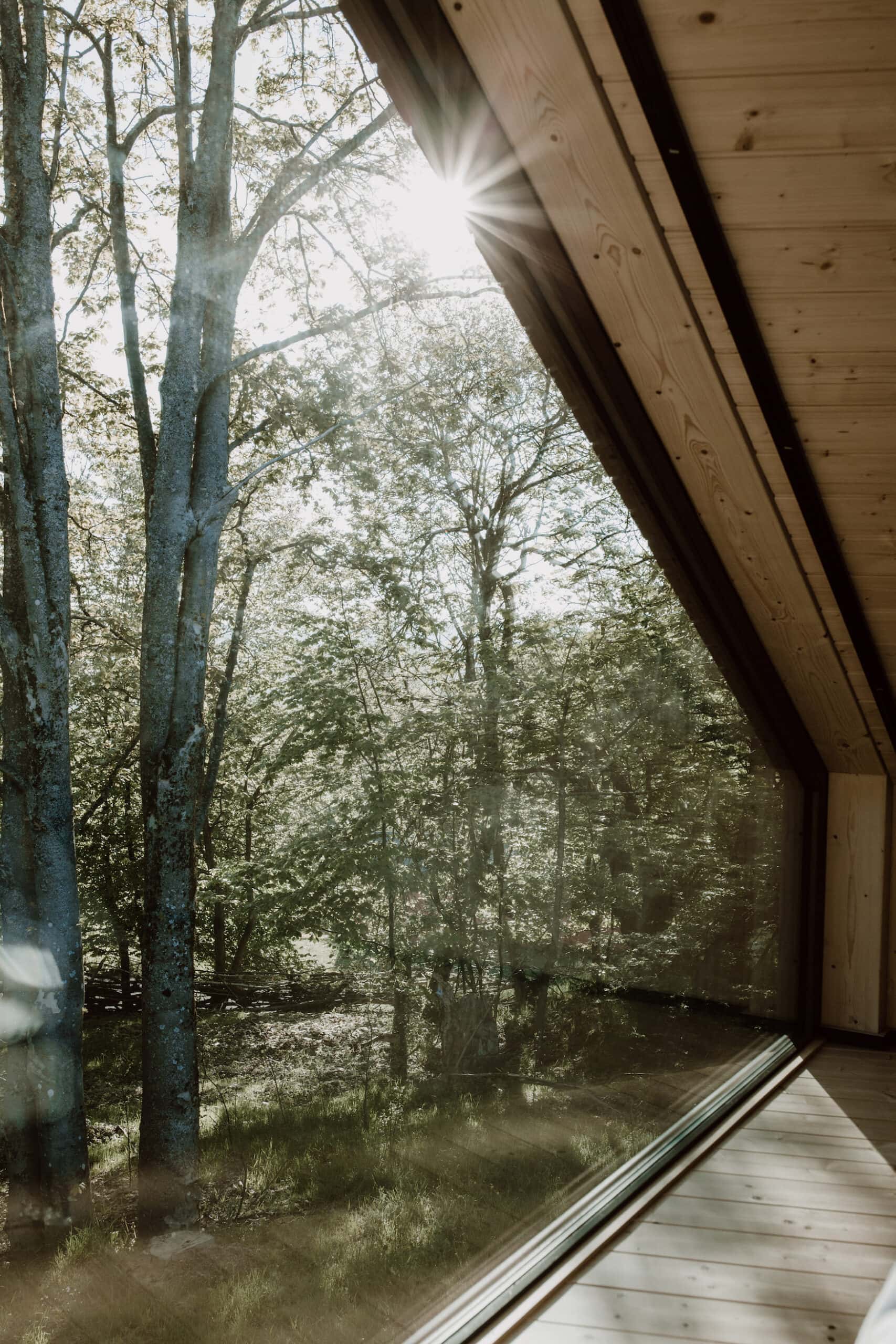 Rest, relaxation, deceleration
Everyday life is quickly forgotten here because rest, relaxation and deceleration await. Can it be a little bit more? Then a four-day guided break in the form of a micro-sabbatical is a good idea. In daily one-to-one coaching, participants can clarify essential questions for themselves, define their goals and create new life plans. Sounds like a little break with a big impact. These micro-sabbaticals can be booked individually all year round – including three nights in a design cabin with meals.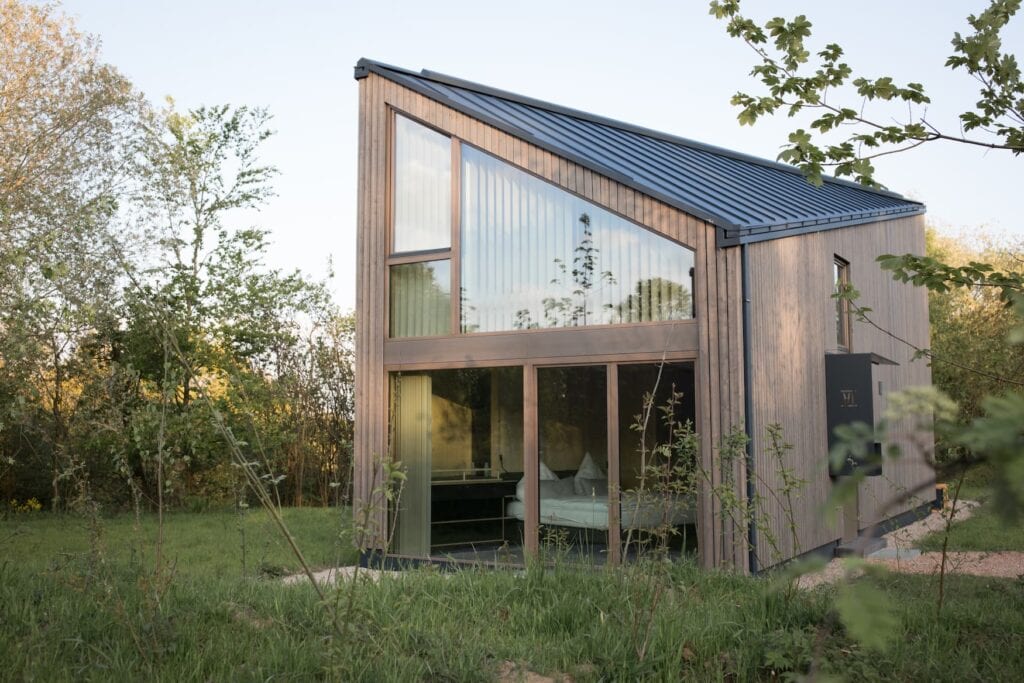 Modern minimalism
Bright, spacious, comfortable, simple, natural, linear and reduced: seven houses – four compact two-person double cabins, each with two forty square meter living units and three spacious four-person single cabins, each eighty square meters – uniting everything that makes for comfortable living in a very well thought-out and stylish way. The ambience is determined by a triad of wood, concrete and black. Many small reading spots, each with a view of the outside and sunbathing areas by the fireplace ensure a special feel-good atmosphere. The interior walls are paneled with spruce wood. All in all, it's a calm design concept.
At night, the starry sky seems close enough to touch. The area is part of the Eifel Star Park and, thanks to the low level of light pollution, is one of the few regions in Germany where the Milky Way can still be seen with the naked eye. Sounds galactically good, right?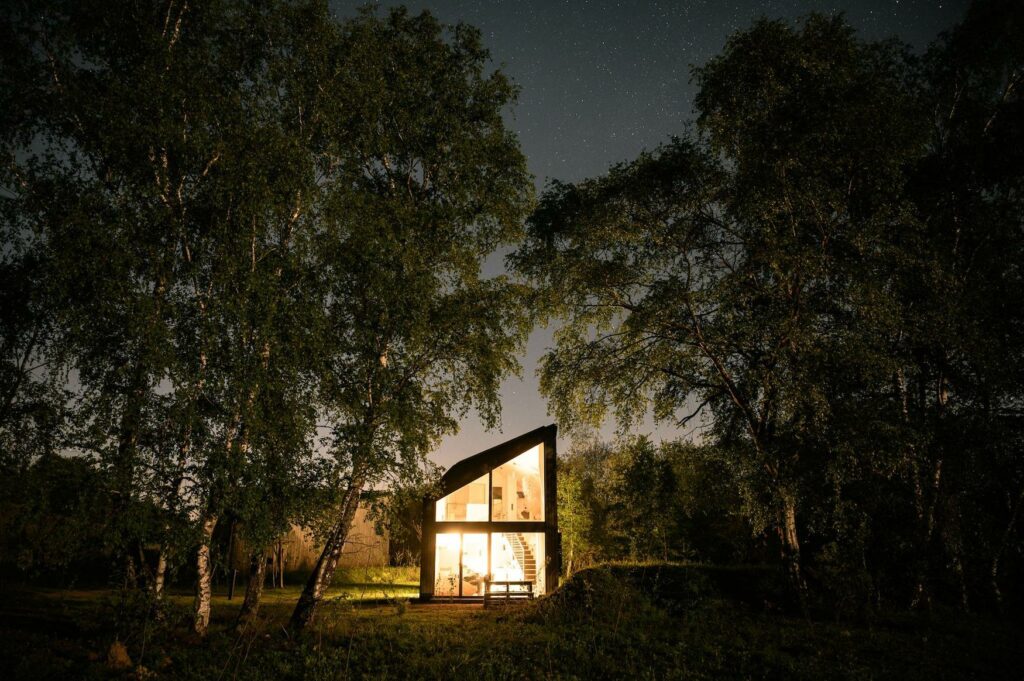 More information for those interested in Neugrad