There's a German saying that's been used for generations to get kids to eat their greens: "Finish up your food, so tomorrow we'll have good weather". So when you go on culinary tour through Lower Bavaria, good weather is guaranteed. Because the organic farms in the Rottal valley offer such deliciously fresh organic dishes in their farm stores and restaurants that it's almost impossible not to lick your plate… if table manners allowed it. Are you hungry for regional delicacies? Then let's enjoy some sustainable specialities!
Wild for Wild Game: Game specialties from the Giglerhof farm
If you visit the Giglerhof farm in the thermal spa town of Bad Birnbach, you should do so in the months of April to June or August to October, because that's when the deer are loose. Guests of the farm's own guesthouse can observe the deer rutting season from their balconies. It's quite a noisy spectacle, as the stags try to convince the females of their favour by roaring and grunting. Sounds familiar, doesn't it, ladies…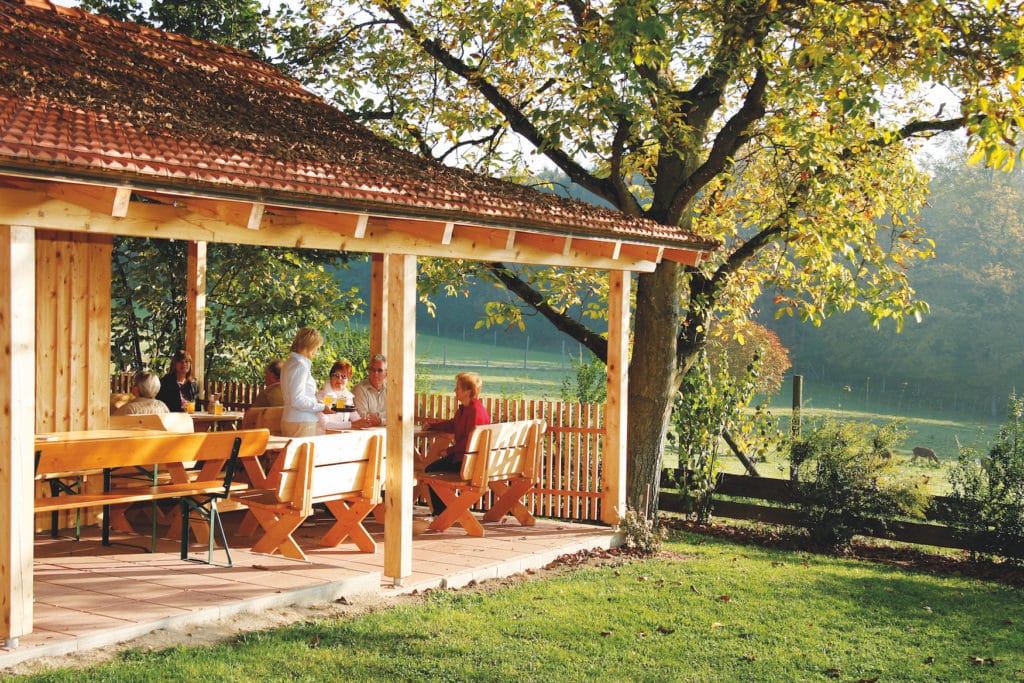 However, the Giglerhof is not only known for the rutting of the deer, but mainly for its game specialties from its own farm. In addition to meat and sausage products, you can also buy schnapps, jams, honey and pasta in the farm store. A special treat, however, should be enjoyed directly on site: Warm venison meatloaf with homemade cider.
"So schmeckt's dahoam!", as locals would put it.
That's the taste of home!
That's also the slogan of the group of 50 direct marketers, including farms and regional producers in the district of Rottal-Inn, to which the Giglerhof belongs.
The Pampered Life of a Cow: Wagyú Beef from Maier am Berg
This must be paradise for cattle. Lush green meadows meet rolling hills, blooming fields of yellow rapeseed and dense forests. Christian Lang's cattle, on his farm "Maier am Berg" in Wurmannsquick, graz contentedly with an idyllic view. But these are not just any old cows, but a special breed: Wagyú cattle.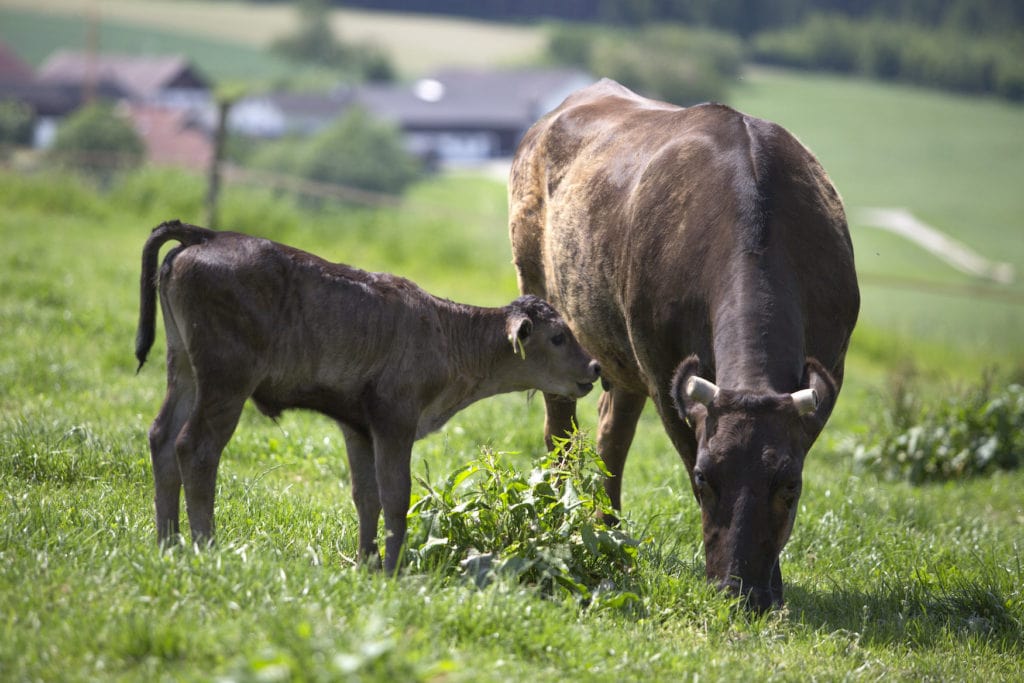 The breed, which originates from Japan, is one of the noblest and most expensive in the world. The animals live at least twice as long as conventional cattle before they are slaughtered. Antibiotics are taboo and they spend most of their lives on pasture. In Christian Lang's farming philosophy, animal welfare and the quality of his precious beasts are paramount. But quality has its price; currently €27 per kilo, to be precise. This also reflects Christian's understanding of sustainability – eat less meat, but then of the highest quality.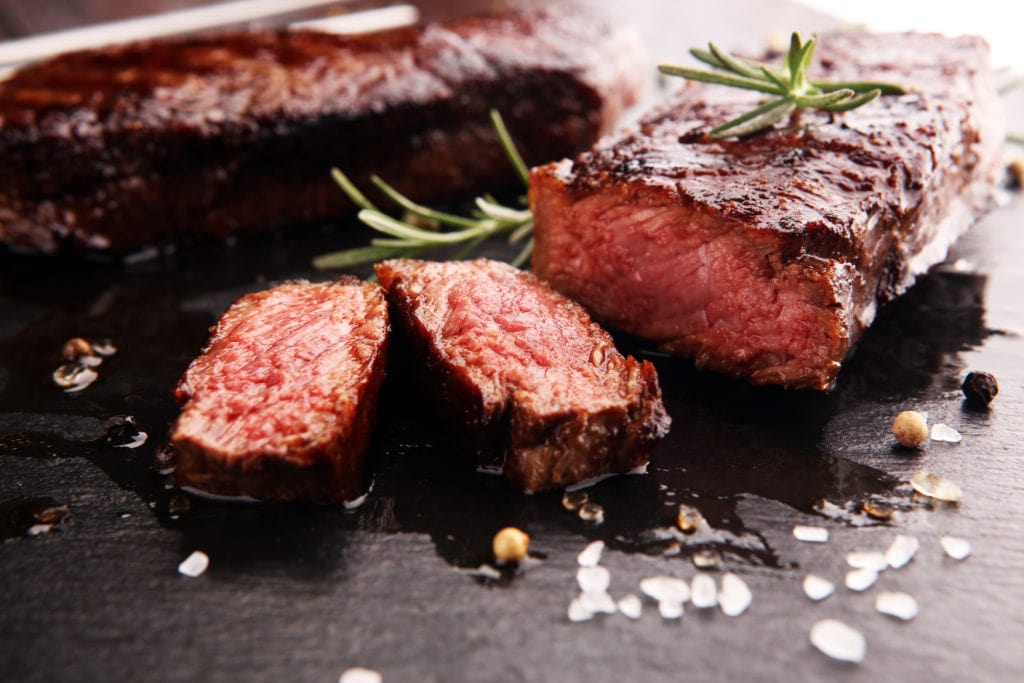 Visitors who would like to taste Christian Lang's first-class Wagyú beef can do so directly on site in his farm store. It's also possible to order online.
Calf for Rent: Hausberg Organic Farm in Egglham
You won't want to leave this relaxing, shady place. If you go on a hike or bike tour around the "Rottaler Holzland Wanderweg", then your final station should definitely be the garden of the Hausberg organic farm in Egglham. In the garden lined with lime trees, you can enjoy a lovingly prepared "Brotzeitbrett"; a traditional Bavarian platter of homemade cold-cuts and specialties. It's so incredibly good, you'll wish you were still hungry so you could order another one.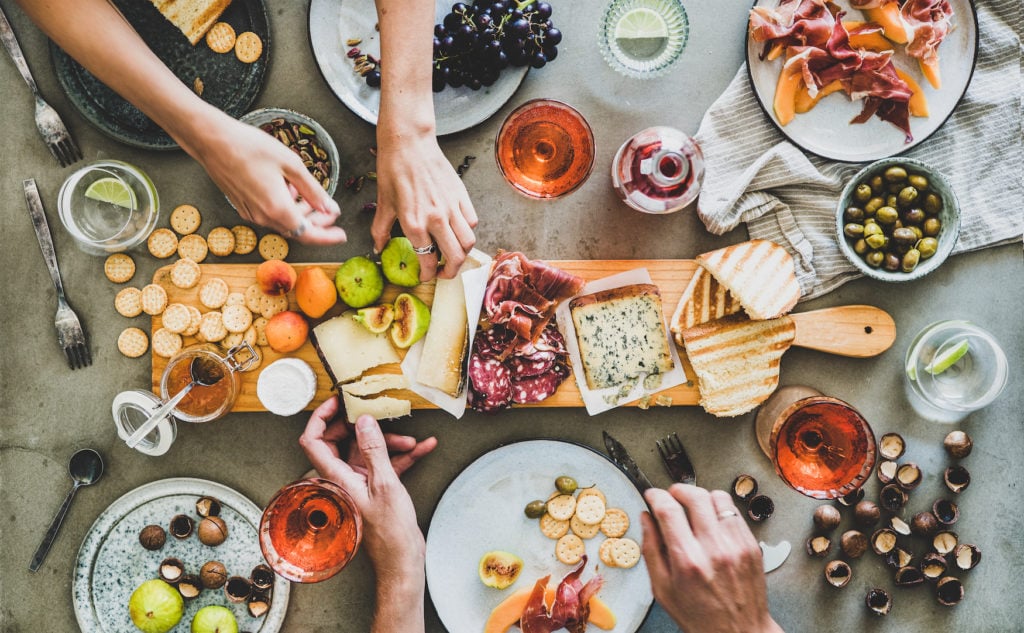 Perhaps a tour of the farm will help to make room for a little more…. The Dapont family offers tours on Saturdays and Sundays from April to the end of October at 11am. It's a great introduction to the traditional, self-sufficient life of a Lower Bavarian farm; a lifestyle completely in harmony with nature, animals and humans. Food is grown here without the addition of chemicals or pesticides and marketed regionally. The animals are not fattened, but allowed to grow slowly and in a natural environment.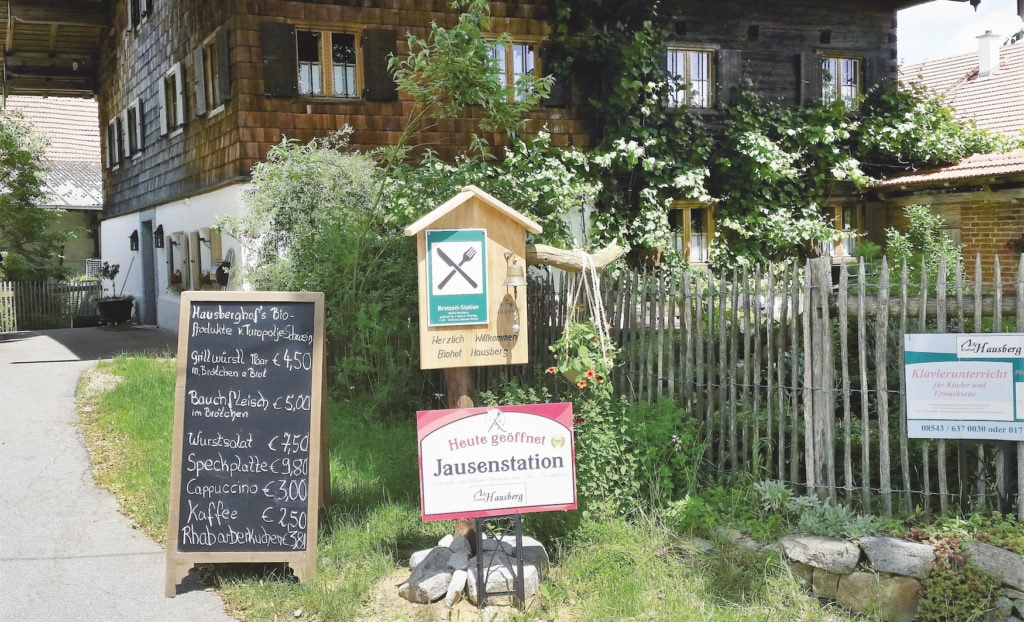 And for anyone intersted, it's also possible to lease an animal. That's right! This organic farm offers cattle for leasing. This means that you can finance a calf on the organic farm, which remains in the herd for natural rearing. Sponsors can visit "their" animal at any time by appointment, while they pay the monthly feed costs until slaughter. This normally takes place while the animal is between one and two years old. In this way, the organic farm receives financial support and sponsors get to enjoy fantastic organic beef from an animal that has lived on pastureland within its herd, without any fattening feed or medication. Visitors can also spend the night in one of the farm's comfortable, traditionally decorated rooms.
Pigging good! Land.Luft Hof Leberfing
Land.Luft Leberfing is a farm that also specializes in high-quality organic meat. And it also offers its guests enjoyable hours of gastronomic pleasure in its vaulted cellar or in its beer garden, with nothing but the best organic delicacies. It's a good thing that all the country air in Lower Bavaria's Rottal valley makes you quite hungry. Here, traditional Bavarian cooking meets with modern cuisine. Dishes such as pork cordon bleu, filled with farm-smoked ham and local cheese, accompanied by crispy fried potatoes and a cucumber salad with sour cream dressing, or braised pork cheeks on a light thyme jus with celeriac puree and root vegetables will make your mouth water – whether you're hungry or not.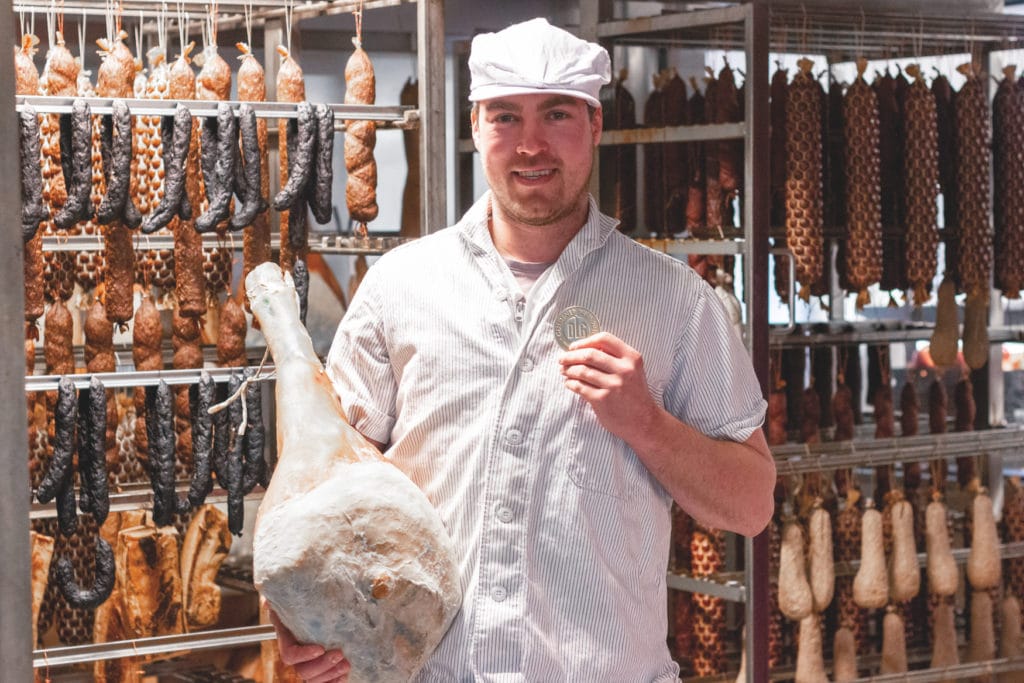 The meat for these dishes comes from old, endangered breeds of farm animals that are kept here year-round in the open air, slaughtered in a humane manner directly on the pasture and then delivered straight to an on-site butcher for further processing. If you only have time for a flying visit, you can also buy the certified organic meat in the farm store. Don't forget to take some of the incredibly delicious homemade jams and acacia honey with you.
In addition, Land.Luft Leberfing also has a market cart that makes stops at various markets throughout Bavaria. On Wednesdays, for example, you'll find them in Munich Schwabing/Freimann, on Thursdays in Starnberg or on Saturdays in Passau.
More information about the region of Lower Bavaria and the Rottal Valley at the Website of Bayerisches Thermenland (German only).