Fudged your tax return? Pulled off a bank heist? If you're not passing "Go" but heading straight to jail soon, you can prepare for life in a single cell in Kaiserslautern.
"Would you like to book one of our comfort rooms or perhaps one of our original cells?" the staff member at the "Alcatraz" hotel in Kaiserslautern kindly asks the interested guest on the phone. It's safe to assume that the former residents of this imposing structure on Morlauterer Weg weren't given such a choice: Starting in 1867, convicted villains were incarcerated in a plain penitentiary here. Comfort rooms probably weren't allocated.
Later, the house, officially known as the "Royal Bavarian District Prison," was simply called the "Kaiserslautern Penitentiary." This name probably suited the gloomy atmosphere of the red sandstone building on the outskirts of Kaiserslautern's city center. Among its most famous inmates were philosopher Friedrich Engels and Hambach revolutionary Johann Georg August Wirth. Mockers claim that the defenders of the famous local football club in the 1970s should have been behind bars for their style of play as well, but as far as anyone knows, none of the "Red Devils" ever got caught.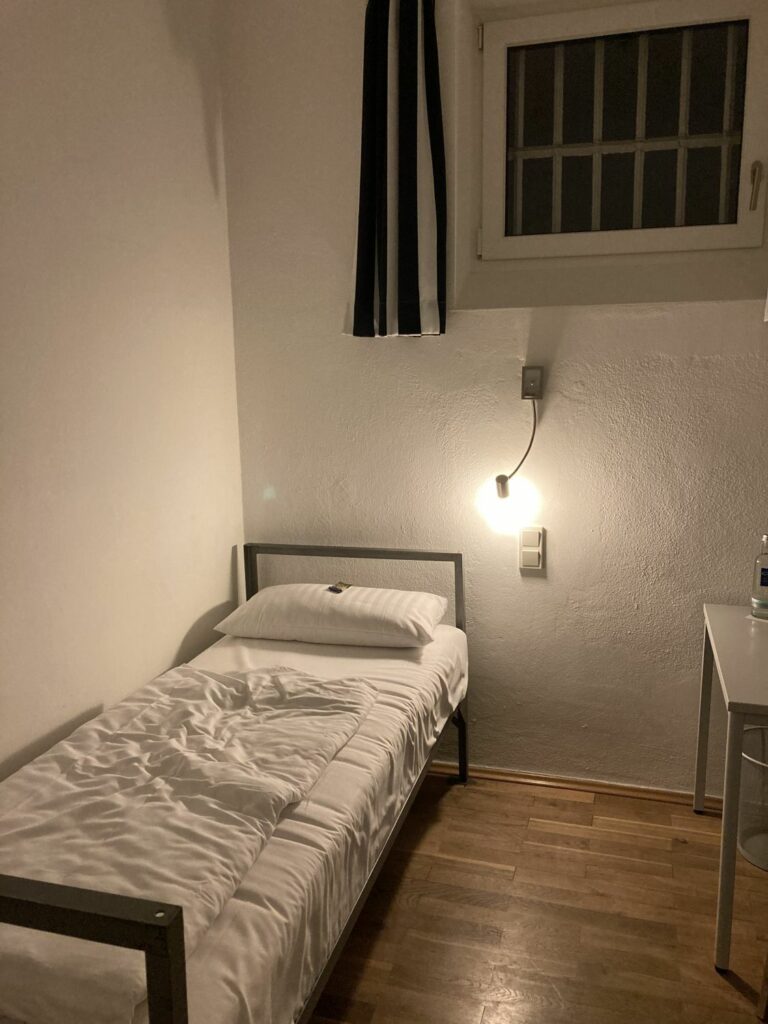 Not for the faint of heart
It wasn't until 2002 that the correctional facility closed and was to be reopened six years later as a hotel named "Alcatraz". The renovation is said to have cost two million euros. A cozy interior, it must be noted, is evidently not where any cent was wasted. The place is branded as an "experience hotel." One of the things this implies is already announced by a sign at the hotel entrance: On weekends, you can experience "The Original Crime Dinner" here. Indeed, it's hard to imagine a more suitable setting for such an event.
Even the hotel's entrance area hints at its past. The gentleman at the reception sits in a black cage, formerly used for circus wild animals. The hotel bar, "Behind Bars," is also situated behind such a sinister lattice. It might be seen as original and fitting to the hotel's theme, but it certainly doesn't exude an inviting atmosphere. Yet, that's perhaps the goal at "Alcatraz." The hotel was already recognized in 2010 by the "Germany – Land of Ideas" initiative as a "Selected Place," so it seems to be serving its purpose. Those who come here to spend a night behind bars aren't primarily interested in comfort and convenience.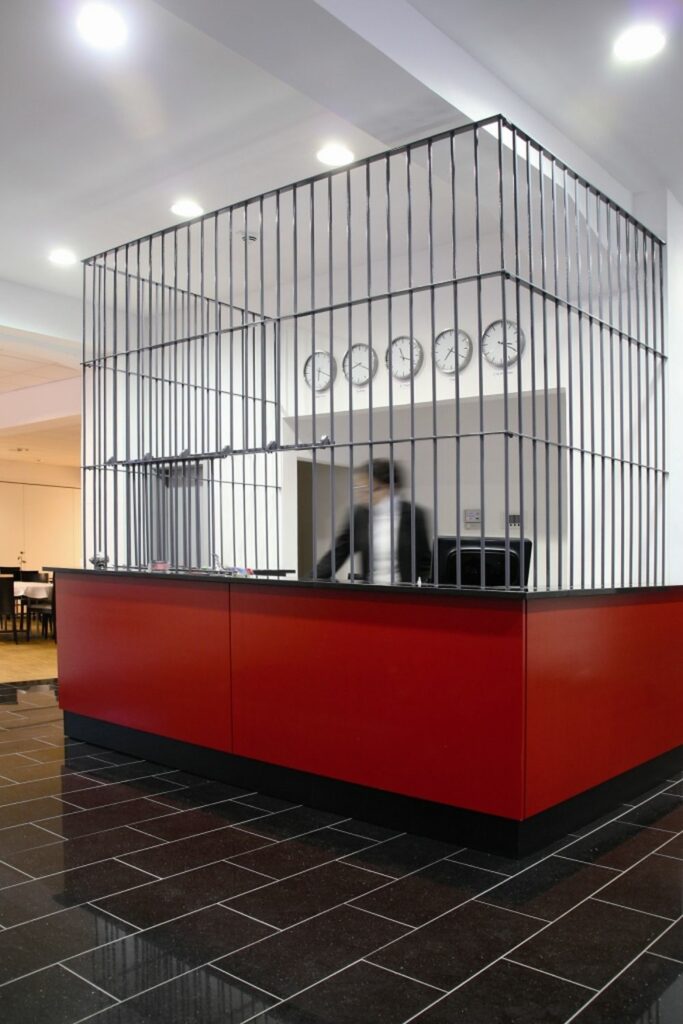 Open toilet included
It's more the thrill and safe amusement of spookiness that leads one to the ex-prison, to experience – hopefully just once in a lifetime – the spartan existence of a jailbird. Accordingly, booking one of the 21 "comfortable" rooms or even the few "suites" of the establishment is unpopular. Instead, if you're going to do it, you might as well stay in one of the 36 cell rooms. They are authentically equipped with plain bunks and an open toilet in the corner of the cell. The barred window allows a view of freedom, and the compact cell door with its hatch – also known as a pass-through – enhances the feeling of this rather authentic "incarceration experience."
However, the prison management – or rather the hotel management – seems to have only limited trust in the humble demeanor of its guests. Otherwise, how else could it be understood that a flat-screen TV has been installed in the cell to provide entertainment around the clock? However, wireless internet connection is not offered here, only in the hotel's lobby area. Showers are taken outside of the individual cells in a lockable, phew! bathroom in the hallway.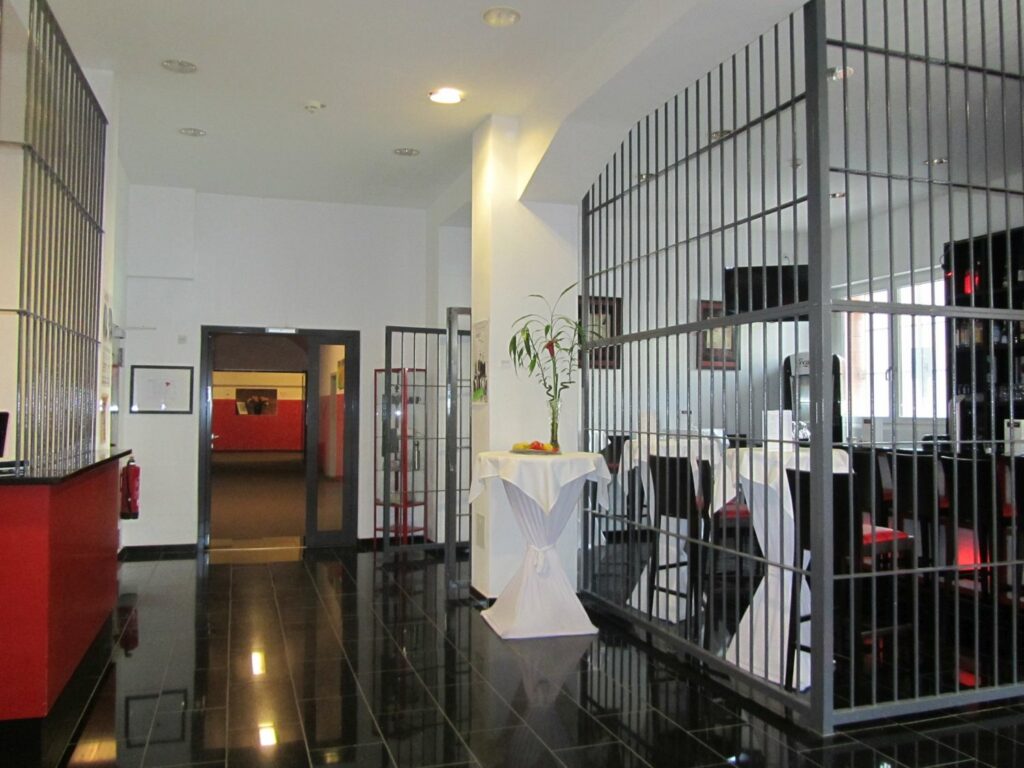 Authenticity is key
Breakfast, however, is not brought to the room or cell, but is to be enjoyed between 7 am and 10:30 am in a somewhat mundane multipurpose room right next to the reception. Here, a modest buffet is set up, which you would probably expect to find in a small-town bowling alley or a correctional facility's common room. But even this somewhat modest gastronomic presentation is in line with the hotel's intention to provide a palpably authentic experience. As stated quite prosaically in the Alcatraz brochure: "Your experience is our pleasure."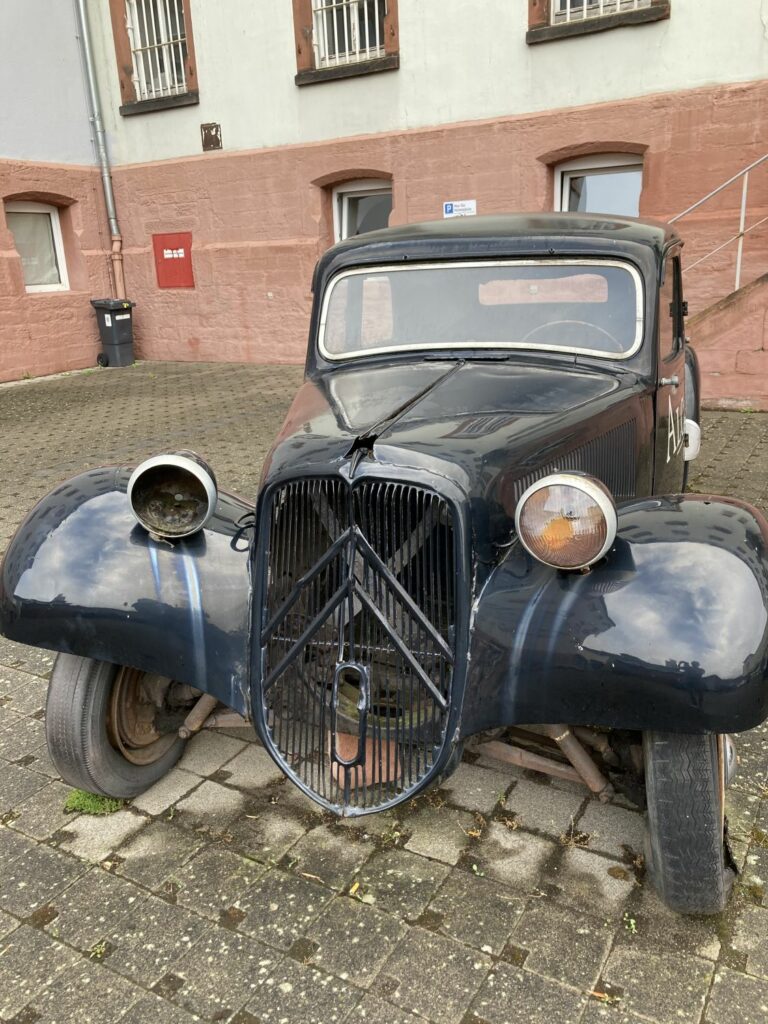 What's quite quirky, though, is the fact that a very respectable Japanese restaurant has been set up in the "Alcatraz." Once you find it in the long corridors and ignore its lackadaisical decor, the cuisine is likely to pleasantly surprise. Why it's located in Alcatraz becomes clear after taking a stroll in the vicinity. Because in this case, you won't just stumble upon a retired prison bus and a sort of Al-Capone gangster car in the yard, but also a charming Japanese garden just one minute away from Alcatraz. Here, what doesn't really belong together comes together – and that could also be the motto of this creative hotel idea.