Text
Marie Tysiak & Frank Störbrauck
A break from everyday life: Couples are guaranteed a wild night in these hotels which are for more than just sleep. They are equipped with pleasure-stimulating furnishings, extraordinary beds and sex appeal.
Old Post in Flensburg
Couples get a crackling atmosphere when they enter room 119 of the Alte Post in Flensburg. The themed room, designed by Orion, one of the largest erotic toy companies in Germany is artistically decorated with cabinet doors with titillating and stimulating images stretched across the walls. This, of course, has nothing to do with the "dirty" atmosphere. The room itself is very stylish and there is no lack of romance here.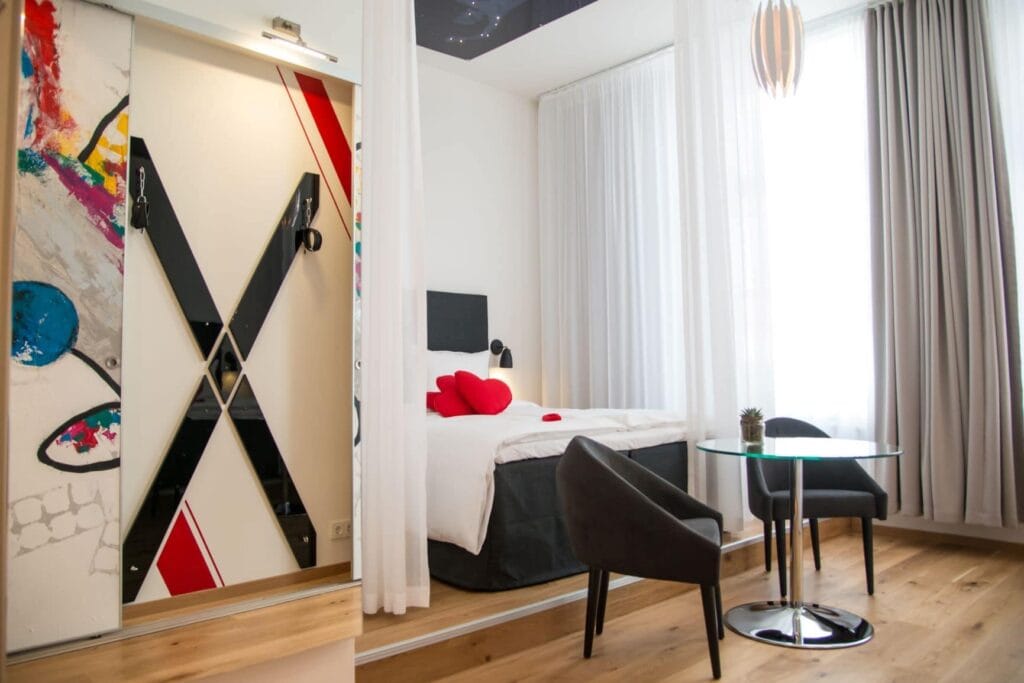 The "Orion time for two" arrangement, 2 nights including breakfast, welcoming prosecco and cocktail at the bar and the Orion selection "Love Secrets" costs € 231 p. P.
Burghotel "On The Falkenstein" in Pfronten
In "King Ludwig's Treasure Chest", "Summiteer" and "Luitpold's Hunt", guests of the castle hotel "Auf dem Falkenstein", will find lavishly decorated dream landscapes for young lovers as well as those who are more seasoned in long-term romance. In the castle hotel, with its 16 individually designed themed rooms, guests not only appreciate a lot of time for togetherness, but also the magnificent location at around 1200 meters with a view of Neuschwanstein Castle and the Zugspitze. Romance and wellness go hand in hand here, allowing couples to experience relaxing hours for two in the Sandoase which includes a sauna, Prosecco and a view of Neuschwanstein.
Romantic wellness package for two or 3 hours from € 80. One night in a themed room from € 135 p. P.
Märchenhotel in Bernkastel-Kues
The charming fairytale hotel from 1640 is located in the heart of the picturesque old town of Bernkastel-Kues in one of the most beautiful half-timbered houses. If you check in here, you can expect a cuddly holiday at its finest. Book at night in the "Princess and the Pea" room for a real sexy hotel night experience. Not romantic enough for you? Then how about an erotic course menu featuring a bubble bath with pralines and a bottle of Riesling with very special tingling accessories in the room?
One night from € 109 for two including breakfast.
Roomers in Frankfurt
Modern burlesque chic instead of business dreariness. In the middle of the trade fair and financial metropolis, the Roomers Hotel in Frankfurt, coated in black, purple and gold, doesn't look or feel like a business at all. In the five-star design hotel, everything steers more towards elegance with subtle minimalism. Whether starting off in the luxurious and extravagantly furnished 116 rooms and suites or in the trendy Roomers bar, guests can enjoy one of the excellent cocktails as a start to their romantic, wicked evening before settling into one of the grandiose king or queen sized beds.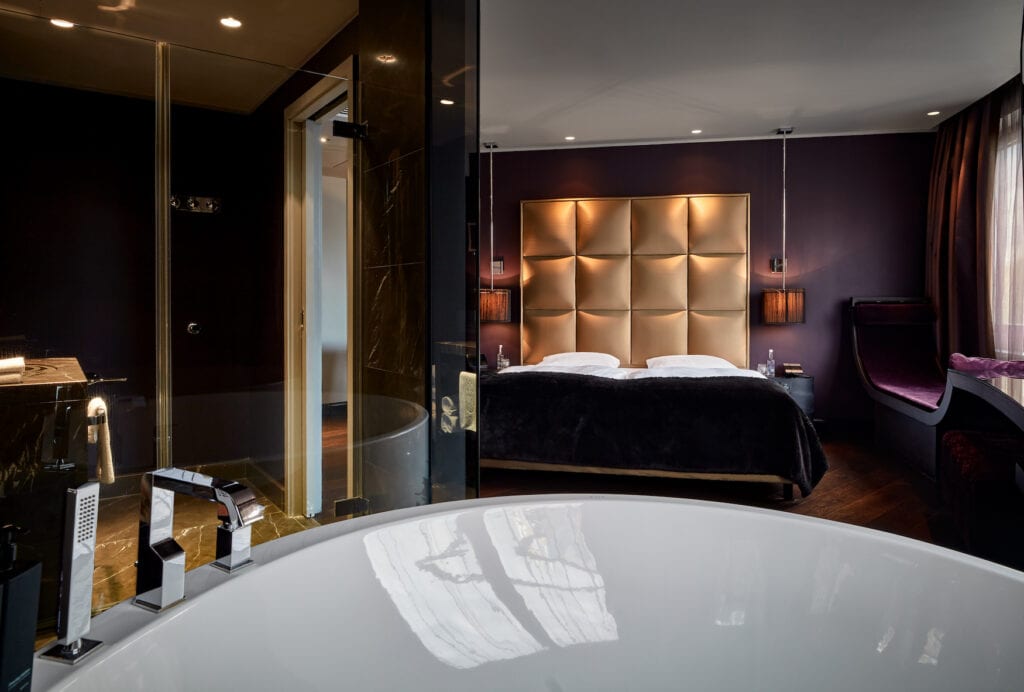 Book a night for two in the Prestige Room from € 153.
Hotel Provocateur in Berlin
Seductive velvets, dim lighting and a deep attention to detail: The Hotel Provocateur in Berlin is one of the most famous design hotels in Germany. The hotel, located in Berlin's Charlottenburg, offers a very special arrangement for lovers. With the "Made with l'amour Package", couples spend the night in a DeLuxeRoom which includes a free-standing bathtub! But that's not all: Guests also receive a "Time to Tease Set", which ensures unforgettable nights. Every room includes "the Provocateur Mode" which is a stimulating video installation. But you have to find it first…! Also: The bar is well worth your visit.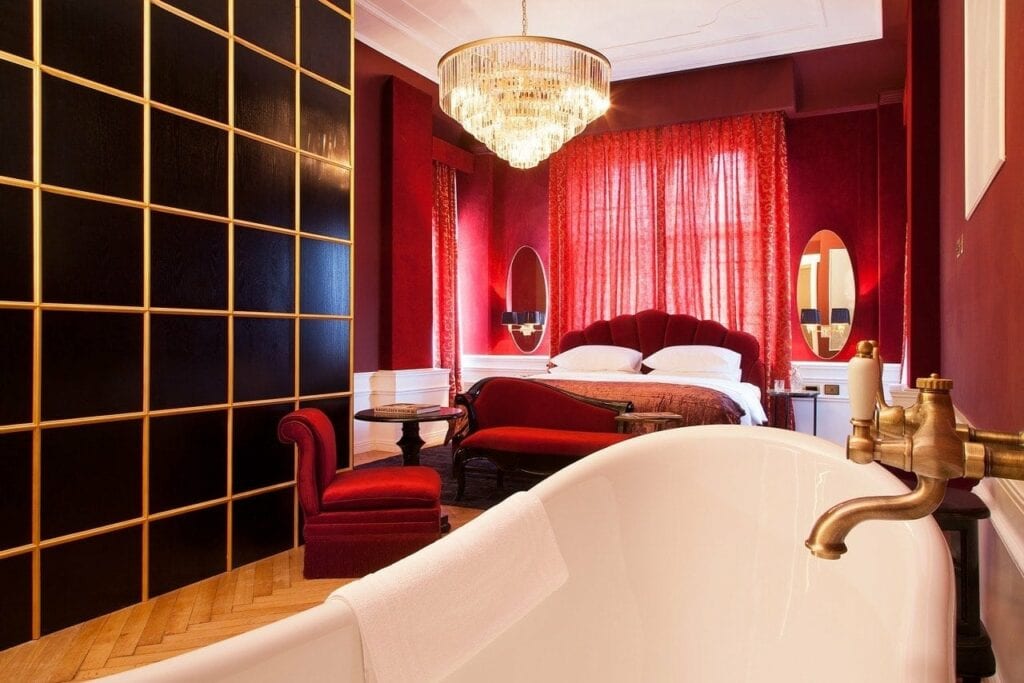 From € 98 per night for a double room.
PrivAmore Love Lounges in Frankfurt or Wiesbaden
If you are in the mood for an erotic weekend of superlatives, the PrivAmore Love Lounges of Wiesbaden and Frankfurt are the right places for you. The Love Lounges can be booked as a tingling addition to the luxurious wellness suites with their own spa and whirlpool, the ultimate cherry-on-top, so to speak. Here, the imagination is given free rein. There is no lack of erotic gadgets and an intimate atmosphere. A selection of available erotic films will really get you in the mood and afterwards, you can have fun on the love swing, the cantilever bed and the playground with blacklight.
In addition to the various erotic toys, the suites have various highlights. Whether in the private disco with a pole dance bar and smoke machine; the St. Andrew's Cross or the so-called "Librator Bench" for bondage games, there is something for everyone's kinky preference.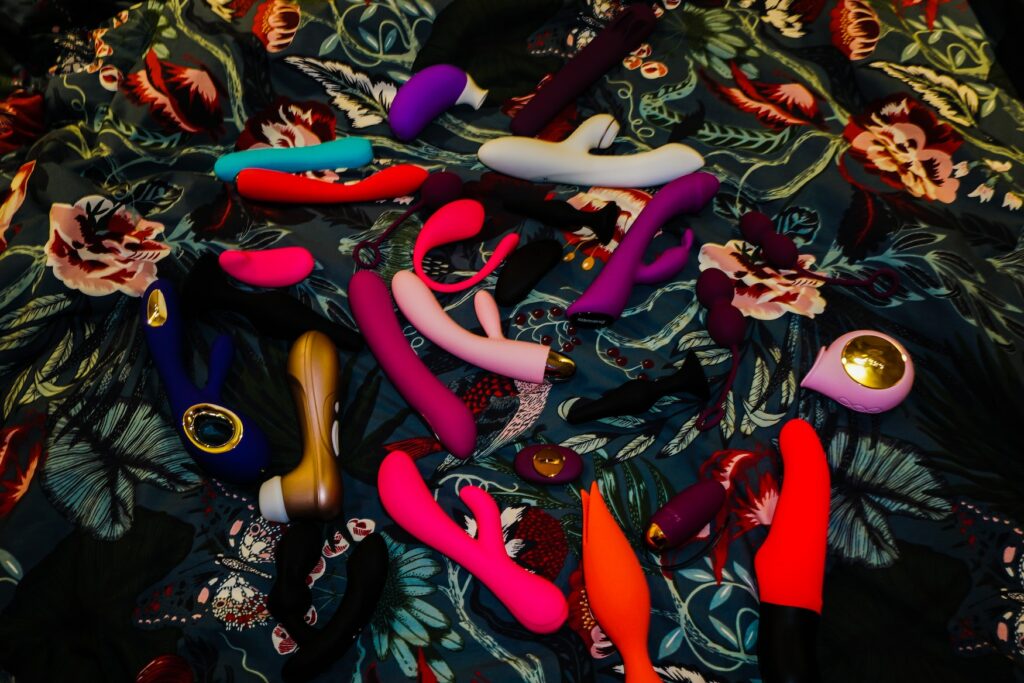 A total of three different love lounges are available for a hot night. What else could possibly make the experience even more mysterious? The exact location of the suites will only be announced after booking.
From € 455 per suite including love lounge, sauna and whirlpool (150-240 square meters each for single use!)
The V Hotel in Bonn
Lustful desire is not the only highlight awaiting couples in love at the V Hotel in Bonn. Just south of the city center, in the midst of nature, there are various tree houses and suites ready for those in need of an escape. The rooms are subtle, with wooden and light furnishings, a defining trait for the the cozy tree houses. The view, extending out into the nature, will keep you from getting out of bed. But if these simple pleasures aren't enough, book the honeymoon special and be greeted with a bottle of sparkling wine and romantic details in your room such as an erotic box from Amorelie. Whether newly in love or in a long-term relationship, here, you can't help but have fun with each other.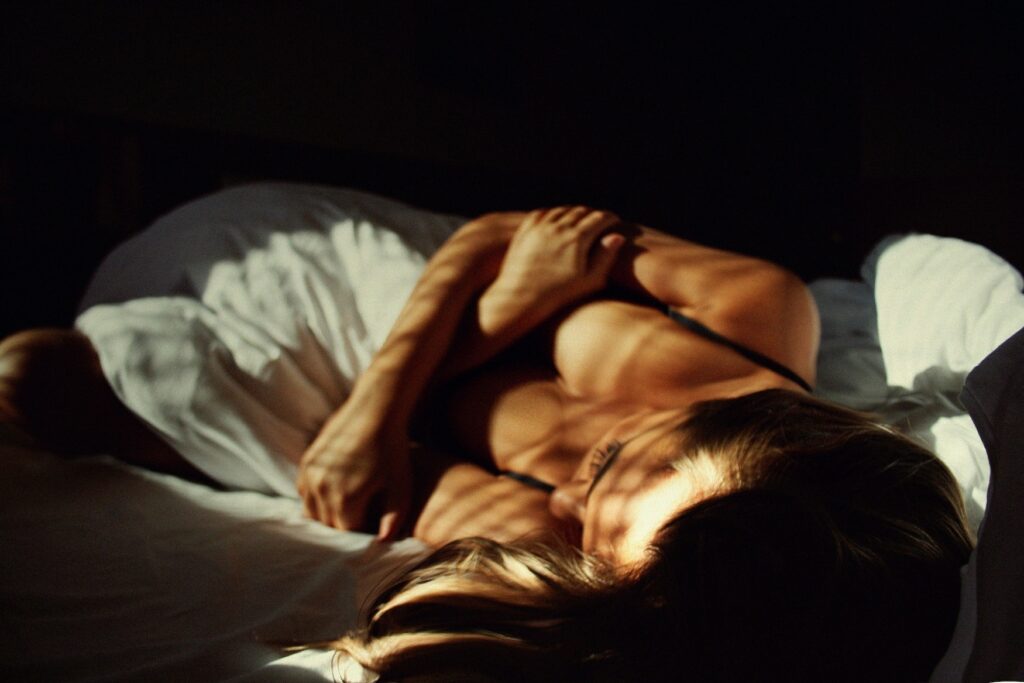 Rooms from € 100 or a tree house from € 179.
The Hotel Q! in Berlin
In the heart of Berlin, right on Kurfürstendamm, sits the "Hotel Q!". The design hotel is perfectly styled and exudes a pure feel-good atmosphere. A sauna area also promises relaxation. Couples who want to spend the weekend together in this sexy hotel can book the "Like-Lovers-Do" package. Here, you can expect not only a large bathtub with a rose petal bath, champagne breakfast and a candlelit dinner, but also a "sexy surprise". And what is it you might ask? Let yourself be surprised!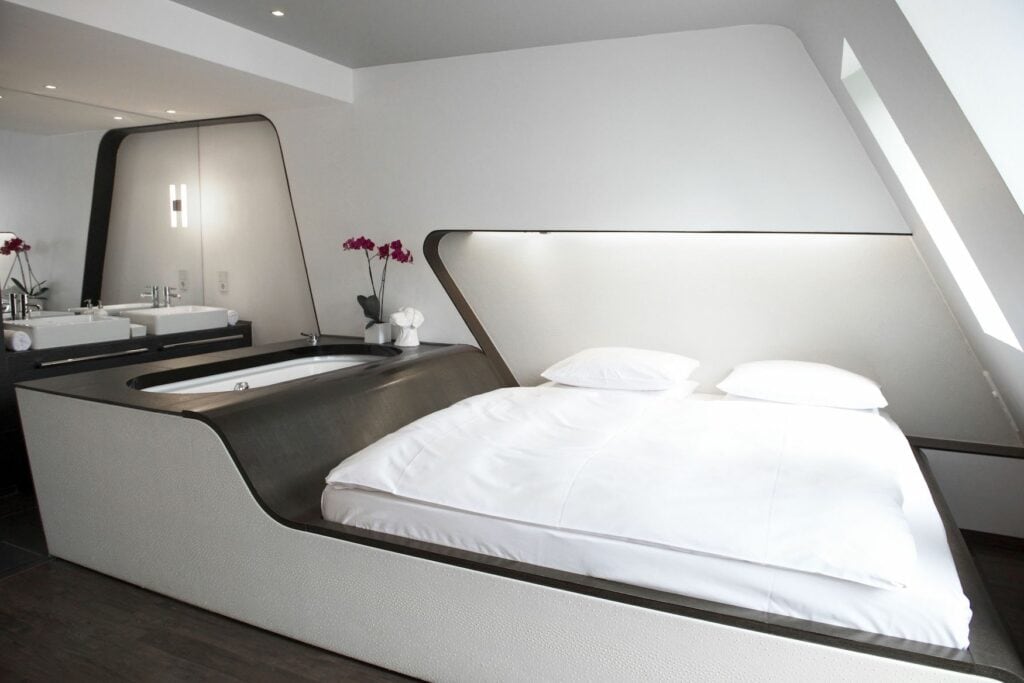 Double room from € 90
East Hotel in Hamburg
The East Hotel is housed in a former iron foundry in Hamburg, an industrial design jewel with high ceilings, stylish furnishings and lots of space! Large, free-standing king-size beds and an open bathroom area promise a wonderful time. A spa and fitness area are also available to hotel guests.
If you want to make something very special out of a city trip or you simply want to take a gentle break in your hometown, you can book the "Naughty but Nice" package. Look forward to a bottle of champagne and chocolates. There's also the "Adventure Kit" for men and women. For those in need of some last-minute intimacy on the day of departure, the package includes a late check-out at 4 p.m. Do you like to have fun on a water bed? Then you should stay in the east Aqua room. The east Splash, on the other hand, offers a gigantic double bathtub for two.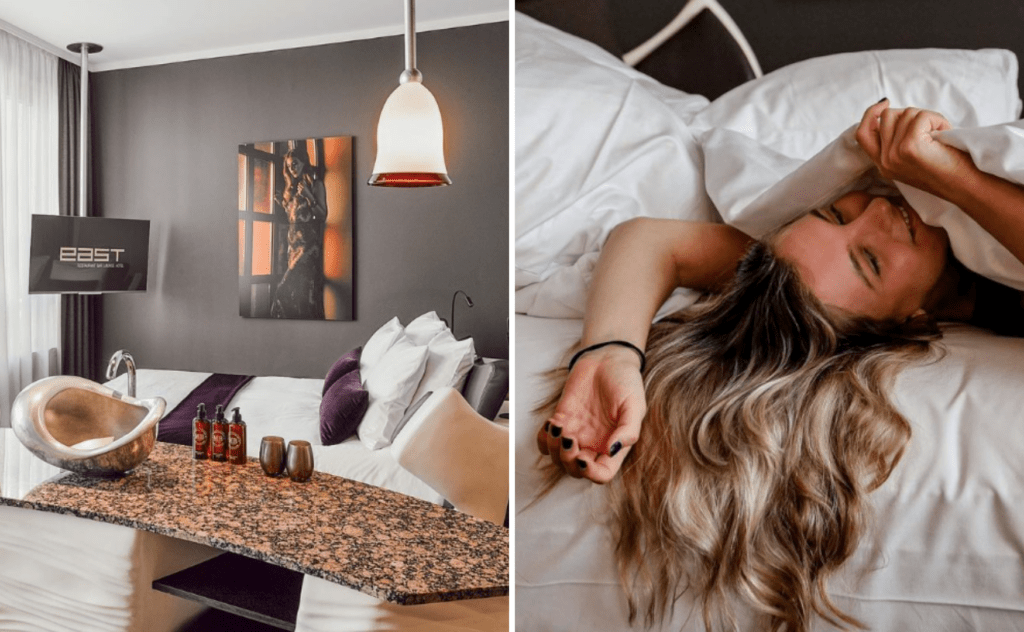 Double room from € 94. 
Looking for more sexy hotels in Germany, Austria or Switzerland? Come Closer knows where to find them.