Our author, Susanne Pahler, was "over the mountains" in the Hubertus Mountain Refugio Allgäu in the village of Balderschwang. There, she didn't just go on a wellness vacation, but embarked on a journey for body and mind. "HolisticLife" is the name of the hotel's own holistic feel-good concept and it really does possess a wonderfully long-lasting effect.
There are places that are known for giving the life of travelers a new direction: India, Bali, New Zealand etc. And almost certainly also in Balderschwang, a village of 350 people at 1044 meters, a very special retreat has been at home here for more than 70 years: The Hubertus Mountain Refugio Allgäu. Sure, you could just check in here for wellness. But then you would miss the "HolisticLife" concept that makes this accommodation so special. Here, a stay touches, changes and even leaves long lasting effects on the body and mind, even when you've left this remote valley long ago.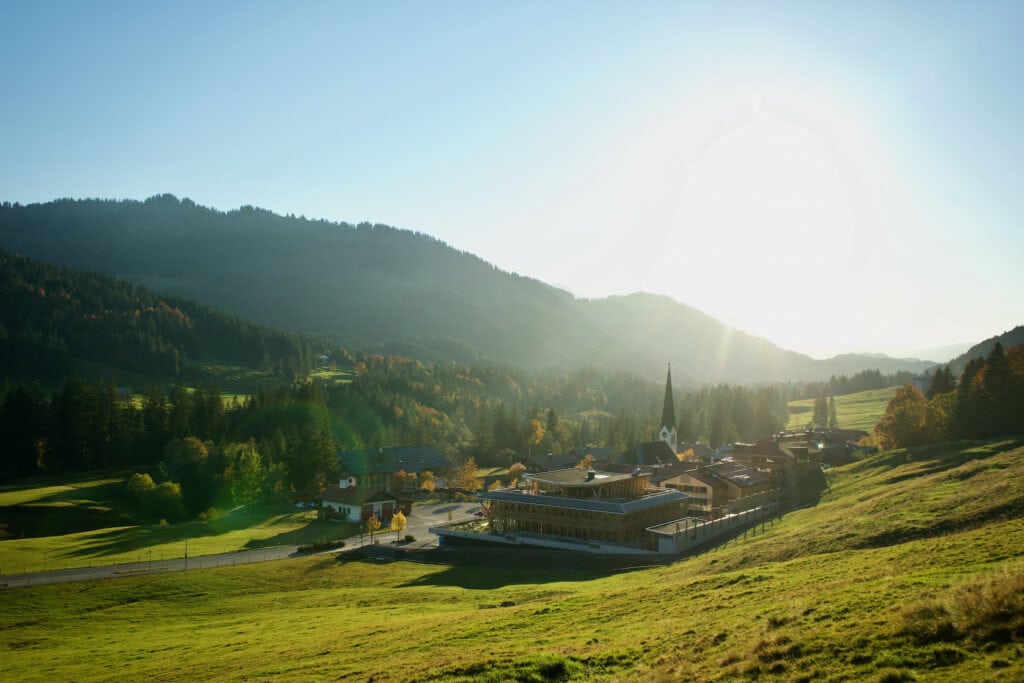 Am I in the Rockies or what?!
The journey alone is an unusual one: It has only been for 60 years that you can come up from the German side by car, over the 16-kilometer-long Riedbergpass, the highest mountain pass in Germany, which can also meander up the Rocky, Mountainous terrain. At the top, there is a quiet, flat expanse, framed by elongated peaks that already belong to Austria at the very back. In between, the small village of Balderschwang, with its needle-sharp church tower and the Hubertus Mountain Refugio.
Honey-colored shingles and stacked logs sit at the front entrance. Inside, wooden stools with wooden benches. In certain spots, creaky wooden floors with cozy furs, dried herb bouquets and a hanging garden full of green plants. In the rooms, regional materials such as linen and wooden floorboards, details made of roots or stone, a hot water bottle in the cloakroom, a sheepskin and even a yoga mat.
Upon arriving, I am immediately surrounded by a warm feeling of security. I make myself a cup of spicy tea that is ready for self-brewing and look from the sofa over my small terrace to the pool and spa. This house immediately does something to me, all thanks to the magical location, the pure nature all around and of course because of the hosts, who have been giving their guests a piece of good life their way for decades.
New energy through mindfulness
The host, Christa Traubel, an alternative practitioner of yoga and Ayurveda therapist, developed the "HolisticLife" concept. Behind this are four pillars: HolisticFood, HolisticSleep, HolisticTouch and HolisticSpirit, all of which are based on the four seasons and should help me in finding harmony within myself, to regain lost energy and to draw new strength. This could also be described as a sort of mindfulness that has long been practiced in the Allgäu: Many people here are deeply rooted in the nature, keeping traditional healing methods alive or finding the inner peace here that they have been searching for elsewhere.
Gabriel Simòn Pinero, for example, grew up in Mexico City and began to travel the world at the age of 17 After his life as a trained bookmaker brought no real fulfillment, he finally found his calling here: As a holistic food coach. Now, 63 years old, Gabriel is in possession of an ancient, Far Eastern knowledge of what constitutes good nutrition. He starts with a tasty BÄMM, a teaspoon of rose jam which opens my taste buds like the morning sun opens a blossom. "That puts you in a conscious state," Gabriel explains and that's good because eating here is about discovering which food is good for me.
It is important that you don't eat fake but rather simple, organic food. Otherwise, we eat too much because we cannot find satisfaction.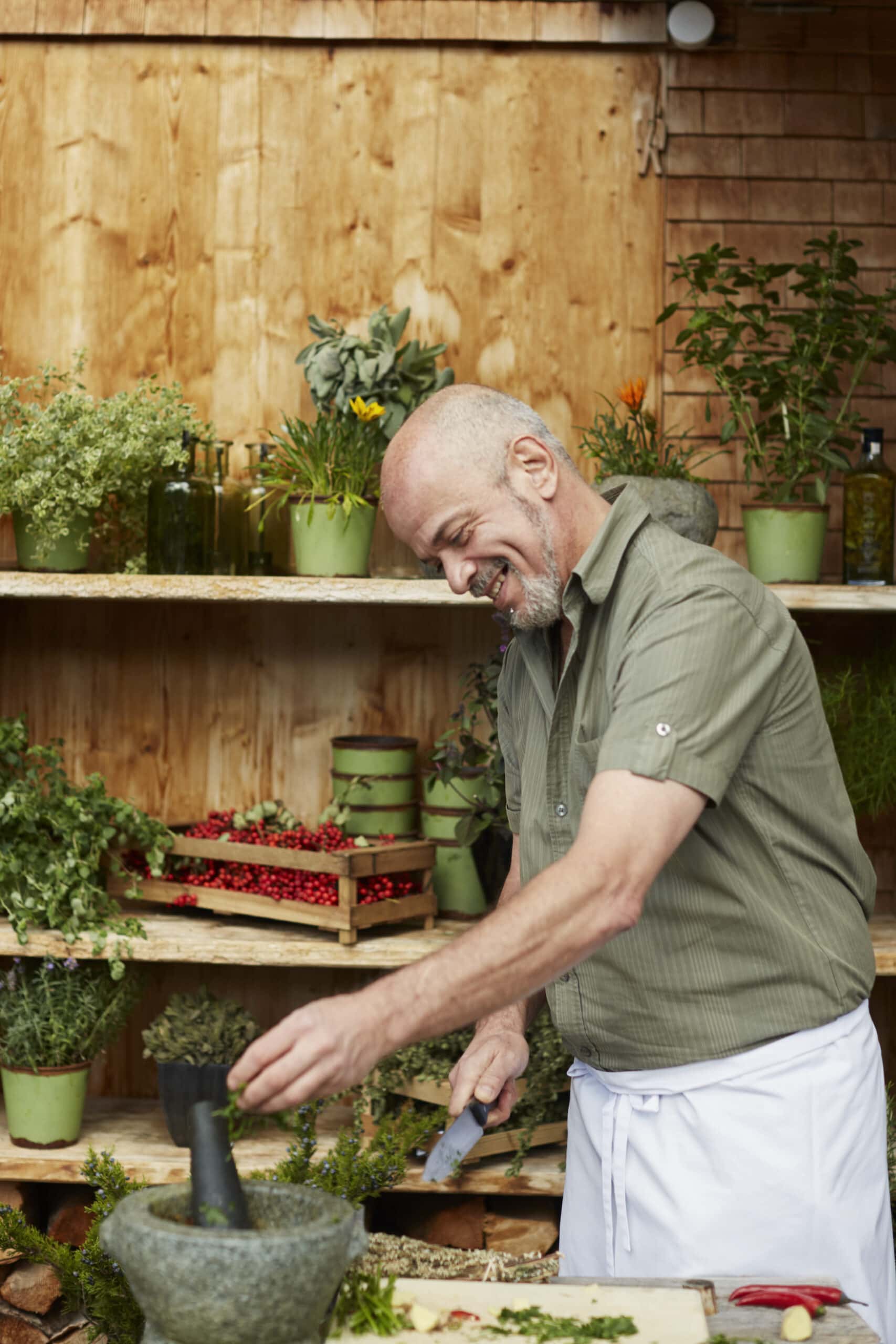 And the food should be warm, especially in the morning and in the evening. "For example, warmth makes our brain and our fasciae more flexible. After all, language and walking upright only developed after the fire was discovered and man started to cook."
Lunch can then be the largest, most complete meal. In the hotel, however, that is definitely the multi-course evening menu! Chef Christian Knöllke could cook at star level, but he doesn't like the stress. Of course, he still fills the plates of the evening four-course gourmet menu with regional ingredients of the highest quality. Holistic Sleep? With so much joy in your stomach, it's difficult not to, even without the cushioned box spring beds, the soft pillows and woody room climate.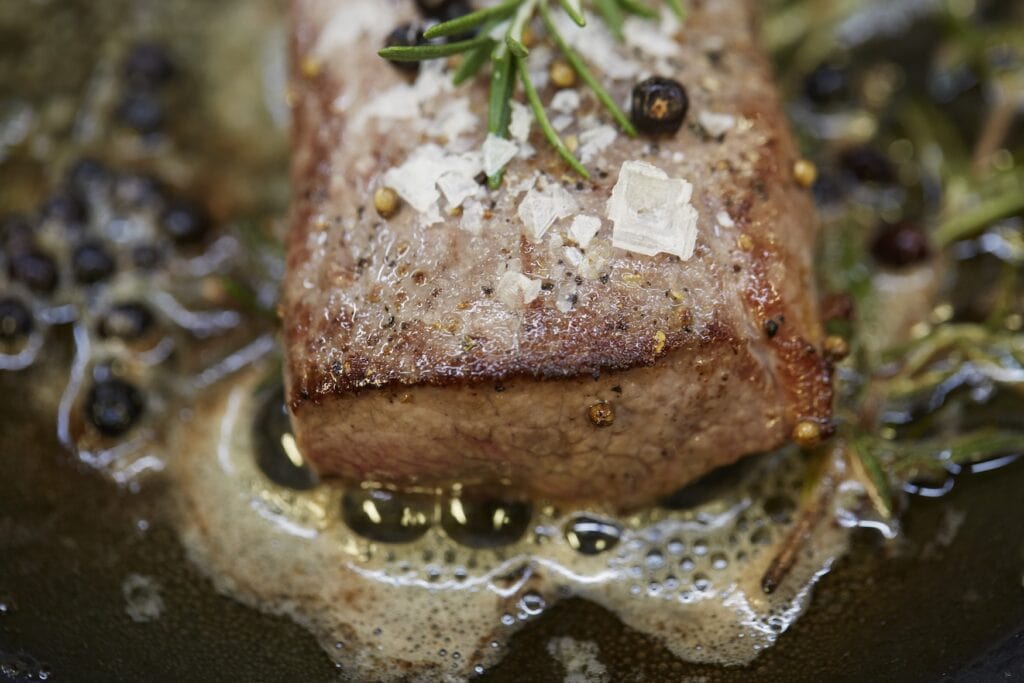 Just move the pain away
I could beautify myself the next day with HolisticSpirit offers such as yoga, QiGong or singing bowl meditation; join on a sunrise hike or a cross-country ski tour with the young host Marc Traubel or his father, Karl. An herbal walk, coffee workshop, wine or tea tasting, these were all possible options. Instead, I choose to spend the morning with Markus in the treatment room and experience what HolisticTouch means.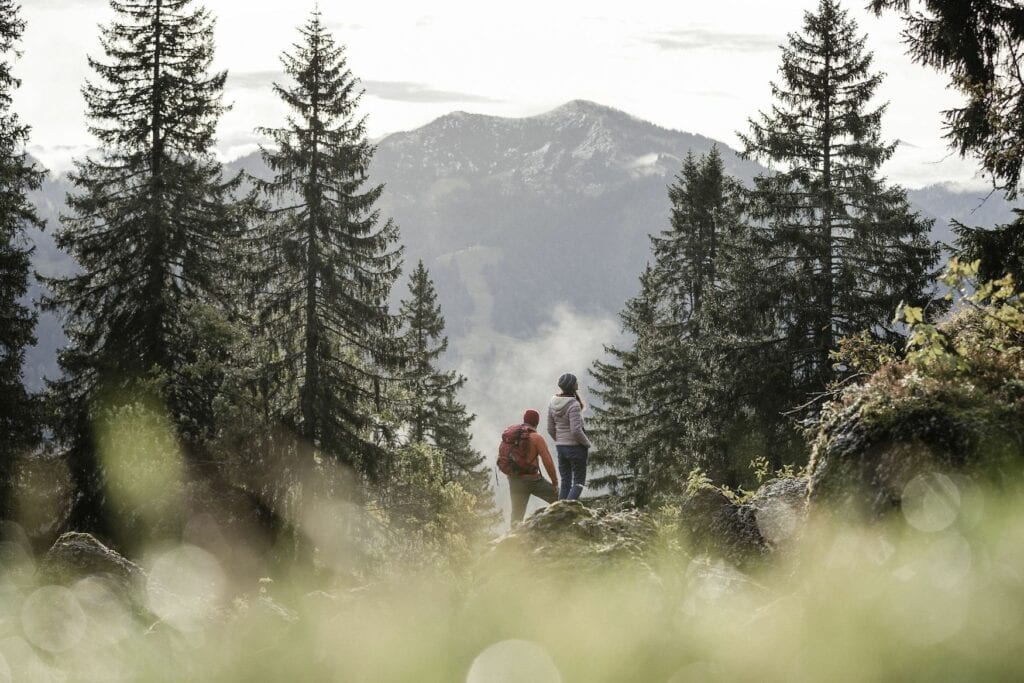 Here, the therapists deal with the current state of the guests in a very specific way. "I could just massage you now," Markus says to me. "But I would suggest something else," he says, and reflects to me how I am standing in front of him: completely crooked, buckled, everything else upright. Shit, he caught me. Instead of being kneaded as expected, I lie on my back as Markus presses into my hip flexors before I rotate my hip joints with my knee bent. I am shown some other simple exercises that I am supposed to do for twelve minutes every two or three days. Almost an hour later, I leave the treatment room and I am almost a new person with my excruciating back and shoulder pain having now vanished. After that, I don't go to the spa, I opt for a float instead!
After a huge avalanche went off on the slope behind the wellness area in January 2019, it was finally reopened in the summer of 2021. Because the tremendous rumble ended with a pressure wave through the whole house, two floors were completely full of snow with doors pushed out of their frames. The walls even shifted by eight centimeters. Miraculously, no one was hurt. Today the snow protection, comprising of safety fences and a concrete wall on the slope is not particularly nice, but ensures a new, very avalanche-proof spa in the same location.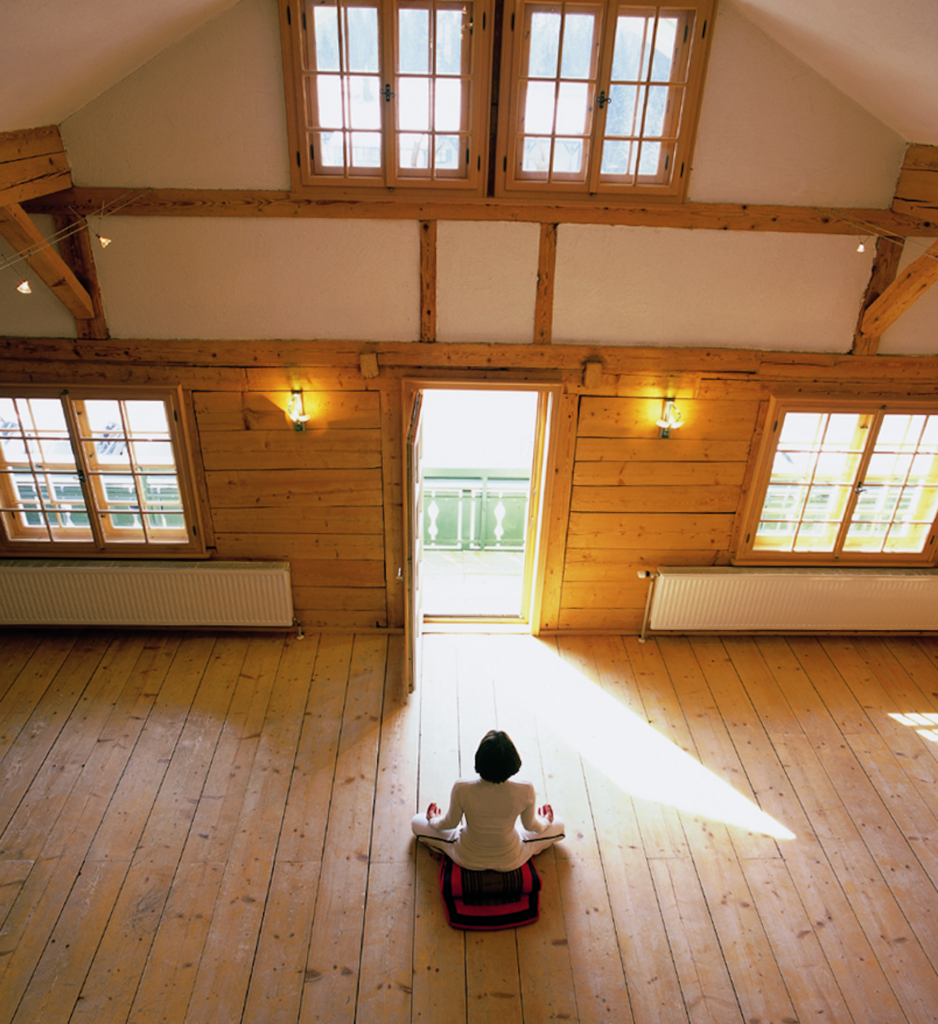 Hanging out in the temple of wellbeing
It's more than 4,500 square meters which is quite a lot! Three saunas, an outdoor onsen pool heated at 40 degrees; an infinity pool and sun terrace; hanging swings in various relaxation rooms and various yoga and treatment rooms are hidden between the clear wooden optics. It's a real temple of wellbeing. And the perfect place for me to track down my little new discovery.
I still remember exactly how it felt a few weeks ago. Now, if you don't mind, I'll get back to my newfound routine: First circle around on the mat to the hips and Co., then into the kitchen to make me a warm meal. In addition, I will recall the view of the mountains and the cozy feeling from the Hubertus and enjoy this new, good piece of life I've found.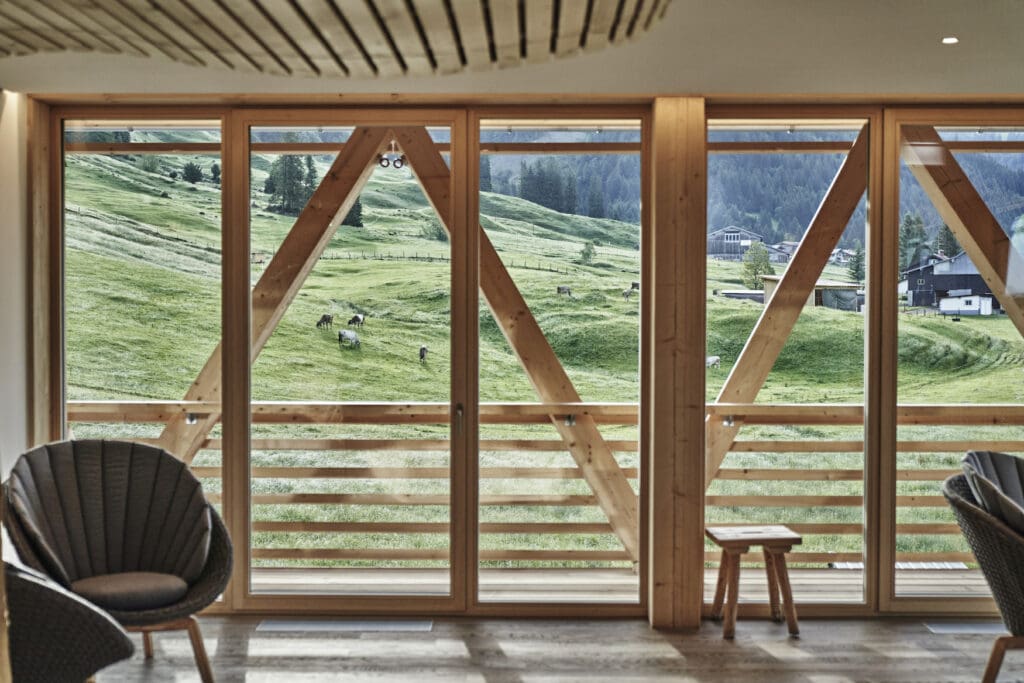 Travel back in time around 150 years ago. A pastor wrote:
In Balderschwang it is ¾ year winter and ¼ year cold.
Even around 150 years later, the place is still drenched in fluffy white snow with an average of 4.66 hours of sunlight a day.
Travel info
Getting there by train to Fischen im Allgäu or by bus to Hittisau, then by Hotel Transfer for 20 euros or 10 euros to the Hubertus Mountain Refugio Allgäu. Friedrichshafen Airport is around 90 minutes away by car and Munich Airport is around 2.5 hours.
Accommodations for double rooms in the Hubertus Mountain Refugio Allgäu cost 340 euros per night for a minimum stay of three nights. This includes use of the entire spa, a treatment of your choice, extensive cuisine including breakfast until 11.30 a.m., a lunch buffet, afternoon coffee, 4-course dinner and cheese board. You're also able to use of the quiet co-working space and free Rental equipment which includes toboggan, snowshoes, hiking sticks and backpacks.
Hubertus Mountain Refugio Allgäu
Dorf 5, 87538 Balderschwang
Tel. 0049 8328 9200