The Palatinate has more to offer than just Saumagen and wine festivals. In the colder seasons, the fairytale-esque forest courses around the town of Germersheim in the southern Palatinate, inviting you to go on extensive hiking tours. 270 kilometers of hiking and walking trails are waiting for the touch of your boots. And, of course, they are especially beautiful when fresh snow has covered the landscape. We know which tours are the best to find warm inner peace during these frosty times. 
The Premium Hiking Trail of Treidlerweg
First of all, the premium hiking trail of Treidlerweg should be mentioned. "Premium hiking trail?", one might ask. And what is that supposed to be? In Germany, there is an official definition for this which holds a certified seal of approval. According to this "certified seal of approval", a designated hiking trail must hold pleasant road surfaces and paths, a selected dramaturgy of great views; beautiful forest images, bodies of water, rock structures, well-tended resting places, cultural or historical gems and many other diversions. And of course, the "premium" Treidlerweg offers all of this.
Over twelve kilometers long, the route leads past wobbly forest panoramas with benches inviting you to relax and gaze through the flora and fauna of the Hördter Rheinaue meadows. The old father Rhine will from time-to-time reach into the landscape which is characterized by tangled bodies of water with pockets of grass and reeds. Everything here is very picturesque and simple. 
History and Nature on the Schaidter Westwallweg 
It was not always as peaceful in the Palatinate as it is today. In Nazi Germany, the region was strongly fortified due to its proximity to France and thus became part of the "West Wall" that ran from Kleve down to the Swiss border. Numerous fortifications and other remnants from the war such as tank traps and rifle stations are still clearly visible today and can be discovered on the Schaidter Westwallweg. Digital aids, which can be called up with QR codes, help to classify the historical finds and allow you to learn more about them. What also adds to the excitement is how nature has recaptured the man-made structures. Today, they serve as a welcome biotope for animals and plants, some of which have become increasingly rare.
The Mystical Bee Forest
The Naturfreunde Kandel have marked three circular hiking trails in the beehive forest, which measures around 120 square kilometers, all of which are quite comfortable. With each trail varying in length, there is something for everyone. All three tours start (and end) in Kandel. The flat paths run without any notable climbs and are therefore also suitable for small hikers. In turn, you walk along historical paths along the seven-kilometer Roman road, which actually runs along the route of a genuine Roman road that was used 2000 years ago. If you like to experience real history, you can use sandals instead of boots. By the way, as a large nature reserve, the bee forest is now given the space to develop back into a primeval forest. Therefore, attentive hikers will discover all kinds of animals and plants that are rarely seen anywhere else.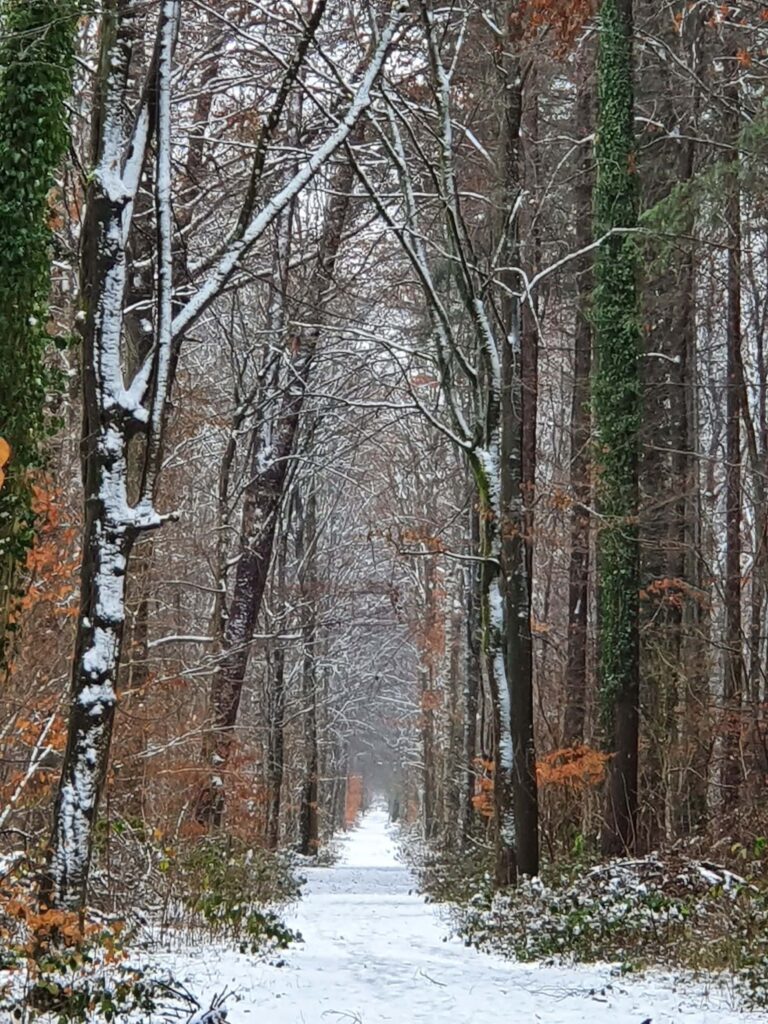 The Forest Adventure Trail in the Bellheimer Forest 
Another idyllic hiking trail is the Forest Adventure Trail in the Bellheimer Forest. Eight kilometers of tranquility are waiting to be explored, past fish ponds, wide meadows and into the forest. The Forest Adventure Trail has nature experience stations and even a tree phone. This is of course a real special experience for children. But also adult hikers have the opportunity to become enthusiastic about it. In any case, the beautiful nature in this forest with its high treetops should arouse everyone. And when the snow slowly trickles down, a real winter mood arises.