Flood disasters, droughts, forest fires and tropical storms are not among the travel industry's favorite topics. Nevertheless, there is no denying that the number of such events worldwide has increased significantly. The Gasometer in Oberhausen is approaching this phenomenon with an unusual exhibition. After extensive renovation, "The Fragile Paradise" is the first show there in two years.
From October 1, visitors of the Gasometer in Oberhausen will be able to enjoy unusual views of our globe. Under the title "The Fragile Paradise", an oversized globe hangs from the ceiling in the proud 100 meter high room. This serves as a projection surface for a multi-layered show that deals with the climate history of our planet, global interrelationships and the influence of humans on their environment.
On site, visitors can sometimes look down on the earth from space like an astronaut. Then again, they have the opportunity to observe how the change from a primeval continent to a populated planet has taken place. Other animations also show the consequences of human activity in a poetic journey through billions of Earth years. This creates an overall picture that shows not only the overwhelming beauty of the planet, but also its creeping destruction. More than 100 award-winning photographs, stirring film footage and other exhibits complete this unusual sensory experience.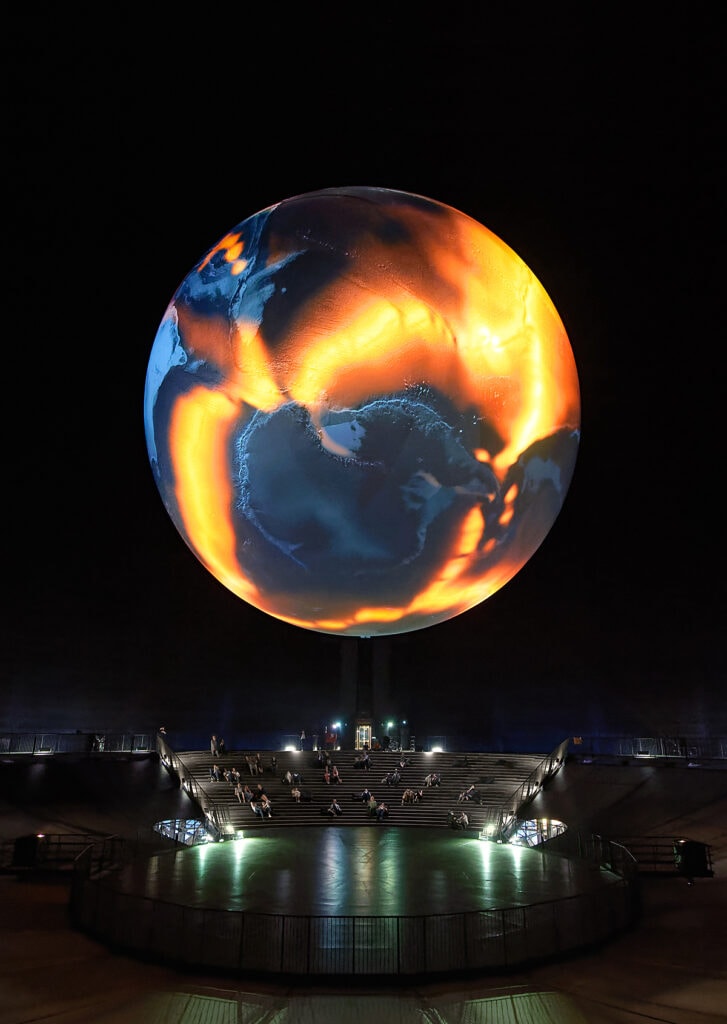 Data from receiving stations around the world
After a period of renovation, this is the first exhibition opening at Gasometer Oberhausen in two years. The show is based on satellite data collected by the Earth Observation Center of the German Aerospace Center (DLR) which they received at stations around the world. This includes clouds, aircraft and ship movements, ocean surfaces and depths, and the alternation of day and night. Projected onto the 20-meter diameter globe, the data helps viewers understand the complex ecosystem both scientifically and emotionally.
The visual experience is accompanied by music written especially for the exhibition by Austrian composer Rupert Huber. Four international experts also have their say in the form of lifelike holograms, including Luisa Neubauer, the German face of the "Fridays for Future" movement.
Hopeful moments in the Oberhausen Gasometer
The exhibition does not fail to highlight hopeful developments. International protest movements, for example, are particularly popular among younger people. Also, alternative forms of energy already cover more than half of electricity consumption in Germany.
Last but not least, "The Fragile Paradise" also looks at Gasometer Oberhausen's own front door. For more than 100 years, for example, the Emscher was misused as a wastewater runoff for the Ruhr region. The dubious honorary title of "Germany's dirtiest river" dates from this time. After the end of mining, an extensive renaturation has begun. This was able to breathe new life into the once idyllic river landscape. A change that has been accompanied by a considerable improvement in the quality of life and stay for the people in the area.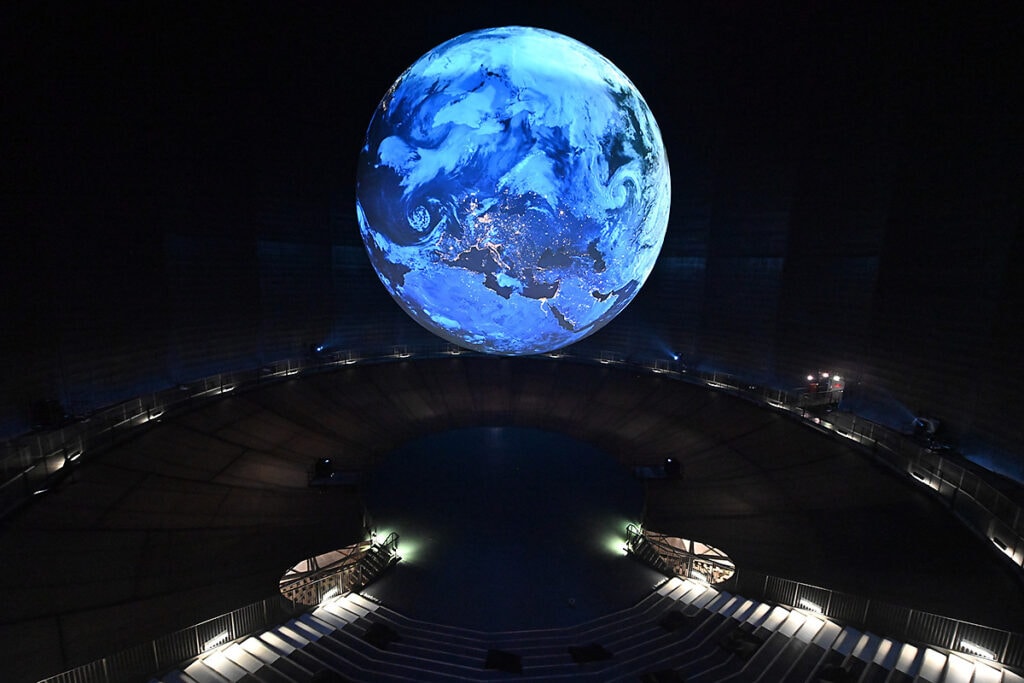 Information on the "Fragile Paradise" exhibition
From October 1, initially open-ended, Tue-Sun 10 a.m.-6 p.m. (on public vacations and during NRW vacations also Mon) Tickets online or on site: 11/8 euros, families (2 adults and max. 5 children aged 6 to 17) 27 euros