There can be few gastronomic experiences more embarrassing for a visitor to Bavaria than ordering local "Weisswurst" sausages in a traditional brewpub, and popping a piece into your mouth, only to realize – too late – that their skins are not actually meant to be eaten… Which is why we'll explain to you here the right way to "Weisswurst".
The Weisswurst (literally "white sausage") is a real speciality of Munich and is absolutely symbolic of Bavarian cuisine. But legend has it that the first Weisswurst was created by accident. On Shrove Sunday in 1857, a Munich butcher realized he had no more normal bratwurst casings left, only a kind that easily broke when fried. The butcher filled the sausage meat into these skins anyway, and then poached the sausages in hot water to prevent them from bursting. And so the first Weisswurst was born.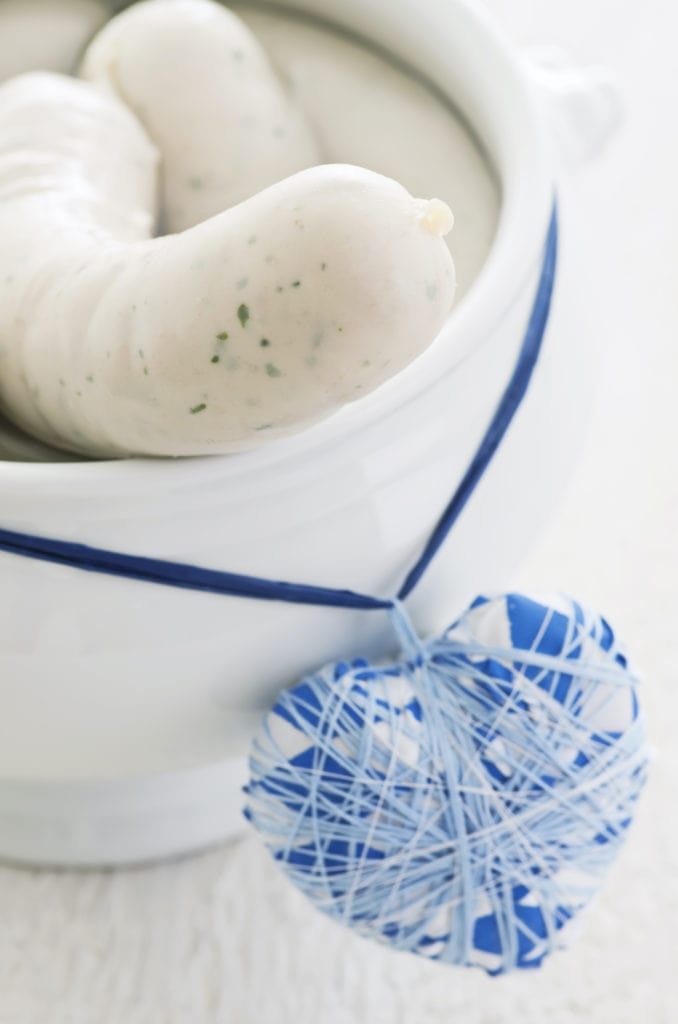 A real Munich Weisswurst contains different cuts of veal and pork. If the sausage contains no veal, only pork, the sausage may only be labelled a "Weisswurst" – not "Münchener Weisswurst". The sausage meat is very finely chopped in a cutter. Ice has to be added continuously, otherwise the protein compounds in the sausage meat start to cook and curdle; the fast-rotating knives generate a lot of heat. Fresh parsley and onions are added to the fine meat mixture, along with pepper and salt, lemon, cardamom and a little ginger. An original Munich Weisswurst has an unmistakable taste, although even the finest of palates will struggle to taste the ginger.
How do I cook Weisswurst?
The correct answer is: You don't. First, bring water to the boil in a pot, then remove the pot from the cooker once the water has boiled. Only now gently drop the Weisswurst into the hot water. Put a lid on the pot and let them heat through. After about ten minutes, the sausages will be ready to serve and are guaranteed not to burst. Under no circumstances put the pot with the sausages back on the heat again. It's not necessary and you'll be tempting fate. No-one wants to see exploding Weisswurst… But now comes the real challenge; eating the things. To "zuzeln", or not to "zuzeln"? That is indeed the question.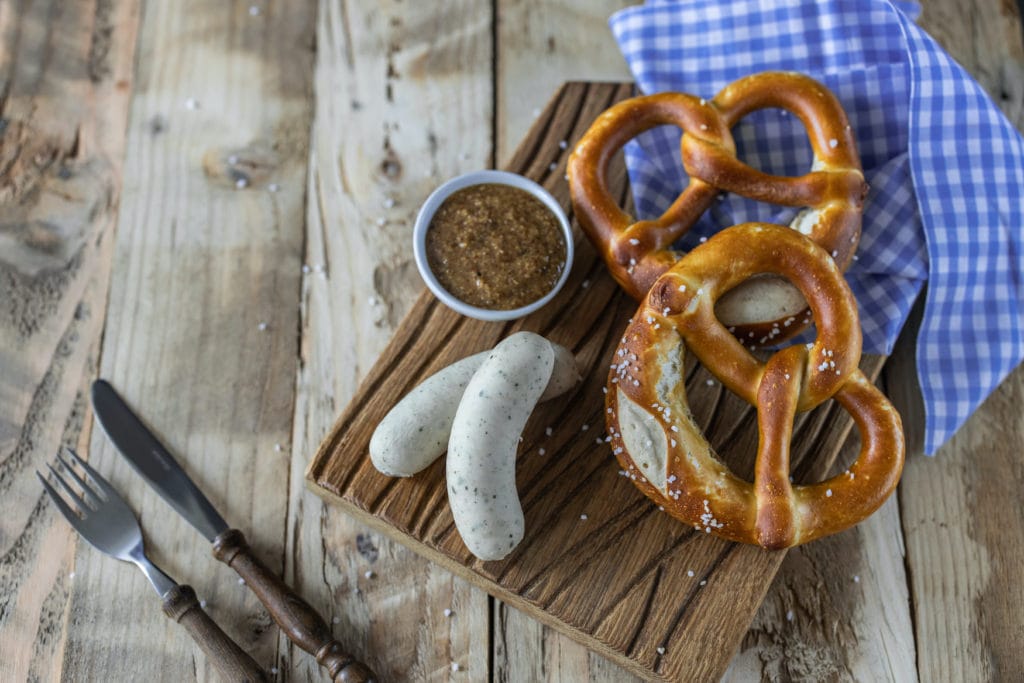 How do I eat Weisswurst correctly?
"Zuzeln" is a word in Bavarian dialect that means something close to sucking or slurping. And for real Bavarians, this is the only "correct" way to eat a Weisswurst. Take the sausage in one hand, dunk it into some sweet mustard and then, using gentle pressure from the teeth and lips accompanied by some careful suction, release the meat of the sausage through the end of the casing and into your mouth. This is a technique that requires some practice and a particular level of self-confidence. But don't give up. Soon you'll be gnawing and sucking away at your Weisswurst like a local, and throwing the empty sausage skins over your shoulder, in the traditional manner. That's a joke. Just leave them on the plate.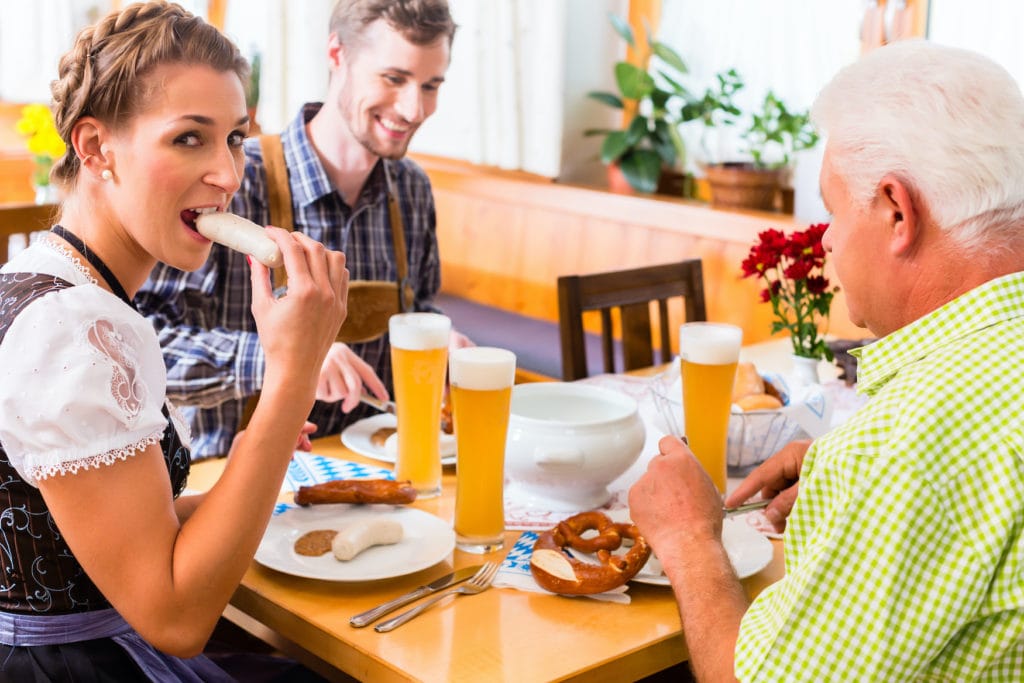 But should you find that this form of feeding is a little too "rural" for your tastes, just wipe your hands, take a swig from your wheat beer and grab your knife and fork. Cut the casing longways, and then carefully remove the sausage skin to free the delicious meat. The locals in Munich are a tolerant bunch, and won't be upset if you decide to tackle your Weisswurst in this mundane manner. To be honest, the tradition of "zuzeln" actually goes back to a time when the consistency of the sausages was a lot softer than it is now. Today's Weisswurst can be de-cased and cut up without falling to pieces. And without the need for all that nibbling and noise.
Which Mustard Should I Take?
There is no question; it has to be sweet mustard. The use of medium or strong mustard is considered a serious faux pas. There's only one thing worse. Ketchup! That's a sure way to lose any Bavarian friends you might have…. But which form of sweet mustard is the right one is a subject of serious discussion among connoisseurs. Bavarian sweet mustard gets its sweetness from caramelised icing sugar. How the rest of the recipe looks is a matter of taste. There are very mild tasting sweet mustards, which allow the flavours of the Weisswurst to come through. There are also very aromatic varieties, which dominate the delicate Weisswurst, so it's probably best to undertake your own research.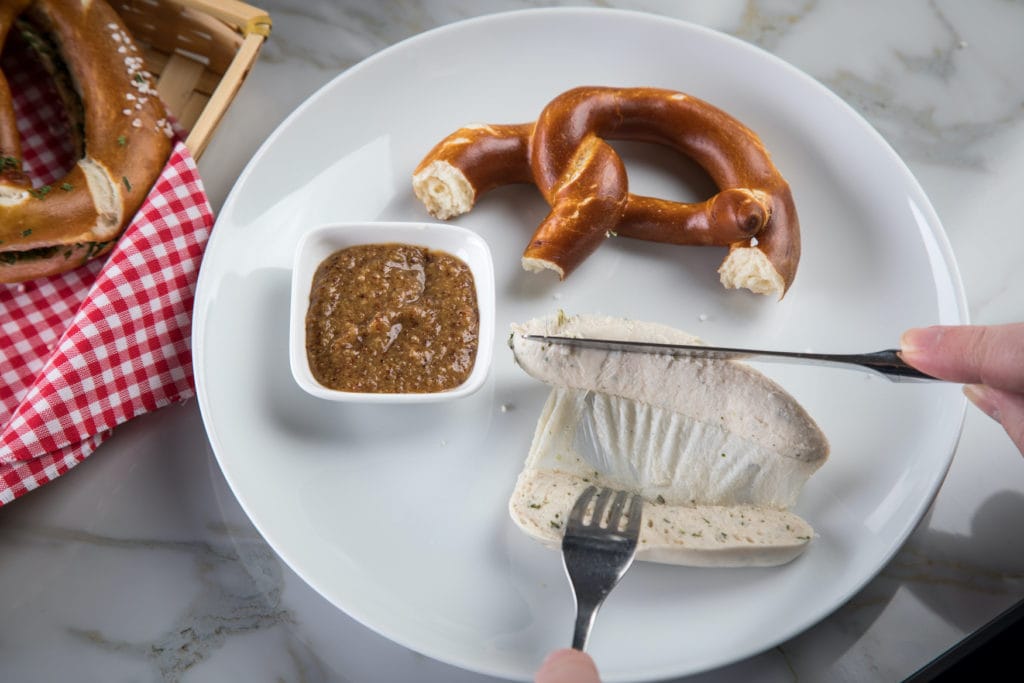 As we say in Germany: "Probieren geht über Studieren". It's a phrase that means trying something out is better than studying it. The proof of the pudding is in the eating, so to speak. Or in this case, the Weisswurst.