Record stores are more than just places to buy old school albums. Ideally, a record store will provide vinyl fans not only new musical companions and impulses for the future, but also offer sparing partners, on a similar wavelength, for expert, possibly nerdy discussions about favourite bands and tracks. After the sad years of digital dominance, record stores are now celebrating a renaissance. We present four record stores in Cologne with immaculate taste.
"Kompakt Schallplatten" – The birthplace of Minimal Techno
Not every Rhinelander is aware that Cologne's inconspicuous Werderstrasse is home to a tourist magnet. In fact, this street houses the headquarters of a record label that is responsible for one of Germany's most important contributions to global pop culture – Cologne's minimal techno. It's a fact appreciated by music connoisseurs the world over, who come from other European countries and overseas to discover the work of the store's current owners Michael Mayer, Wolfgang Voigt and Jürgen Paape, and pay their respects. At the same time, visitors can immerse themselves in the vastness of the electronic music on offer and benefit from the expertise of the passionate staff.
Finally, before making a purchase decision, customers can listen to their chosen record on turntables. In the process they can consider whether they might take home one or two further souvenirs. Like a "Kompakt Schallplatten" cycle bell, for example. Guaranteed with minimalist sound.
Kompakt Schallplatten, Werderstrasse 15-19, 50672 Cologne, www.kompakt.fm, www.facebook.com/KompaktRecords
Underdog Recordstore – Faster, Louder, Harder
In its early years, the Underdog Recordstore generated its fanbase of repeat customers with punk and hardcore. Twenty years later, however, the specialty record store in Cologne has now also established itself as a trusted source for records from other genres. If you're looking for Scottish guitar pop from the 80s or American garage rock from the 90s, you're sure to find something here, because every available square inch is covered with boxes and boxes of vinyl. Even music fans looking to complete their Leonard Cohen collection should take a look inside.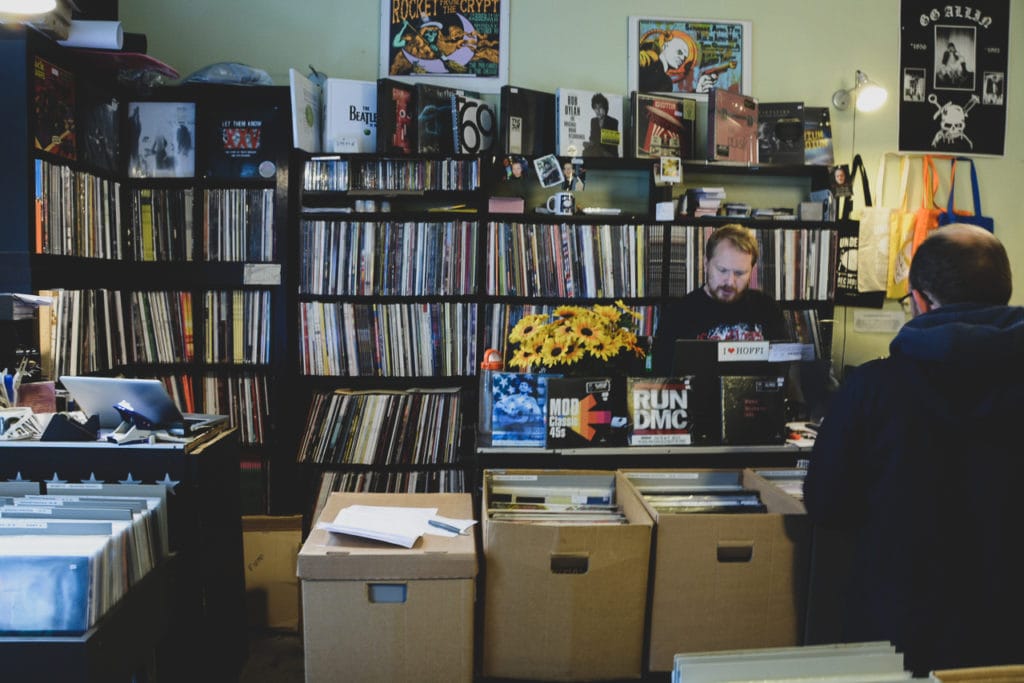 That doesn't mean that the regular customers from the store's beginnings are now neglected. Specialist departments for sub-genres like noise, rockabilly or old school hiphop are still well stocked. A further bonus is that the store also sells tickets for all kinds of concerts. Often in the old printed-on-cardboard form – just like in the good old days.
Underdog Recordstore, Ritterstrasse 52, 50668 Cologne, www.underdogrecordstore.de, www.facebook.com/Underdogrecordstore
Groove Attack Record Store – An Authority on Dance Music
This record store in Cologne is a place of good taste. The entrance way already displays it, with this specialist store for dance music enjoying a productive partnership and the same space with an exquisite men's fashion outfitter. While clubwear is available on the first floor, fans of soul, funk, hiphop, reggae or ska can stock up on vinyl in the minimalistically furnished basement. The assortment is enriched by all kinds of varieties of electronic music.
And despite its connections to the trends of contemporary culture, Groove Attack is an absolutely traditional centre for music. Even back in the day when the editorial offices of the music magazine, Spex, were based in Cologne and the city was Germany's music capital, the store was already considered an authority. Up to today, little has changed in this respect.
Groove Attack, Maastrichter Strasse 49, 50672 Cologne, www.grooveattackrs.bigcartel.com, https://www.facebook.com/Groove-Attack-Recordstore-118924601455102
A-Music – Reliably Experimental
When a store not only sells records but also publishes them, then it's usually an establishment that deserves extra attention. This is true of A-Musik, which, just like the team at Kompakt, has played a decisive role in shaping the globally recognized "Sound of Cologne". Here, however, the experimental character of the music is most important.
While the label founded by Georg Odijk in 1995 has, to date, released mainly German artists, such as "Schlammpeitziger" or "Freiwillige Selbstkontrolle", the selection on the store's shelves is just as international as it is discerning and sometimes challenging. The music on offer ranges from the hulking works of Sun Ra to the elf-like elaborations of Joanna Newsom. It's a unique feature that is appreciated by A-Music's demanding audience.
A-Musik, Kleiner Griechenmarkt 28-30, 50676 Cologne, www.a-musik.com, www.facebook.com/a.musik.official