With 534,000 inhabitants, the state capital of Lower Saxony ranks 13th among major German cities. We spent 48 hours in Hanover and discovered the highlights on our own. The best time to explore the city is from Thursday afternoon to Saturday afternoon. Our tips for Hanover.
Day 1
4pm
We check in at Hotel Me & All. It's one of those hip, young hotels where we as guests are called by our first names and where the walls in the public rooms are made of bare brick. Our room is small but cozy, a comfortable domicile for the two days in Hanover.
5pm: Home visit to the Ständigen Vertretung
As people from Cologne who have left their homeland, we discover a place we are familiar with: The Ständigen Vertretung is a kind of embassy for Cologne culture which can be found in many German cities. Because it's the weekend, we can't resist stopping in for two quick Kölsch beers.
5.30pm: Red thread
Many cities today help visitors in finding all the important sights with conspicuous street markings. In Hanover, however, this is nothing new: The Red Thread has existed since 1970. Over a distance of 4.3 kilometers, it leads to 36 sights in the city center. We see the line for the first time near the Ständigen Vertretung and allow it to guide us towards the New Town Hall.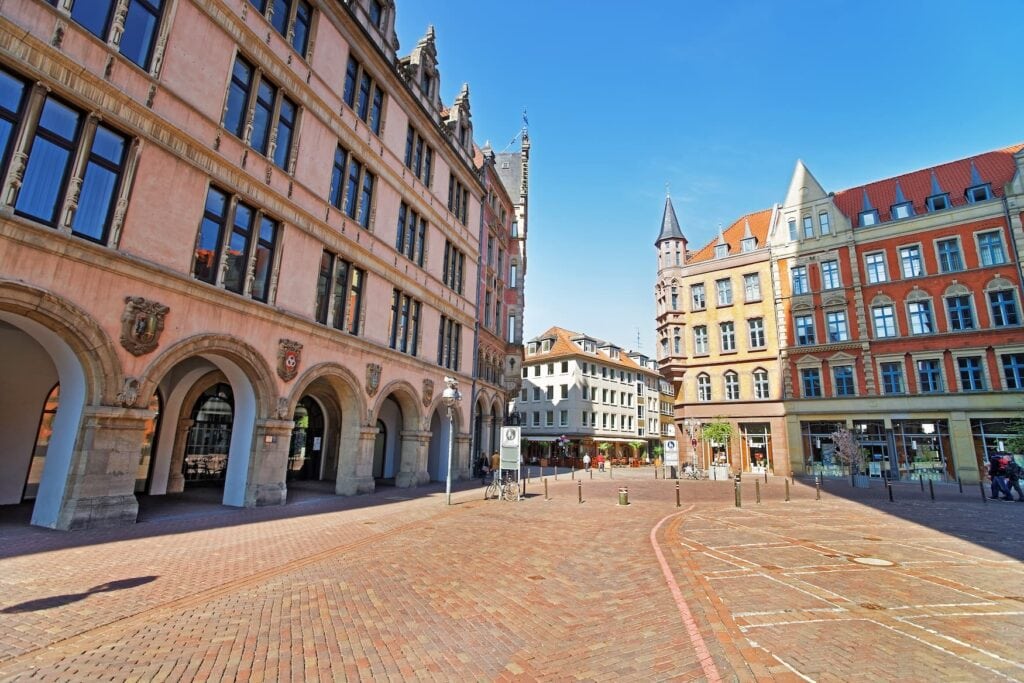 5.45pm: New Town Hall
With its symmetrical wings and domed tower, the magnificent building looks like a castle. This guarantees an imposing sight but says nothing about a curiosity that is located in near the top of the magnificent building, which was completed in 1913. There is a dome lift that is unique to the world but alas, because the last trip is scheduled for 5:30pm, this is no longer an option for us.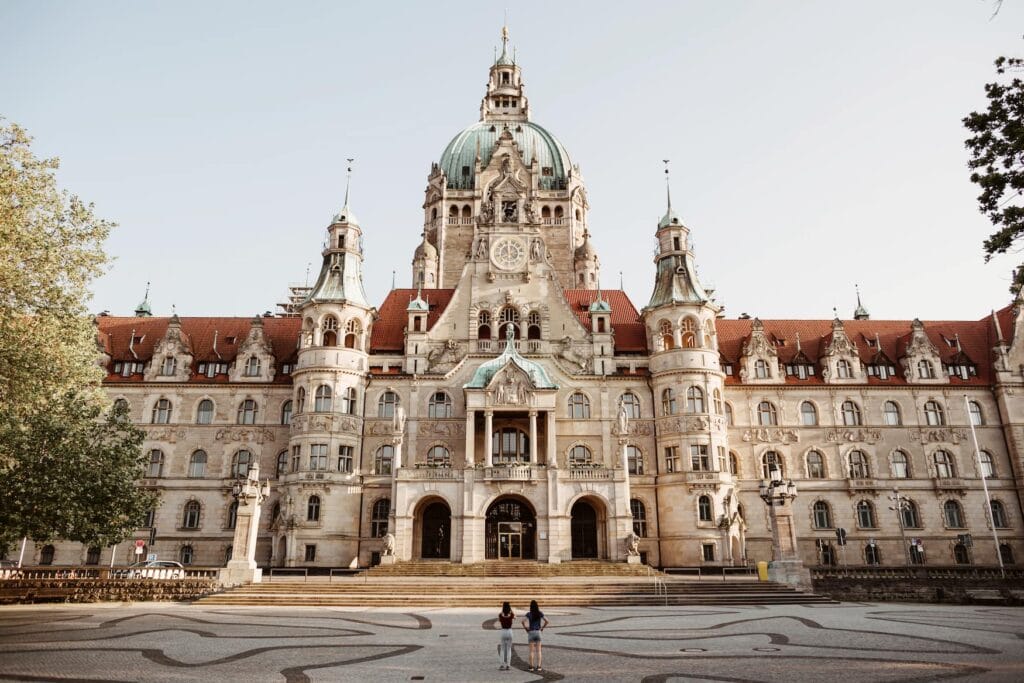 6.15pm: Gottfried's kiosk
The kiosk as such is a charming German invention. Many cities have their own interpretation of the evening rescuers. Like Cologne, Düsseldorf and half of the Ruhr area, Hannover describes itself as the "kiosk capital of Germany". Whether this is true or not, we cannot judge. This one, however, is striking when you enter because of several peculiarities: There is a bizarre variety of beer supplies, cozy seating areas like in a Berlin café and, of course, exceptionally friendly staff, who also offer mulled wine in winter.
7.30pm: Lokal 4
After a good start to the long weekend, we are in the mood for an unusual dinner. Our choice falls on Lokal 4 (https://lindenblatt-hannover.de), which advertises itself as a hip bar & grill, just like in America. We are not disappointed: although the place is young and very hip, the service could not be friendlier. We take a little culinary trip around the world and order pho, tacos with brisket and porcini mushroom ravioli. We also order drinks from the extensive gin and tonic menu.
10pm: Short stroll along Limmerstrasse
Because we are always good on our feet and want to see as much as possible, we make a late-evening detour to Limmerstrasse. Bars, kiosks, organic supermarkets and an art house cinema immediately create a feel-good atmosphere. So, we decide to start our second day in Hanover here.
Day 2
10am: Off to Linden
After an extensive breakfast at the Me & All Hotel, we take the tram to the Lindener Marktplatz. We quickly learn that Hanover's Linden is akin to Berlin's Prenzlauer Berg. Owner-managed shops, nice restaurants and half-rocked Wilhelminian style houses provide urban vibes around every corner. First, we review the market, which is open on Tuesdays and Saturdays from 8 a.m. to 1 p.m.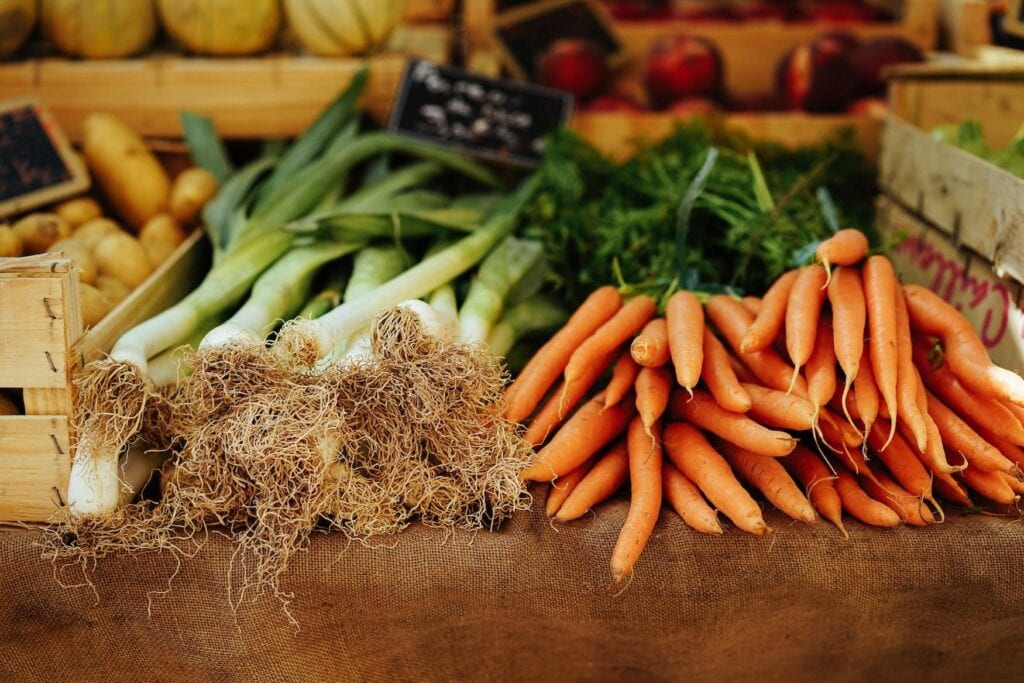 11am: Egestorffstrasse
We now stroll along Egestorffstrasse towards Pariser Platz, where a few tall plane trees provide additional comfort. Anyone who likes homemade fashion should definitely take a look at Pepafarina, which also operates as the Hannoversche Modemanufaktur. In the nearby Café K, we drink a coffee.
12pm: Records at the Rockers
We walk through Teichstrasse to Lichtenbergplatz, in the middle of which there is a circular green area. Magnificent Gründerzeit villas with small bay windows and elaborately designed gables give the square grandezza. From here, it is not far to the Rockers. No matter where I am, I can't resist going to a record store.
1pm: Francesca & Fratelli
Urban migration promotes hunger. So, let's turn to a Hanover success story: Francesca & Fratelli started with a pizzeria on Limmerstrasse and now seem to be serving the whole city from their eight branches. We share a pizza for two and the most important topping is fior di latte, a cheese with an increased comfort food factor.
2pm: murals
After the small meal, we take a look at the history of the city. To do this, we go to the intersection of Ahlemerstrasse and Grotestrasse, where the most important achievements in Hanover's city history are painted on the facade of a residential building. We learn that in 1865, Wilhelm Busch invented two fictional characters that are still powerful today: Max and Moritz. In 1878, the Pelikan fountain pen was created in Hanover and in 1887 a certain Emil Berliner enriched the planet with the gramophone.
Also not insignificant: in 1891 the butter biscuit from Leibniz was added. So, there's a lot of things that every German child grows up with here – apart from the gramophone. And we haven't even talked about the Scorpions, one of Germany's most famous rock bands.
3pm: Downtown
It is now clear to us that Hanover is so productive for a weekend that we need at least one more day. After all, we haven't seen much of the city center yet. The pedestrian zone around Georgstrasse, Karmarschstrasse, and Bahnhofstrasse is large and more about functionality than charm. But, of course, this is where all the big chains for a productive day of shopping are.
4pm: Meeting point Kröpcke clock
A Hanoverian curiosity is the Kröpcke clock which is not far from the main train station. It was erected in 1871 by a local café owner as a sort of advertising pillar for scientific news, including the weather report. Today, the Victorian column serves as a clock that can be seen from afar, a display window for protest notes and a meeting point for a nice stroll.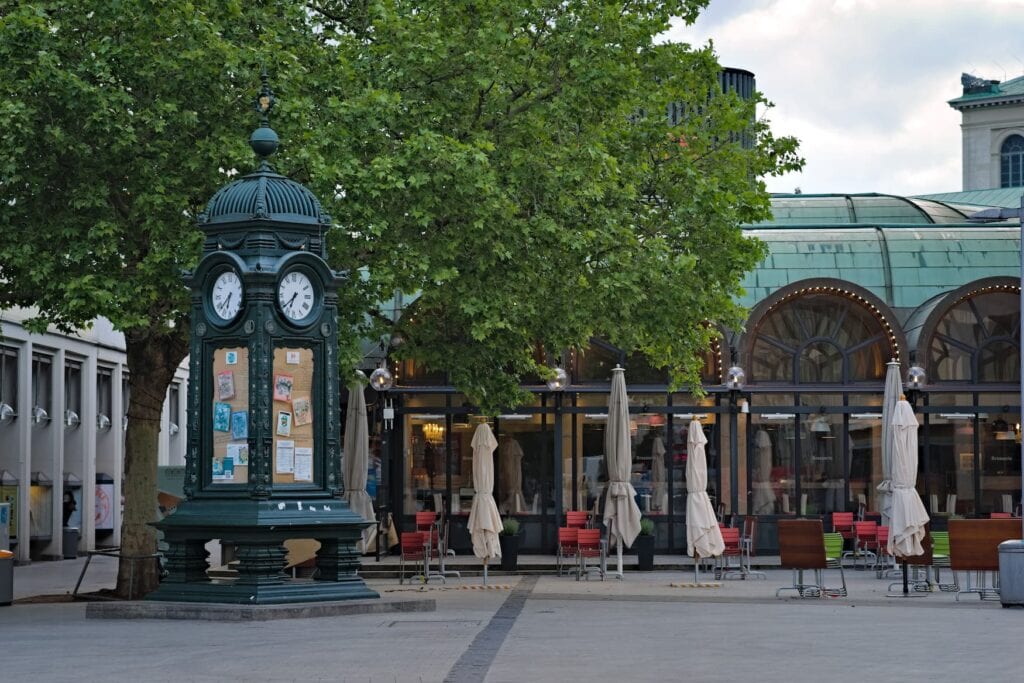 5pm: Old Town
Hanover has an old town? Yes, though it's not very big. But after many meters through the pedestrian zone, we head towards the Leine, Hanover's city river. On the way, we see the grand Hannoversche Kaffeemanufaktur, where we stock up on a pound of roasted in-house coffee beans. Around the corner in Kramerstrasse, we enjoy the venerable half-timbered houses and the cozy bars and restaurants that have tables set up outside their doors.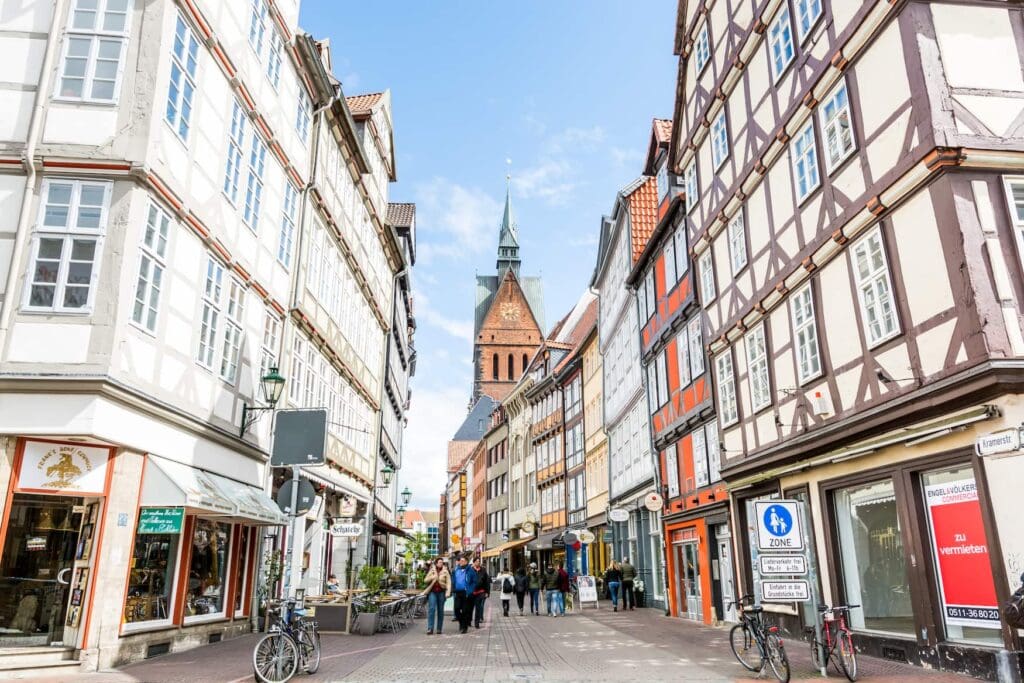 7pm: GOP Variety
We're looking forward to the evening that we'll be spending in a proper Hanoverian institution. The GOP Varieté-Theater is now present in seven German cities, including Bonn, Bremen, Münster and Munich, but its origins are in Hanover. Changing ensembles present their programs on stage. They are elaborate choreographies with musical and theatrical elements as well as having an athletic focus.
We have booked a double program – with dinner before the performance. A good three course meal that is not too heavy here. The play, "Sailors", with mostly Canadian actors will be on stage in the evening. They present a fun program with circus-style moments that will leave you in awe. It is also accessible to visitors from abroad on account that very little dialogue is spoken.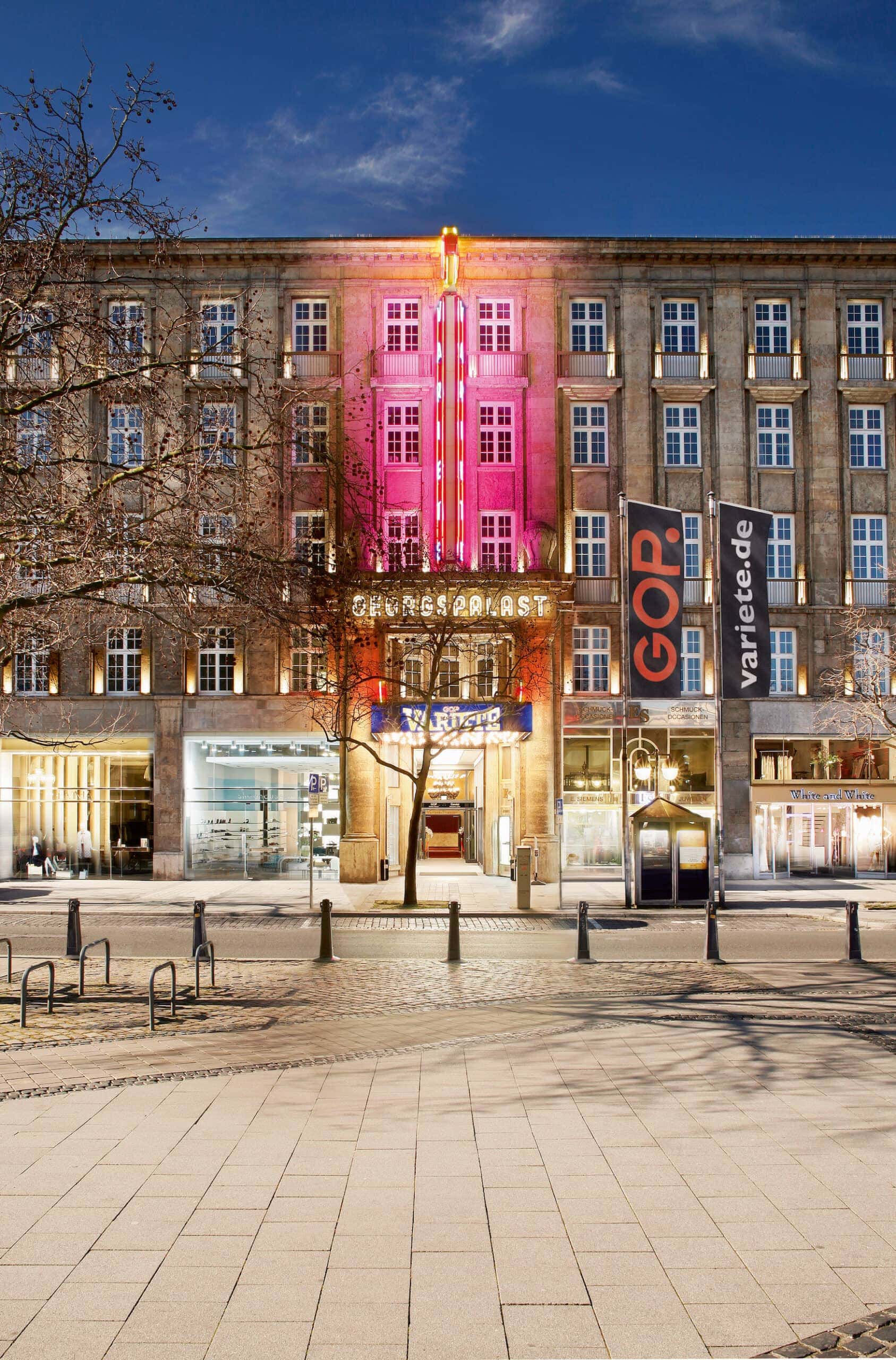 11pm: No cocktails
After a productive day, we fall into bed, exhausted.
Day 3
10am: Herrenhausen Gardens
With tram line 4, we can reach the Herrenhausen Gardens within 15 minutes. For many, the huge parks are Hanover's number one attraction. They actually consist of a total of four gardens: the Great Garden, the Berggarten, the Georgengarten and the Welfengarten, with admission to the first two mentioned.
We invest 8 euros and do not regret it. The Great Garden is a sumptuous English-style park with fountains, tea domes, hedge-lined greens, and long walkways. Again and again, we see sculptures, including 17 gilded bronze statues. All of which are real eye-catchers. Another highlight is the grotto by Niki de Saint Phalle, which the artist completed shortly before her death in 2002.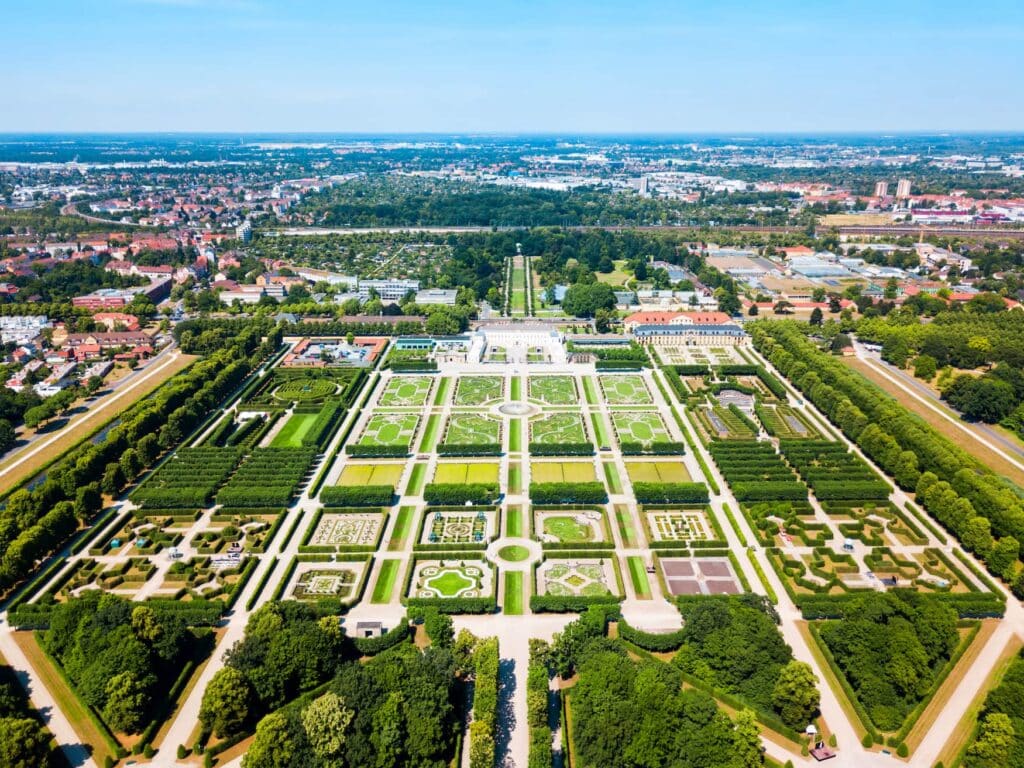 12pm: market hall
Back to the city, where we visit the market hall. This is not a hip food hall like the ones that have been springing up in almost every city in recent years. Even though the original building was destroyed in the Second World War, the market hall still enriches Hanover as it has since 1892. Today, it is a premium address for foodies and a friendly meeting place for lively Hanoverians – especially on Saturdays during lunchtime.
We get ahold of a couple of stools and order Danish-style Smörrebröd from Aelling. The herring version in particular is irresistible.
1.30pm: Lister Meile
After lunch, we stroll towards the Lister Meile on the east side of the main train station, which has a good reputation. We arrive at Weissekreuzplatz, where we come across magnificent Gründerzeit buildings which remind us of Berlin. As we continue, the street turns out to be more and more a charming shopping street. Behind Lister Platz is the Podbielskistrasse, where we suddenly come across gold-plated butter biscuits. It is the headquarters of Leibniz, a ubiquitous company in Hanover.
3pm: Dutch cocoa room
47 hours of our trip are now over. But one highlight is still waiting. Back in the city, we discover the Holländische Kakaostube, a lovely old-fashioned café. It opened in 1895 as Van Houtens Cacao-Probe-Local, a Dutch chocolate manufacturer. An unjustly neglected aspect of history because the cocoa with cream and chocolate flakes is a real delicacy. This alone justifies visiting Hanover again in the not-too-distant future for another 48 hours.
For more information about 48 hours in Hanover, visit the Hannover website.